If you have 24-36 hours, Hong Kong makes for the perfect layover. Good thing, because sooner or later all travelers to Asia will find themselves here. It's easily accessible and efficient to navigate. And, you can pack a wonderously unique itinerary into a short period of time.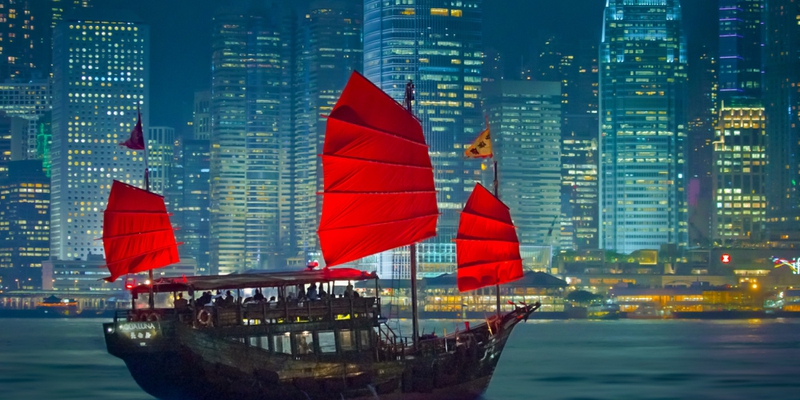 Part 1
1
Start The Day With A Walk
I check into the opulent, statuesque oasis that is the Shangri-La Hotel. Whisking up the panoramic glass elevator to the 56th floor, it's impossible to miss the grand Great Mother of China, the largest Chinese landscape silk painting in the world.
An early morning stroll through Hong Kong Park is a tranquil introduction to Hong Kong, a city that's an unlikely mix of green and steel. Situated in a green oasis of koi fish, terrapins, and turtles, the park frames the reflection of the surrounding moutains and the towering, modern architectural world, including I.M. Pei's gleaming Bank of China Tower.
Against the advice of trusted locals, I beat the herds of tourists — 7:30 a.m. has its privileges — and board The Peak tram. It's a steep, five-minute climb, a ride that reminds me of a roller coaster's slow windup before it drops at an exhilarating pace. Once you arrive, don't dawdle in the mall-like structure of dizzying shopping and dining options, but rather head straight to The Sky Terrace 428. (Mathematical translation: 1,404 feet above sea level.) You're here to absorb the bold, spectacular, unobstructed, 360-degree views. Go ahead, take an obligatory photo. Email it to Mom.
2
Take The Road Less Traveled
The highlight of my trip is a 45-minute stroll around the Morning Trail and Lugard Road. Decent walking shoes are suggested; I wore a pair of Birkenstock Gizehs. This is truly the road less traveled, and it's one of the most serene and indescribable experiences I can remember. Homes are perched high among cluster of trees and eye-popping greenery. Birds hum wildly and fresh flowers scent the air. Sheer tranquility. Below is a massive expanse of harbor, the surrounding island towers sprouting vertically from the ground like wildflowers. Instantly, I'm Hugh Conway from James Hilton's fantastical Lost Horizon. I just discovered Shangri-la.
If you have time, continue down Old Peak Road to the Hong Kong Botanical Gardens. For me, time is of the essence, so it's back to The Peak tram, this time heading down.
3
Starstreet District
Starstreet District is an emerging area sandwiched between old tenement buildings, cha chaan teng (tea and food halls), and hip boutiques. Visit globetrotter favorite Monocle and quirky Kapok for its array of locally sourced canvas totes, scarves, and candles. Daydream Nation has the edgy-art fashionista covered.
From here, you can easily access the high-end, exclusive shopping of Central. Skip it, and hop aboard a double-decker tram instead, sitting upstairs to soak in the scenic delights. Fancy shoppers descend from Canton Road's luxury shops, while sharply-dressed businessmen zig-zag with purpose.
4
Hollywood Road
Man Mo Temple, paying worship to the god of literature ("Man") and the god of war ("Mo") is a swirling, smoky venue where you're quickly enveloped in the sometimes overbearing, twisting, spiraling incense which covers all corners, including ceiling cones and coils. Red is the primary color. This is a fun place for photo opportunities.
Most local boutiques and mom-and-pop restaurants are closed on Sundays. Luckily, I stumbled into 208 Duecento Otto, a chic, warm, industrial eatery with rustic pizza margherita and cold beer. I'm briefly transported to New York City, probably because the chef was imported from Babbo.
5
Tea & Snacks
Drop by the famous Tai Cheong Bakery, beloved by tourists and locals alike, for fluffy, fresh-from-the-oven egg tarts with buttery crusts. Sit down at the shared tables and wash down the tarts with "socks tea" — tea with evaporated milk from Lan Fong Yuen (G/F2 Gage Street, Central), a 50-plus-year-old local operation. The curt, sarcastic waiter could star in his ownSeinfeld episode.
6
Graham Street Market
The steady rain hardly deters my walk through the timeless, intricate, 160-year-old Graham Street Market, full of narrow streets and alleys with fresh seafood, meats, dry goods, vegetables, and flowers. Sadly, the wrecking ball appears imminent, but for the time being there's no better way to experience authentic, old-school Hong Kong. Fishmongers with well-exercised cleavers slice and dice fresh catches. Pig hooves dangle from industrial hooks. Fresh vegetables, eggs, and smoky tea leaves complete the experience. It's a surreal B-movie under the glare of rain-slicked streets and low, yellow lighting popping with signature red lamps (which apparently makes fish look its best). Passersby move with intent. I have another movie moment and realize I'm an extra in Blade Runner, a miniature part of a matrix in a fictional utopian fantasy. Pinch yourself — it's all fantastically real.
7
Star Ferry To Kowloon
Catch the charming Star Ferry from Hong Kong Island to Kowloon, the peninsula on the mainland, and take in another round of boundless harbor and sky views. A meal at Tim Ho Wan (Ground Floor, Olympian City 2, Olympian City Mall) is worth the trip and the wait. A discerning friend advised me, "You must go. It is very cheap and has a well-deserved Michelin star." It's affordable, tiny, and nondescript. They don't take reservations, but my friend advised that I should "get there by 10 a.m. when they hand out numbers. Then plan to wait at least an hour and a half." It was easy to pass the time strolling around the neighborhood.
If waiting isn't your bag, transport yourself to Hong Kong's Colonial era with high tea at the impossibly grand Peninsula Hotel on Salisbury Road. Built in 1928, it's where decadence, sophistication, and tradition meet. If you want to see its modern side, have a drink at the Philippe Starck-designed Felix Bar on the 28th floor.
Take the clean and very inexpensive subway back to Hong Kong Island.
8
Twilight Drinks
Wind down with a sparkling glass of Tattinger at Shangri-La Hotel's opulent Horizon Club. Soaring almost 60 stories above Victoria Harbour, the island winks and glistens neon. Now that you've had a day getting to know them, you're able to appreciate the panoramic views of Hong Kong and Kowloon.
Should you still have energy, zip over to the crowded, no-reservations restaurant Yardbird, which specializes in skewered chicken done every imaginable way. Wash it down with the house sake. Yardbird's even smaller offshoot, Ronin, has only fourteen seats and accepts reservations seven days in advance. Think fried dishes, a raw menu, and whiskey. Back at Shangri-La, I feasted on regional Cantonese dim sum at Summer Palace, where the two-Michelin-starred cuisine is an utter treat, a kind and welcome culinary massage. Yes, I found my Shangri-la: the bustling utopia of Hong Kong Island. Now I just need to find my way back.
ANY IDEAS ABOUT THIS TOPIC?