Mentioning volunteer work on resume helps prospective employers learn about your significant skills, including fundraising, organizing and managing events as well as patient care. Hence, it is important that you incorporate the volunteer work you have done on the resume along with other job experiences. The way to integrate volunteer work in your resume is somewhat reliant on the career objective you have in mind.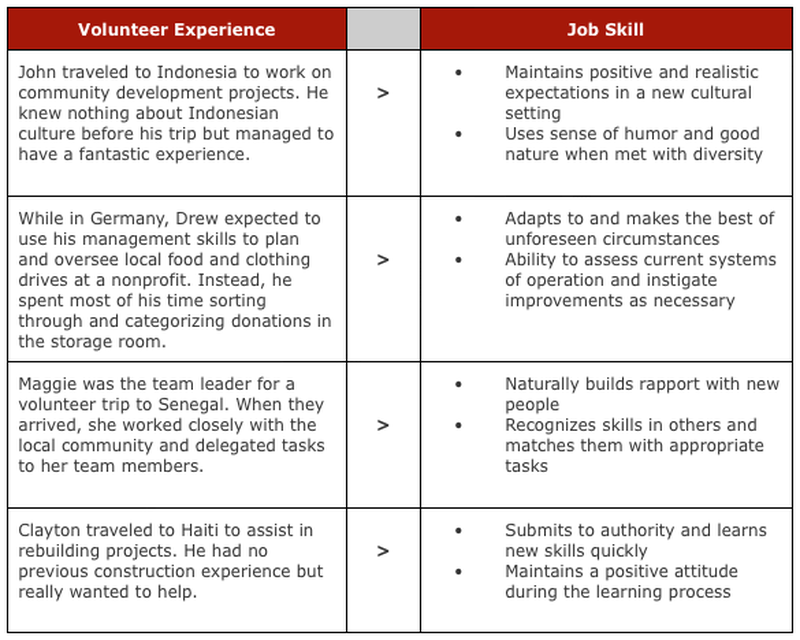 Part 1: Where Should You Put Your Volunteer Work on Resume?
Volunteer work should always be made a part of your resume. However, your volunteer work comes in most handy when you don't have sufficient experience of paid work or such paid work experience is not quite pertinent to the job you are applying for. In these cases, the volunteer work you did will act like paid work.
If your resume is in a chronological order, it is best to put in the volunteer work in the right order correctly. However, do mention it as voluntary work and don't forget to add its duration. If you have lots of pertinent paid job experience, then mention your work experience in another heading.
Part 2: How to Put Your Volunteer Work on Resume?
1
Use a Relevant and Clear Job Title
Volunteer work can encompass several important responsibilities; hence it is essential that you mention your volunteer work in a clear manner. It is best that you mention it under a specific and relevant job title that helps your volunteer work stand out. For instance, if your volunteer work gave you exposure to the trainings conducted of the HR, then it is best to write the title as Volunteer HR Trainer instead of Volunteer. The former title defines the responsibility you carried out in a precise yet detailed manner.
2
Explain Your Role in a Lucid Manner
Make sure to mention all the specifics related to your volunteer work in an unambiguous and a detailed manner, so that the recruiters can have a clear comprehension of your past experience and responsibilities. Read the following descriptions and compare them.
Worked as a HR intern and managed the HR.

Worked as a HR intern and assisted the HR manager in the hiring, recruiting and training procedures of new employees. Worked alongside the manager during the job interviews and drafted the job responsibilities of the HR.
The second example explains the volunteer work in a much clear manner.
3
Enumerate Your Achievements
Make sure to quantify all your accomplishments related to your volunteer jobs, so that the prospective recruiters can understand your worth and the value you brought to the agency you were volunteering for. For instance:
Assisted in increasing the contributions of donors via calls and email campaigns.

Helped in increasing the overall contributions of the donors by an astounding 150 percent in 3 months via calls and email campaign.
The second example gives the recruiters a better picture of your achievements.
4
Mention the Skills You Acquired
Make sure to clearly mention all the skills that you acquired during the volunteering experience. Also mention if you have learned to use any particular software. This information helps in describing your capabilities in a better way. For instance:
My main duty during 2012-2013 was graphic designing.

My main responsibility during 2012-2013 was doing graphic designing using Adobe Photoshop CS6, Fireworks and Illustrator.
The second example informs the recruiters of your skills, which helps them learn about your capabilities.
5
Keep to the Point
Though it is essential to emphasize all the important aspects related to your volunteer work, but remember to keep them to the point. Recruiters have a very busy schedule, which is why they prefer succinct yet explicit resumes. Moreover, extremely lengthy ones often end up in the waste paper bin.
6
To find out about templates related to putting volunteer work on resumes, refer to the following link:
Tips
Be selective About the Information. If you have considerable volunteer work experience, then mention only those experiences that are related to the current position you are applying for. Moreover, don't mention those experiences that you don't want the recruiter know. It depends entirely on you regarding the volunteer work you want to mention on your resume.

Research the Prospective Employer. Carry out research on your prospective employer to find out about his ideology regarding volunteer work, such as philanthropy and community work. If the organization you are considering applying for works for the cause you volunteered, then you must explicitly mention your related volunteer work. This will help the recruiter learn about your skills and your knowledge on the subject.

List your great achievements You should know that employers are not just looking for explanations of your volunteer work and other job experiences. Instead, they are more interested in your quantifiable achievements. Hence, make sure to quantify all your triumphs that you acquired in the different organizations. If you helped raised a certain amount of donations, or played a part in increasing the percentage of the revenue earned by the organizations, then do state the numbers. Assigning a certain monetary value to the number of hours you have volunteered for in each organization is a good idea as it helps the prospective employers learn about the monetary value of your contributions.
ANY IDEAS ABOUT THIS TOPIC?