Looking for a great way to explore the roads in your area without having to find a walking buddy? Looking into a sturdy, affordable road bike is what you need to get into the groove of riding to see some great scenery, to get in shape, or to start training for a competition. Just because you don't cycle in the Tour de France doesn't mean you don't deserve a great road bike for your own personal enjoyment.
Whether you are a competitor or looking to get some great exercise, cycling is a great way to get your heart pumping while getting to explore the local road paths around your neighborhood.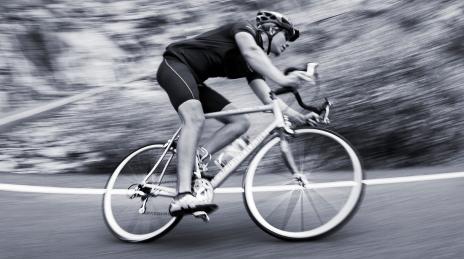 Part 1
1
Trek Madone 6 Series
The Trek Madone 6 Series is considered the best road bike overall by consumersearch.com, if you are looking to get into hardcore cycling and want a good time-trial bike to get started. A complete redesign from preceding Madone models, the 6 series has been made lighter and more aerodynamically fit with this iteration. This bike took second place for Bike of the Year in 2013 according to Road.cc, and with the improvements made to the Madone design, it's not surprising. The KVF tube shapes create a special condition where the air traveling around the bike treats it as though it is a much deeper shape, making the bike much faster than ever before.
One of the major points of enjoyment for this bike is actually the comfort when using the seat. Bikes of this performance level can be uncomfortable, but the Trek Madone series has found a fabulous blend of comfort, performance, and durability. The frame itself is made of optimum compaction low void carbon, making it super stiff but not as heavy. This rigidity is essential in frame longevity and resilience to twisting.
2
Critical Cycles Single Speed Road Bike
Considered the best single speed road bike on consumersearch.com, the Critical Cycles Single Speed Road Bike is a good fit if you live in a not too hilly area and want a road bike for a good price. One of the things customers really appreciate about Critical Cycles Single Speed Road Bike is that it comes with many customizable options like color and various upgrades to make your bike the perfect fit for your needs. The frame is made of steel and the bike itself can be fast on the handling. With two modes activated by the flip-flop hub, riders can switch between fixed-gear mode to cruising when switching to single speed mode. The BMX style handlebars make this a great bike for anyone looking to do or learn tricks with this bike.
Be aware that the Critical Cycles Single Speed only has one set of brakes in the back, which, according to some users, might wear out more quickly than expected. Its gears are a ratio of 48:16 (petal crank cog to rear crank), making the bike ride smoothly on your average road but struggle once things take a turn for the hilly. If you're still interested in this bike but know your area isn't the most flat, changing the chainring is a suggested course of action.
3
Takara Kabuto Single Speed Road Bike
An Amazon best seller, the Takara Kabuto Single Speed Road Bike is another great option for people who want to get into road biking without breaking the bank on their first purchase. In particular, this bike is advertised as a good commuting bike, with a steel frame and horizontal dropouts that can make riding through the big city a breeze. This does make the Kabuto heavier (at about 30 pounds), but it still rides extremely smoothly. The tires it comes with are larger than average which add to the comfort factor in this bike since they are great for riding over city obstacles like potholes. A major advantage of this bike is its flip-flop hub which allows you to go in between single and fixed gears, giving you the opportunity to cruise if you'd like.
4
Cannondale CAAD8 7 Sora
The Cannondale brand has its roots in making bikes out of aluminium and the CAAD88 7 Sora is no different. Getting rave reviews of amazing balance, this bike is a proud addition to the Cannondale family of road bikes. It finds a healthy medium between the comfort road bikes of this variety like to offer the newer users that inevitably purchase it and the intensity of more expensive, serious competitor road bikes on the market.
This bike also seems to perform well on some dirt road conditions as well, making it a great bike if you know there'll be a rough patch on your route here and there. The frame is made of aluminium, making it exceptionally stable while retaining a light weight. The headtube on the bike is higher than some other models, meaning you might find the handlebars to be low when riding the CAAD8 7 Sora, but now low enough that it causes discomfort or distracts from its great handling. If you live in a more hill-heavy area, the Cannondale CAAD8 7 Sora come with 34/26 low gear, meaning getting uphill won't be as strenuous an uptaking as it would with other models.
5
Fuji Transonic 2.7
There is no questions that the Fuji Transonic 2.7 is a high performance road bike. If you're looking to take a step into serious cycling, this might be the perfect bike to get you there. The focus when creating this bike was clearly speed, so if you're looking to go fast you're in the right place. Carbon-fiber is what the frame consists of, a material known to be more durable and effective than the aluminium used in frames of lower-end road bikes.
The bike is exceptionally smooth, making it great for speed, making it a great competitor especially when faced with crosswinds. The full Oval Concepts cockpit and wheels are a specifically Fuji design, ensuring the exceptional performance standard found in the Fuji Transonic family up to this point. The downtube sections are larger than you'll find on a usual aero bike, but their shape has not been compromised to maintain speed expectations. Brakes on the Fuji Transonic are very well hidden but very effective. At 18 pounds this bike is light and is ready to give you some of the best speed performance on the market for the price.
ANY IDEAS ABOUT THIS TOPIC?