Throughout its decades of existence, rock music has given us a plethora of incredible and memorable songs. Then there's those tunes that will forever be associated with the genre and remind us why we love rock and roll.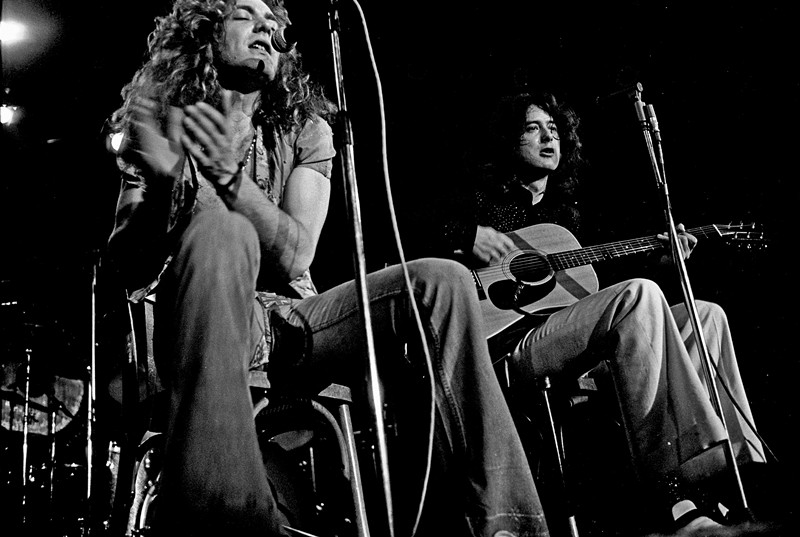 Part 1
1
"Stairway to Heaven" (1971)
Led Zeppelin
Clocking in at just over 8 minutes long, this folk and hard rock number may be the band's most famous song. But thanks to Page's complex guitar work and Plants' unique singing style, "Stairway to Heaven" is also one of the greatest songs in rock 'n' roll. It wasn't even released as a single, but still its haunting lyrics, striking guitar solo and multiple musical sections have left an immeasurable and all-encompassing influence on later artists.
2
"Bohemian Rhapsody" (1975)

Queen
With Freddie Mercury's theatrical vocals and Brian May's incredible guitar abilities, Queen scored big with "Bohemian Rhapsody." Containing elements of opera, balladry and hard and progressive rock, its intricate and unconventional style initially baffled critics. But today, the melodic, chorus-less tune, which also contains one the most incredible axe solos ever, is one of the Brits' most popular songs and it earned them two Grammy nods.
3
"Hey Jude" (1968)

The Beatles
Crafted around Paul McCartney's lead vocals and piano playing, this rock and pop ballad may seem simple at first, but it gradually becomes more elaborate as instruments like guitar and tambourine are incorporated. While "Hey Jude" made history for being a 7-minute-plus song that topped the British charts, the Grammy-nominated tune is also unforgettable for its "Na-na-na na" and orchestra-led conclusion.
4
"Another Brick in the Wall, Part 2" (1979)

Pink Floyd
This Roger Waters-penned track is the second of three songs titled "Another Brick in the Wall." Taken off the band's eleventh studio record, "Part 2" combined disco elements with progressive rock so well it earned them their only U.S. and UK chart-topper. But it's with its lyrical themes, guitar work, bass line and use of a school choir that this Grammy-nominated protest song made waves and topped multiple charts worldwide.
5
"(I Can't Get No) Satisfaction" (1965)
The Rolling Stones
If Keith Richards hadn't conceived this song's now-famous riff in a dream, we may've never had one of the most recognizable and satisfactory riffs in rock history. Richards teamed up with frontman Mick Jagger to compose this rock and roller, and it quickly became the band's first American chart-topper. "Satisfaction" didn't only propel the Stones to monstrous success but also continues to earn them critical acclaim today.
6
"Won't Get Fooled Again" (1971)

The Who
Though the edited 3-and-a-half minute radio version found a spot within the top twenty on several charts, it's the 8-and-half minute original that's got our vote. As the album closer to Who's Next, this hard rock number sets itself apart through its use of organ and synthesizers. With its strong political message, Pete Townshend's power chords, Keith Moon's wild drumming and Roger Daltrey's versatile vocals, is it any wonder it's also a live staple?
7
"Layla"

Derek and the Dominos
Often considered Eric Clapton's magnum opus, Layla and Other Assorted Love Songs is a blues-rock classic. On the standout title cut, Slowhand reveals his unrequited love for George Harrison's then-wife Pattie Boyd. But it's the tune's distinctive guitar riff complemented by Duane Allman's slide guitar chops that has ingrained "Layla" into our memories. The love song proved its staying power when Clapton's Unplugged solo version won a Grammy over two decades later.
8
"Good Vibrations" (1966)

Beach Boys
While they reached number one with "I Get Around" and "Help Me, Rhonda," it was with "Good Vibrations" that the Beach Boys topped both the Billboard Hot 100 and the British charts. But it wasn't just any pop song; with its psychedelic flavors, layered production techniques and use of cello and electro-theremin, the Grammy-nominated tune became their first to sell a million copies.
9
"Hotel California" (1977)

The Eagles
Though Hotel California wasn't their first chart-topping album, it did become the band's best-selling effort ever. It spawned two number one singles, one of which was the smooth and soulful title track that classic rock radio stations won't let us forget. In addition to its surrealist lyrics, "Hotel California" showcases some of the most memorable electric guitar chemistry ever between Don Felder and Joe Walsh.
10
"Purple Haze" (1967)
The Jimi Hendrix Experience
It's through the acid rock, psychedelic rock and heavy metal sound of this single off Are You Experienced that the world was really introduced to Hendrix chord. "Purple Haze" is also one of the most recognizable songs of the 1960s thanks to the Seattle rocker's innovative musical ideas and unrivalled guitar playing. The tune has since infiltrated pop culture and gone down in music history as one of the best.
ANY IDEAS ABOUT THIS TOPIC?