Ecchi is a word in Japanese that often refers to lewd conduct. In anime, it describes works that do not show genitalia or intercourse, but the sex is implied. Girls are depicted wearing very short or almost transparent clothing, including low-cut tops showing ample cleavage. Depending on the anime, there may be nudity with bare breasts being shown, though there are creative ways employed to hide nipples. The level of nudity shown can vary from one television station to the other and is not necessarily a uniform censorship. Below are some of the best examples of ecchi anime and a short clip of them.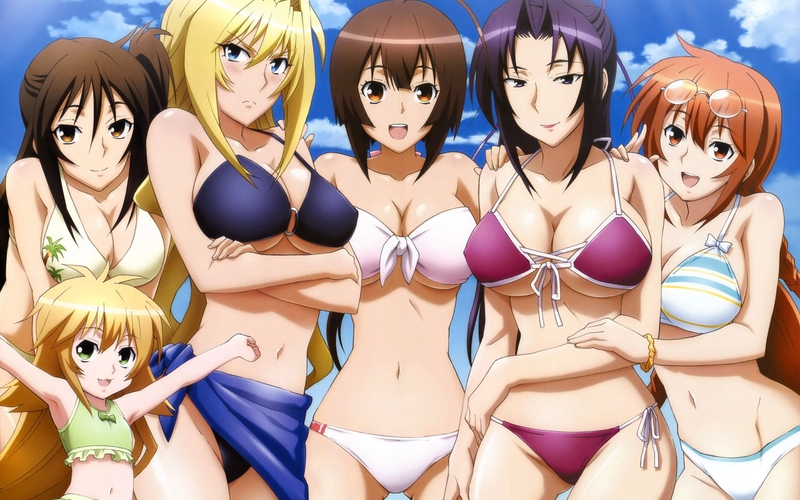 Top 10 Ecchi Anime That You Can't Miss
This ecchi anime list is ordered by release time. Enjoy!
1
Golden Boy (October 1995-June 1996)
Kintarou is a young man who is charming and smart, and women love him. But Kintarou likes to play the field and doesn't want to be tied to one woman. He seduces them, but then leaves once they have fallen for him and he's gotten what he wanted. He does all of this while trying to find a job and riding his bike all over town.
2
Cosprayers (January 2004-March 2004)
Also called The Cosmopolitan Prayers, the anime is about Koto, a teenager who wishes she were more like the main character in her favorite video game. While visiting a temple where a ritual is performed, Koto becomes part of a team of seven gorgeous girls who fight evil forces.
3
Sekirei (December 2004-present)
The Sekirei are large-breasted women and girls who fight in a competition called The Game. Musubi, one of these Sekirei, literally falls out of the sky to Minato, a shy and awkward young man who has special powers that allows him to contract with Sekirei. This binds Musubi to him and allows both of them to battle other Sekirei.
4
Love Get Chu (April 2006-September 2006)
This is a romantic comedy anime about a group of young women who attend a special training academy to become voice actresses. It deals with their training and the competition between the girls, both in their dreams of voice acting and in love and romance.
5
Zero No Tsukaima (August 2006-October 2006)
This anime is a comedy set in a fantasy world of magic. Louise is terrible at magic and when trying to summon her familiar, a magical creature, she inadvertently summons Saito, an ordinary boy from Japan. Louise treats him as a servant, but later they discover that Saito has special powers in this world. Where will these powers lead them to? Find out by yourself!
6
High School of the Dead (September 2006-May 2013)
In present-day Japan, an epidemic is sweeping the country and turning people into hungry zombies. The students struggle to survive while facing other threats of societal collapse. The fighting scenes offer plenty of panty shots and lots of big boobs as well as the implication of a harem, making fans happy.
7
Kiss X Sis (December 2008-present)
Keita lives with his older, twin step-sisters while attending middle school. As teenagers, the sisters, Riko and Ako, inform Keita that they are attracted to him—more than step-siblings should be. At first he resists their advances, but when he begins attending the same high school as the girls, his feelings change.
8
Heaven's Lost Property (October 2009-December 2009)
Tomoki is a teenager, who is also quite a pervert, just wants to live in peace and quiet but is forced to deal with some overbearing neighbors. One day something falls from the sky and Tomoki finds that is a female with wings. She tells him she is his servant. Soon, other winged females fall from the sky from a place called Synapse. Tomoki loses the peace he wants but gets other pleasant things in return. Also, he, together with the winged females, fights against a threat fallen to the Earth.
9
Freezing (January 2011-April 2011)
This anime is about team Pandora, an all-female fighting force, and their exploits at a military academy. The fighters transform into the limiter and carry out their duties fighting Nova, an alien invading force with their partner, the Satellizer. The transformation scenes do provide some nudity for the fans.
10
Strike the Blood (October 2013-March 2014)
As an action adventure, this ecchi anime follows Kojou, a vampire in high school and Yukina, an apprentice whose job is to observe him. Kojou is thought to be a very powerful vampire, and he makes all kinds of monster friends at school, some of whom are attracted to him. And this situation drives his love and libido for the ladies, which provides the source of his power.
ANY IDEAS ABOUT THIS TOPIC?