Enjoyed by many more than just teenagers, this movie genre contains laughter, tears, that feeling of longing and also today's originality, much of which makes us remember how it felt to fall in love for the first time. Here are 10 cute movies for you to experience it again.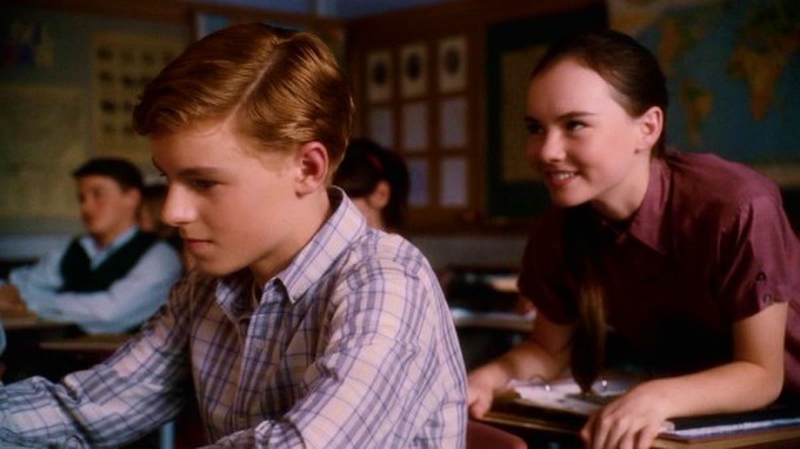 Top 10 Cute Movies: Teenage Romance
These 10 cute movies about teenage romance are ordered by their release year. Enjoy!
1
Edward Scissorhands (1990)
Edward is a man-made creation who is not completely finished, so he ends up with scissor hands. He is lonely until a visit from the Avon Lady who takes him under her wing and brings him home with her, where he learns about family. He is impressive with displays of hair styling and also his interest in topiary. This movie is quite stunning visually and has amazing costumes.
2
Romeo and Juliet (1996)
In this modern adaptation, Romeo and Juliet first meet at a wild but formal party and fall in love. These star-crossed lovers are doomed right from that first introduction. New for this version are gangsters, guns and hip-hop in a vividly visual setting. The classic death scene is close to unbearable to watch as it is remarkably well done and realistic. You feel the need to enter into the scene to stop them.
3
10 Things I Hate About You (1999)
Cameron, a new student, is being given the grand tour by a classmate when he becomes helplessly smitten by the popular and beautiful Bianca. Neither Bianca nor her older sister, Kat are allowed to date. Since Kat doesn't want to date, their father decides that Bianca may only do so if Kat is also dating. Cameron sets out to find a match for Kat in order to date Bianca and shows that he will go to any lengths for love.
4
Chasing Liberty (2004)
Anna is the President's daughter and she is overwhelmed by the supervision by the Secret Service. After her protest, her father agrees to assign only two agents to her. During a concert, Anna spots many agents and assumes that her father has lied. She embarks on wild journey overseen by a "secret" Secret Service agent named Ben. Ben will not admit his feelings for her as they fall in love on the journey and they have to part only for reuniting after he has left the Service.
5
The Notebook (2004)
Noah is a poor mill-worker and Allie is an heiress in this beautiful tale of undying love. Their romance is forbidden by Allie's parents who conspire to keep them apart. They reunite years later and their entire story has been written in a notebook by Allie. Living confused by her Alzheimer's, Allie remembers no one but "Duke" (Noah). He reads to her from the notebook to keep her memory alive. Several scenes are completely heart-wrenching, yet you can't help but fall in love with this tale.
6
Juno (2007)
16-year-old Juno finds out that she is pregnant and considers abortion since the father is just her friend. Once she decides to give the baby up for adoption, she tells her parents and they are supportive. Although Juno does have feelings for the baby's father Paulie, she begins to spend time with Mark who is set to become the baby's adopted father. Mark has feelings for Juno, so his marriage falls apart, leaving her with no couple to adopt her child.
7
17 Again (2009)
At 17, Mike finds out from his girlfriend Scarlett that he is going to be a father. He runs after her and abandons all his hopes for college. Ten years later, they are separated with two kids. Mike visits his old high school and a janitor turns him back to 17. He attends school as his best friend's son and learns about the lives of his son and daughter. Mike spends time with Scarlett again and realizes that it's his selfishness that cost him his family. He tells Scarlett the truth and is aged again to 37 when they reunite.
8
The Last Song (2010)
17 year old Ronnie was once a piano prodigy, but since the divorce of her parents, she is rebellious and will not touch the piano even though her brother, Juilliard wants her to. Having not seen her father for 3 years, Ronnie and her brother are sent to stay with him for the summer. She becomes closer again to her father and meanwhile falls in love with Will while going through a journey of self-discovery.
9
Flipped (2010)
Bryce and Juli meet for the first time in second grade. She is sure that it is true love, but Bryce does everything possible to keep away from her for the next 6 years. Bryce's grandfather Chet moves in with his family and becomes attached to Juli. He plays matchmaker as much as he can, sharing his feeling that Juli is very special and an extremely rare kind of person.
10
Moonrise Kingdom (2012)
Set in the 1960's, this delightful story focuses on Sam and Suzy, two 12-year-olds who have run away. Sam is serious and a bit nerdy while Suzy is independent and precocious. They may not get very far with their relationship, but they run into lots of trouble trying. They take their adventure really seriously which is also full of humorous moments that make very enjoyable to watch. The sweetest moment is when they share their first kiss on the beach.
ANY IDEAS ABOUT THIS TOPIC?