With so many mesmerizing operas, it is a very difficult task to come up with a list of the best of the best. A couple of the most deserving may end up on the majority of such lists, whereas others may only appear sporadically. The operas chosen for this list, for the most part, offer stories of betrayal, love and death. All are written by the most talented composers and tell an engaging story. Fulfilling these criteria, the following is a list of the 10 best operas.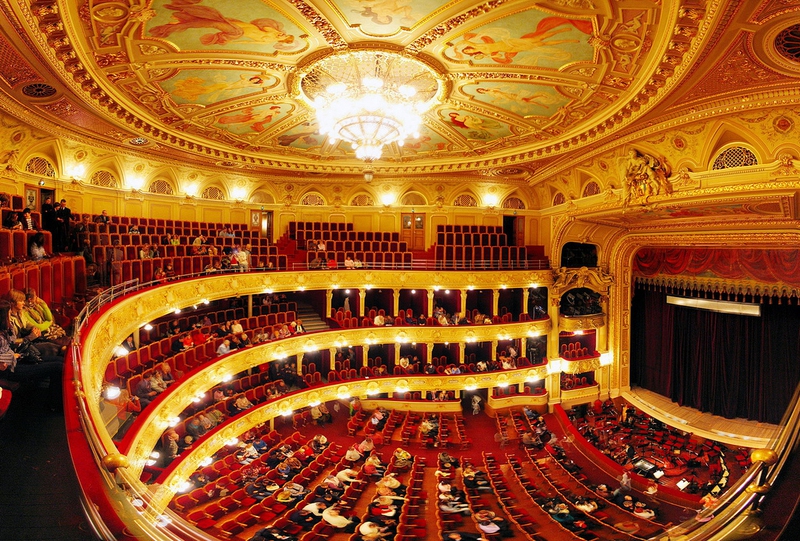 Top 10 Best Operas
1
La Bohème - Friendship and Love in Paris
La Boheme was composed by Giacomo Puccini, and took place in Paris during the 1830's. It was first presented to audiences in 1896 at the Teatro Regio in Turin. This sad, wonderful story, over four acts, follows two friends and their girlfriends by way of a number of popular arias, including Mi chiamano Mimi and Che gelida manina. The four individuals that make up the two couples featured in this story encounter poverty, betrayal, friendship, sacrifice, illness and most of all, true love.
2
La Traviata - A Story of Mistaken Love
La Traviata is set in Paris during the 18th century. This opera was composed by Giuseppe Verdi and was first performed in 1853 in the La Fenice opera house in Venice. During the first act of three, courtesan Violetta, who is ill with tuberculosis, inspires the audience by singing the beautiful and painful aria Sempre Libera, while contemplating love. This opera is a story of mistaken love, misunderstandings, jealousies, broken hearts and betrayals that center on Violetta and her impending death due to illness.
3
Madama Butterfly - An Act of Betrayal
Madama Butterfly is a famous three-act opera, composed by Giacomo Puccini and set in early 1900's Japan. It was first performed in Milan in 1904 at the La Scala theatre, and features the well-known aria, Un bel di, vedremo. It centers on Madama Butterfly, a Japanese geisha, and Pinkerton, a US Navy Lieutenant. After a marriage broker arranges for these two to wed, Pinkerton leaves his wife to pursue his real desire of finding an American wife, not knowing that Butterfly has given birth to his son. The portrayal of heartbreak, abandonment, deceit and honor over time and distance making it one of the best operas over time.
4
Il Barbiere di Siviglia - Love in Disguise
Il Barbiere di Siviglia was composed by Gioachino Rossini and takes place in the 1600's in Seville, Spain. This two act opera was first presented in Teatro, Argentina in 1816. This delightful, funny story is about the beautiful Rosina, and the two men who want to take her hand in marriage. It is well known for its beautiful performance of the aria Una voce poco fa, sung by the smitten Rosina to describe her unknown love. Unlike many operas, this one is free of hurtful deceit, betrayal or death.
5
The Magic Flute - A Majestic Journey
The Magic Flute is a German opera, composed by Wolfgang Amadeus Mozart in 1791. It premiered in Vienna, Austria at the Theater auf der Wieden late that same year, just weeks before Mozart's death. Many magically inspiring songs are sung during this adventurous opera filled with Masonic imagery, including Der Holle Rache kocht in meinem Herzen. The story follows the lost prince, Tamino, as a number of obstacles and temptations are thrown in his path to finding his true love.
6
Don Giovanni - The Exploits of Don Juan
Mozart composed Don Giovanni in 1787, and the opera premiered later that year at the Prague National Theatre. The story takes place in a small town in Spain in the 1600's, and tells of the plights of playboy Don Giovanni and his actions of seduction, murder, betrayal, greed, dishonesty and taking what he wants at the cost of others, using memorable and meaningful lyrics. All around him are those seeking revenge for this fearless man's actions, including his grieving victims, ex-lovers, deceased enemies, and gutless cowards with their misplaced loyalties.
7
Tosca - Law in the Wrong Hands
Set in Rome in 1800, Giacomo Puccini's Tosca is a three act opera that was first performed in 1900. The story is comprised of an escaped prisoner, his friend, his friend's lover, and the notorious law official who is after the prisoner. It is the police chief who is the real villain in this tale, who will stop at nothing to achieve his goals and get what he wants. Featured in this opera are two of the most famous powerful arias to date, Vissi d'arte and E lucevan le stelle.
8
Carmen - A Story of Smugglers and Scandal
Carmen is a four act opera by Georges Bizet that was first performed in 1875 in Paris at the Opera-Comique. The story takes place in approximately 1820 in Seville, Spain, and centers around soldier, Jose, and the woman he is supposed to arrest, but helps to escape, femme fatale, Carmen. This opera is well known for its engaging songs, including the seductive tone of Seguedille, and the disturbingly playful Urchin's Chorus. But Jose and Carmen's relationship, based on guilty pleasures, is bound to end in tragedy.
9
Eugene Onegin - Unreciprocated Love
Eugene Onegin is a Russian three act opera composed by Pyotr Ilyich Tchaikovsky in 1878. Its premiere took place in Moscow in 1881 at the Bolshoi Theatre. The story starts when Tatyana's sister's love interest brings a friend named Eugene Onegin to her house, and Tatyana immediately falls for him. Tatyana writes Eugene a love letter, which Eugene disregards, leaving Tatyana with a broken heart. Years later, they meet again under very different circumstances, and Eugene regrets many of his life choices.
10
Rigoletto - The Story of a Father's Love
Set in the small Italian town of Mantua in the 1500's, Giuseppe Verdi's popular opera, Rigoletto, first premiered in 1851 at La Fenice in Venice. The story follows Rigoletto, a hunchbacked jester who is known for his verbal abuse, and his boss, the Duke of Mantua, a self-centered womanizer, who only cares about his own happiness. When Rigoletto's daughter becomes the target of the Duke's charms, Rigoletto begins a tragic journey to protect her. Rigoletto is known for its powerful music and suspenseful, engaging storyline which makes it one of the best operas.
ANY IDEAS ABOUT THIS TOPIC?