When one is thankful, it will be beneficial to others, including God himself. The more you are thankful for what he has given to you in life, the more you will receive from him. When you feel there are no reasons for thanks, thank you bible verses will keep you in faith, knowing God suffered for you.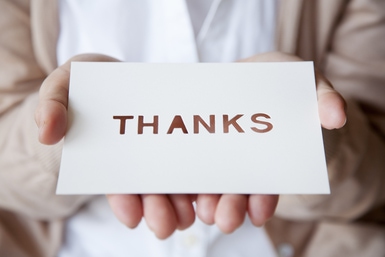 10 Great Thank You Bible Verses
Here are our 10 great thank you Bible verses, and pick the right one to express your gratitude.
And now the LORD shew kindness and truth unto you: and I also will requite you this kindness, because ye have done this thing. (2 Samuel 2:6)
Having constant thankfulness shows your faith in God in more ways than one: you believe, you give God acknowledgement, and you have shown others that thankfulness in faith will bring more good into your life. Once you have true thankfulness and faith, you will have more to be thankful for, because God knows you have recognized him and he will reward you for it.
Offer unto God thanksgiving; and pay thy vows unto the most High. (Psalm 50:14)
Often times Christians stray if they feel their tribulations are caused by God. In truth he does not want his followers to be in pain or unhappy, he wants to help in these times of need. One must remember to always give thanks for the love and support he provides, as the Father, he cannot make decisions for you but lead you and comfort you.
Let us come before his presence with thanksgiving, and make a joyful noise unto him with psalms. (Psalm 95:2)
Of all things to be thankful for, should God not be the center of thankfulness after all he has done? We would not even be able to have thankfulness if it was not for God and his righteousness. Remember to not only pray to him, but thank him and be thankful for the blessings he has stowed upon us.
Bring my soul out of prison, that I may praise thy name: the righteous shall compass me about; for thou shalt deal bountifully with me. (Psalm 142:7)
A prayer from David to God, knowing that his troubles were of small consequence compared to what God has done for us. With this doubts and fears shall subside, as the realities of life which are harsh will subside when you give thanks and accept the love of God and his written word. For everything you are thankful for has been given from God.
I thank my God always on your behalf, for the grace of God which is given you by Jesus Christ. (1 Corinthians 1:4)
Christians have always come together in groups for praise in worship. All Christians should remember each other while giving thanks. When a fellow believer is in turmoil, give thanks for them—it is a gift and blessing. It is important to be aware of others and what their needs are and giving thanks for others is a part of being a loving, concerned Christian.
For all things are for your sakes, that the abundant grace might through the thanksgiving of many redound to the glory of God. (2 Corinthians 4:15)
All of God's suffering has been for the faith of Christians; his path was taken, so we would not have to do the same. Knowing the suffrage, Christ went through makes the troubles of today easier to deal with. Keep your eyes on the written word and it will lead you to the understanding of how to take his pain and turn it into thankfulness.
Cease not to give thanks for you, making mention of you in my prayers. (Ephesians 1:16)
Prayer is a precious direct link we have with our Father, so let God see your thankfulness through prayer and how important the whole congregation is. Having the thought is a good start, and be aware of the gifts that are given. Use your time to pray: talk to God, telling him why you are thankful. Pray for all of his followers for they will be tested.
Giving thanks always for all things unto God and the Father in the name of our Lord Jesus Christ. (Ephesians 5:20)
It is common thought in Christianity to give thanks: thanks for family, health, abundance…many things that you have in your everyday life. Giving thanks for everything includes trials and tribulations. While dealing with a troublesome and unfortunate event, one must remember you are tested by God. Throughout your troubles, he is there to help you and lean on as well as teach you.
We give thanks to God and the Father of our Lord Jesus Christ, praying always for you. (Colossians 1:3)
Christianity is a family with God as the father. As with most family systems, the father sets the example and the rest follows. Here Christians are reminded that not only should they be following God at all times, they should do it as a family. Give thanks for the immense family he has provided you, and give thanks for the opportunity to pray for them. Even in religion, there is strength in numbers.
I thank God, whom I serve from my forefathers with pure conscience, that without ceasing I have remembrance of thee in my prayers night and day. (2 Timothy 1:3)
Today, thirty years ago, 300 hundred years ago… All generations have faith and offer their thanks to God, so he may have the glory. Use encouragement and examples from your forefathers to remember they also went through trials, made it through with the guidance of God, and now you will also do the same. Use thanks in prayers to God and the cycle will continue with the next generation.
ANY IDEAS ABOUT THIS TOPIC?