Since this is the first Christmas of this column, I thought I would go for the obscure tracks as there are so much of the others elsewhere. It was a hard decision to just whittle it down to ten, but I did it way in advance. I also wanted it to be a week early so you could get the ones you liked and play them at your party or dinner or just around the house a week or so before Christmas. They all have their fine points. Have a great Holiday Week!
Below is a jukebox containing all the songs I picked this week. After you read about them below, go back and listen to whatever you like by just clicking on that title in the jukebox, or stream the whole playlist by clicking on the "play" icon at the top. It's free and it's the entire song. We're not selling anything. We're just in the business of hopefully making your days better by listening to great music.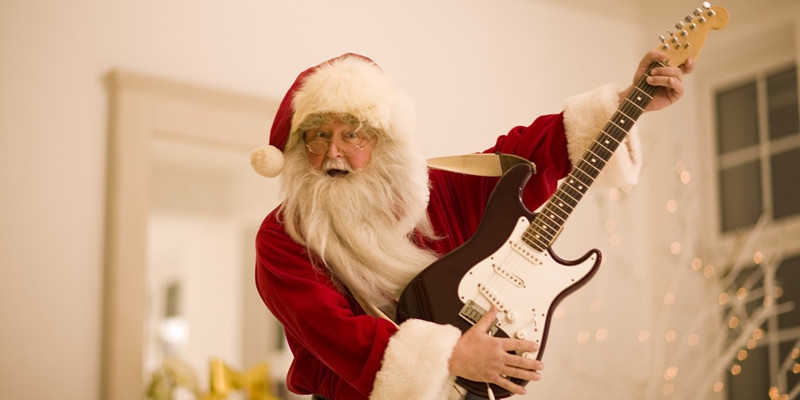 Part 1
1
"Christmas in America" — Melissa Etheridge
This is a topical song that could have come out when Bush went after those mythical WMDs. We still have our young lads and lassies overseas throwing dice with their lives each day. Melissa wants 'em home for Christmas. One whole half of America wants 'em home for ANYTHING. This song is aimed at the other half, with mellifluous telescopic sight. I assume Melissa is not preaching to the converted.
2
"Santa Claus Go Straight to the Ghetto" — James Brown
All I have to say is this is The Godfather's finest Xmas tune.
3
"Saviour Pass Me Not" — Swan Silvertones
This is my favorite track from my favorite old-time gospel group. I believe this was recorded about 1963 at VeeJay studios in Chicago. I found this in stereo on the soundtrack CD for the film The Big Easy. In stereo you can hear the excellence involved in the engineering of this track. When I taught at The Berklee School of Music in Boston, I would ask the students to close their eyes when I played it, as the recording is so excellent it actually sounds like the group is live in the room where you are listening. The other great thing is the guitarist. He is the only instrument playing and his part is soooooo excellent. Sometimes I will just listen to the guitar only, to learn something as a player. And last but not least is the lead singing of Reverend Claude Jeter (lower left in photo) who influenced so many soul singers, especially Al Green, who is proud to admit it. This is five minutes of heaven and I implore you to listen to the whole five minutes as it is subtly building the entire time.
4
"Louisiana Christmas Day" — Aaron Neville
This song meant so much more post-Katrina. We must never lose the magical musical elements OR any of the wonderful artifacts of this amazing city. YOU tell 'em, Aaron!
5
"Joseph, Better You Than Me" — The Killers feat. Elton John & Neil Tennant
This is a strange one but worth the price of admission when Elton's voice enters at full strength. Wonderful chord changes in the songwriting are probably Elton's contribution as he co-wrote with Brandon Flowers and Neil Tennant (Pet Shop Boys). It's a wonderful production and a thinking man's lyric. A worthy contender for this top ten.
6
"Can't Stop Thinking About Mixmas" — Universal Honey
This is a catchy track but seek out more of their work if you're a Shangri-Las fan. They are the closest I've heard without any annoying failed imitation. This is a dance remix but actually a better overall listen than the original mix. Well done, y'all.
7
"Hark" (featuring Matthew Ward) — Israel & New Breed
No, it's not THAT Israel. It's the other one who vocalizes and doesn't have issues with Obama. This is a massive modern gospel track. I really love it when all the musical elements come together like this in ANY musical genre. Amen!
8
"Rudolph the Red-Nosed Reindeer" — Ray Charles
When they say Ray could sing the phone book and it would be soulful? Well, here's an example of the truthfulness of that statement. An anti-bullying song from waaay back, it has all kinds of wonderful thoughts in it. Ray Charles singing it enhances a few others. A great arrangement with rare guitar fills for a Ray Charles recording.
9
"Winter Wonderland" — Al Kooper
Around the late '80s, Celtic indie label Green Linnett asked me if I wanted to participate in an album called Christmas Guitars. When I found out the above song was available, I assented as I always had this arrangement in my head. The only obstacle was drums were forbidden from any tracks on the album. Weird, huh? To compensate, I hired these two Latino guitarists I had worked with on a film score and asked them to be the drums. They are amazing strummers and filled the bill meticulously. I played the electric guitars in the spirit of Jeff Beck and Les Paul. The ad lib guitar solos are sped up à la Les Paul. The theme guitars are in emulation of Mr. Beck and in real time. My partner at the time, Charlie Calello, played bass. When it was mixed, the acoustic guitarists asked that their names be taken off the personnel. I guess they didn't care for it personally. I think their performances were perfect but I will honor their wishes. I believe this CD is still in print and has many wonderful performances on it by a few other people you know.
10
"Eli Eli" — Perry Como
Well, that stopped ya in your tracks, didn't it? I figured my tribe deserved at least ONE out of ten. My dad gave me Perry's album I Believe for Chanukah in 1956. In addition to the most popular Christian songs of faith, Perry included two sacred Jewish songs. Orchestral accompaniment is forbidden for sacred Jewish compositions in temple, but Perry Como is Italian so off they went — with a full orchestra, a massive choir, and Perry singing in Hebrew — to the RCA studios in New York City. The emotion he puts into the vocal is pretty incredible considering how laid back his singing normally was. I had to ask a collector to use his copy for this column as there are more clicks and pops on mine than music nowadays. So Merry Xmas and Happy Chanukah from me and Perry to all of you! However I'm still waiting for the CD version of Perry's album.
ANY IDEAS ABOUT THIS TOPIC?