Whiteboard wallpaper transforms any wall into a writing surface that can be dry-erased as easily as a conventional white board. Good quality wallpaper of this kind resists staining or marker residue seeping through to the wall underneath. Installing white board wallpaper is as simple as applying regular wall paper, and many brands of it now come with self-stick adhesive backing. When deciding to apply this to a wall in your home or office, it is important to keep in mind that whiteboard wallpaper is generally better on smoother rather than heavily textured walls.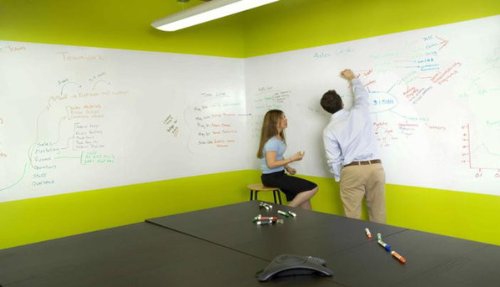 Part 1
1
Step 1 -- Select and Measure Wall Area
Decide which specific wall you want to cover with whiteboard wallpaper. It should be in an area without any furniture that may get in the way when drawing or writing on your new wallpaper. Measure and write down the lengths and widths of your wall space; you will need these when ordering your whiteboard wallpaper.
2
Step 2 -- Order Wallpaper Test Samples
Different brands of whiteboard wallpaper can have a wide range of quality and characteristics. Some brands are off-white or pale beige while others are bright white, some have glossier surfaces than others, and a few require additional adhesive. Many manufacturers offer wallpaper samples for a small price, and it is a good idea to try at least 2 to 3 of these samples on your wall before purchasing the full amount. This will give you a good idea of which whiteboard wallpaper looks the best and is the easiest to adhere to the wall.
3
Step 3 -- Purchase Wallpaper
Once you have decided on a specific brand of whiteboard wallpaper, order enough to fit the measurements of your wall. Many manufacturers now have websites where you can submit the dimensions and receive a price quote right away. Some manufacturers sell whiteboard wallpaper in standard measurements of different sizes, while others offer custom sizing. It is a good idea to compare these options in order to get the best possible price. Keep in mind that 2 to 4 smaller sheets of whiteboard wallpaper are easier to work with than one big sheet when it comes to adhering it smoothly to the wall.
4
Step 4 -- Apply Wallpaper
After receiving your wallpaper, make sure you have a small-to-medium roller to smooth it in place; these can be found at either print-making supply stores or from the whiteboard manufacturers. Begin in one corner of your wall space and work from the ceiling down. You will probably need a stepping stool or small stepladder to comfortably get the top section in place with a standard height ceiling. Remove the adhesive backing and press the whiteboard wallpaper to the wall in small sections.
Run your roller over the wall paper as you go in order to remove wrinkles or air bubbles. If you are installing separate sheets of wallpaper, some brands require seam covers so that the seams can be written over with no interruptions. These are thinner strips of material that are pressed over each seam, using the roller in the same method as the rest of the wallpaper.
ANY IDEAS ABOUT THIS TOPIC?