One's teens and twenties can be said to be some of the most momentous periods of one's life. It's during these ages that you experience your first kiss, your first love, your first heartbreak, your first salary, getting to hang out 24x7 with friends, and having no care or responsibility in the world.... Ah yes, youth is definitely the best period of one's life. So, who can blame you if you want to reminisce your youth? This is why we've compiled a list of songs to lift your mood and make you feel young again.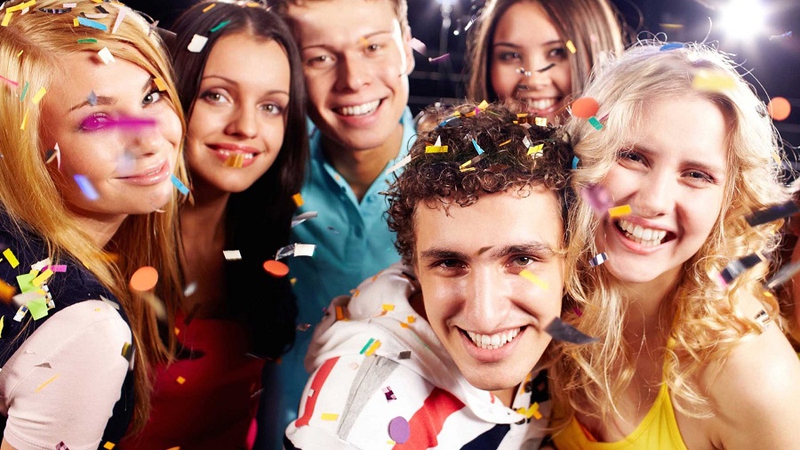 Songs About Being Young
It's always wonderful listening to songs that make us feel young/youthful again, isn't it? It doesn't matter if we're 30 or 90 – songs can instantly lift our moods in a way no antidepressant can.
1
What's My Age Again – Blink 182
Written by vocalist and bassist Mark Hoppus, this is one of those songs about being young where adults grow up yet behave like silly children. The song can be said to be autobiographical in nature, as Mark based the lyrics on personal experience. The song delves into the various experiences an immature adult can have, and a lot of people, who still have a child living in the heart, will relate to it a lot.
2
Teenage Dream – Katy Perry
This is a throwback song to the euphoric feelings of being in love as a teenager. The lyrics are pretty simple and straightforward, and talk from the point of view of a teenage girl who's spending time with her lover and is having the time of her life.
3
Thirteen – Elliot Smith
Do you still remember when your teens were all about school dances, proms, swimming pool and basically the innocence of your school life? Elliot Smith does, which is why he's so deftly able to come up with a sweet song that will make you smile from ear to ear remembering the days of your youth.
4
Jack and Diane – John Mellencamp
Sure it's an old song, but come on! A good song doesn't age. This song is kind of a youth anthem and pushes an anti-adult agenda, but it's all for fun. It talks about how being an adult means, leading a boring life full of broken dreams and lost hope. It's the type of songs about being young to listen to if you're tired of being adults!
5
You Oughta Know – Alanis Morissette
This song's about that one messy breakup in your life that messed you up inside out. When you're in love, you think your relationship will last forever, but a majority of the times, that isn't the case. So if you'd like to re-live what it's like to go through heartbreak when you're young, brave, fearless and stupid, then this is the song for you.
6
We Are Young – F.U.N.
Being young is messy, but it's passionate. If you're still looking for songs about being young, then We Are Young is your anthem. Nate Ruess, the lead singer of the band, revealed in an interview that the idea for the song came up after he experienced his worst night of drinking. The song is about a man who has had one too many drinks and needs time to recuperate, but that still doesn't stop him from enjoying the night to his content. He sings:
"Tonight, We are young
So let's set the world on fire
We can burn brighter than the sun"
7
17 Forever – Metro Station
Want to remember how it felt like being 17? Then listen to 17 Forever. You will be an adult in a year, which means that this is your last chance to be that deviant and fearless young man. The song is about teenage angst and rebellion, and how it feels to do what you please without having a care in the world.
8
22 – Taylor Swift
"We're happy, free, confused and lonely at the same time…
I don't know about you but I'm feeling 22."
That's it. That's the entire song in a nutshell. So let's just forget all about the deadlines and raise your arms to hug this sweet and a little bit bitter young life. No matter you are in your 20s, 40s or 60s, this is definitely one of the songs about being young you should put on your playlist to feel all those young vibes.
9
Live While We're Young – One Direction
1D is comprised of young adults, who are good at writing and singing songs about being young. This song has a twist. It discusses how one's youth is spent about pretending to be someone you're not and impressing people you don't like. Youth mostly centres on sex, and this song sings about it unabashedly. For those wishing for a nostalgic night out, this is the song for you.
10
Time to Pretend – MGMT
Remember when your youth was all about one thing – live fast and die young? "I'll move to Paris, shoot some heroin" – This is how MGMT describes its rock star fantasises in a facetious way. Who doesn't have expectations, fantasies, or even daydreams when young? The reckless life style and the piercingly beautiful chorus in this song make it really popular. So just live your life to the fullest and seize the opportunity to accomplish all your dreams!
11
21 and Invincible – Something Corporate
Something Corporate, a really cool rock band, released this song in 2003 in its album North. The entire song tells you waste time no more and enjoy life to the fullest. It says "Whoa, can't wait to screw this up/And woah, 21 and invincible/I'm in power for the hour/Guess today's gonna blow us away." So, just get the young vibes from the lyrics and rhythm!
ANY IDEAS ABOUT THIS TOPIC?