Follow the curves and twists of the top 10 romantic comedy anime. Some are bittersweet and others are full of fun and adventure as well as a science fiction flavor. These are handpicked and singled out for their unique manga-anime qualities that are sure to keep you on the edge and a tissue in your hand.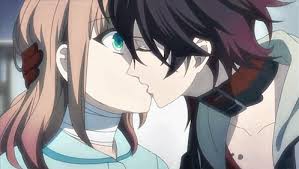 Top 10 Romantic Comedy Anime
1
Ai Yori Aoshi (2002)
With the meaning "bluer than indigo", this is a love story. This unusual love story begins between two friends. These friends haven't seen each other in years. They started as childhood friends. The leading character of the show is Kaoru Hanabish. He is a university student whose parents never married. The scene is set when Aoi, his long lost love returns and Kaoru's half-brother steps in between them. Will he win?
2
Aishiteruze Baby (2004)
Kippei who is the leading character is now in charge of his younger cousin Yuzuyu soon after she is abandoned by her mother. This is a wonderful example of how manga and anime successfully blend the seriousness with humorous. This is a difficult task for Kippei because he must now be the "mother" of this child. But unbeknownst to Kippei, he will soon find a young girl named Kokoro who helps him care for his cousin and whom he cares for.
3
Ah! My Goddess (2005)
This manga was adapted into five separate anime in a short period of time. It begins with the core plot which includes Keiichi and Bellandy, and Keiichi asks her be with him forever. This is one of the most interesting series as there is a different theme for each episode. For newcomers to anime, this will surely keep you busy for a while since there are many, many episodes.
4
Kamisama Kazoku (2006)
This is from a series of light novels. The plot is an interesting and exciting adventure. The story begins when Samatarou Kamiyama, a little boy who is the son of a god has to spend time in the human world to learn about the people and the planet. It turns out a scary and humbling experience for Kamiyama. You can't figure out that he is not human fully at all until comments are made about how he is never hungry and doesn't feel pain. This is truly an interesting series.
5
Dragonaut the Resonance (2007)
This is a science fiction anime which starts from Jin Kamishina, the leading character, losing his family in a shuttle accident. He is caught up in a project the government is running to stop an asteroid from hitting planet earth. The plot thickens when the very tool the space agency wanted to use turns on towards the people it was made to help. Through this though he meets and grows closer to Toa, a girl who single-handedly saves him from falling to his death.
6
Cross Game (2009)
This is a romantic comedy manga about baseball and the story happens between Ko Kitamura and his four-sister friends from next door, and especially his relationship with one of them, Wakaba whose sisters quickly get upset with Ko for taking her sister from them slowly. For reasons we won't mention here, Wakaba dies and Ko gets closer to the other sisters. They go through some interesting times until they eventually live out a baseball dream!
7
Angel Beats (2010)
This is one of the wildest anime ever with a plot that keeps you enthralled throughout the series. Angel Beats takes place in an etheric high school. When kids have passed on, they use this high school as a purgatory and have to first shed any attachments they have to the past before they pass on to the other side, finally freeing them from the bondage of this place and into the eternal light. But, what they have to do to get there is the best surprise.
8
Freezing (2011)
This is another one of the best science fiction anime ever made. Freezing takes place in a futuristic setting where earth is at war with invading aliens which are from another dimension. There are two fighting forces at work here. One is the genetically mutated girls called Pandoras who have special fighting skills and Limiters who use Freezing powers to disable their enemies. This is a fast-paced series with lots of action. This is not a boring and long-winded drag by any stretch of the imagination. What happens romantically and the integration of that into this action-packed series is incredible.
9
Ano Natsu de Matteru (2012)
This is sort of a love triangle story going on between Kaito, a videographer known in his circle as "the director", Kanna and Ichika. Though he is aware of Kanna's feelings for him, he is falling hard for Ichika. It goes on a while about their growing friendship until they finally confess they like each other and begin to date. The story gets more interesting when Ichika must go back to her planet for a while. Will she really return? Why not to find out by yourself.
10
High School DxD (2012)
This is another high school with a spiritual secret. This high school used to be an all-girl school until it turned into co-ed. Once that happened, a seemingly normal school begins to shed its secret. This is not just a school for normal humans, this also becomes the home to devils, fallen angels who wreak havoc with one another and in a very special way. Yes, some of these little high school romances can be well-deadly.
ANY IDEAS ABOUT THIS TOPIC?