Although there weren't a lot of traditional romantic comedies in 2013, the genre still thrived, just in a more unconventional way. A zombie received a new life through loving a mortal girl, more than a few characters fought their sex or porn addictions to find true love, family dynamics were revisited and revised and supernatural love showed us that love will conquer all. Even the late James Gandolfini got in the game, playing one of the year's most memorable leading men. With so much variety out there, tell us which romantic comedy is your favorite.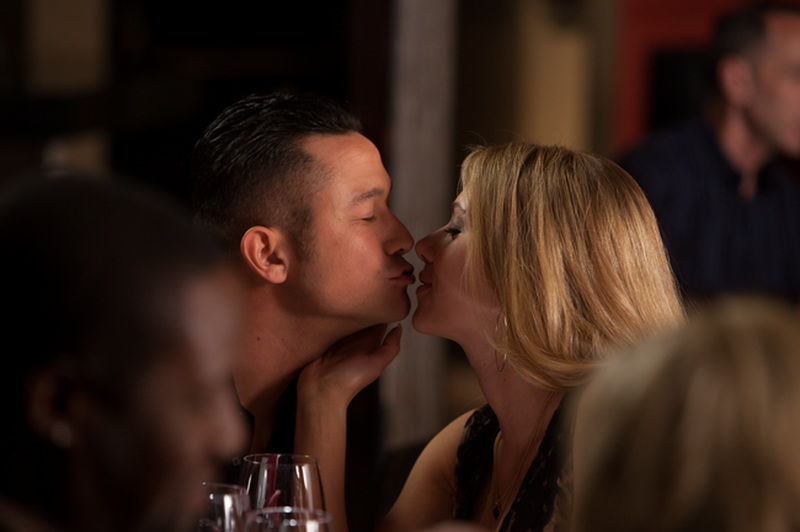 Best Romantic Comedies of 2013 You Can't Miss
This list of Romantic Comedies of 2013 are not in a particular order, but each of them gets many good reviews. See which you like best.
1
Enough Said
Starring: Julia Louis-Dreyfus, Toni Collette, Ben Falcone, Michaela Watkins, Catherine Keener, James Gandolfini
Director: Nicole Holofcener
Release Date: September 18, 2013
Divorcee, Eva is a masseuse and mother of a teenage girl. One day, she attends a part with her friends Will and Sarah where she meets Will's friends Jason and Albert. After the party, Albert asks Will for Eva's phone number, and at first she reluctantly agrees to go on a date with him but quickly begins to fall for him. All goes well until Eva takes on a new client Marianne and fast becomes friends with her who happens to be Albert's ex-wife.
2
The Spectacular Now
Starring: Miles Teller, Shailene Woodley, Brie Larson, Jennifer Jason Leigh, Kyle Chandler
Director: James Ponsodlt
Release Date: August 2, 2013
Sutter Keely is a high school senior who is charming and self-obsessed, and he works part-time at a local men's clothing store. His girlfriend, Cassie, breaks up with him due to his budding alcoholism and apparent lack of ambition. Sutter soon embarks on an unlikely relationship with Aimee Finecky after waking up on her front lawn after a wild party.
3
Drinking Buddies
Starring: Olivia Wilde, Jake Johnson, Anna Kendrick, Ron Livingston
Director: Joe Swanberg
Release Date: August 23, 2013
Kate and Luke are co-workers at a Chicago craft brewery, who spend their days drinking and goofing off. They are a perfect match except for one huge problem in between: Kate is dating Chris and Luke is dating Jill. Where will the story go? Check it out by yourself!
4
Don Jon
Starring: Joseph Gordon-Levitt, Scarlett Johansson, Julianne Moore, Rob Brown, Glenne Headley, Brie Larson, Tony Danza
Director: Joseph Gordon-Levitt
Release Date: September 27, 2013
Jon Martello is a modern day Don Juan who cares about a very short list of things, and porn is included on that list. One night, Jon is hanging out with his friends Bobby and Danny and later meets Barbara Sugarman, but he fails to "seal the deal." After tracking her down via facebook, the two embark on an interesting relationship that you will never imagine.
5
The Best Man Holiday
Starring: Taye Diggs, Sanaa Lathan, Nia Long, Morris Chestnut, Monica Calhoun, Harold Perrineau, Regina Hall, Terrence Howard, Melissa Sousa
Director: Malcolm D. Lee
Release Date: November 15, 2013
Mia Sullivan, the wife of Lance Sullivan, writes a letter to the "old gang", requesting their attendance for the Christmas holiday. With some reluctance, all arrive and spend the holiday together. During that time, tensions flare, additional secrets are revealed and old wounds are eventually healed.
6
Safe Haven
Starring: Julianne Hough, Josh Duhamel, David Lyons, Cobie Smulders
Director: Lasse Hallstrom
Release Date: February 14, 2013
Katie settles in a small town after fleeing horrific circumstances. She begins a complicated romance with Alex Wheatley the manager of a local convenience store. Just as the two begin to bond, the past of Katie threatens their union.
7
Love Is All You Need
Starring: Pierce Brosnan, Trine Dyrholm, Kim Bodnia
Director: Susanne Bier
Release Date: May 3, 2013
Ida, who happens to be a hairdresser and a recent breast cancer survivor, catches her husband cheating on her. During the same time, she discovers her daughter is preparing to get married in Italy. On her way to the wedding, she encounters the groom's father, Philip, then their love journey begins.
8
Austenland
Starring: Keri Russell, JJ Field, Bret McKenzie, Jennifer Coolidge, James Callis, Jane Seymour
Director: Jerusha Hess
Release Date: August 16, 2013
Jane Hayes is a 30-something women who has a very well-known obsession with all things related to the author, Jane Austin. Hayes uses her life savings to stay at Austenland, an immersive Jane Austen-themed resort. While there, she decides to find a man of her own rather than continuing to fall in love with fictional characters.
9
Admission
Starring: Tina Fey, Paul Rudd
Director: Paul Weitz
Release Date: March 22, 2013
Strait-laced Princeton University admissions officer Portia Nathan reconnects with a former college classmate, John Pressman. John believes that his adopted son is the child that Portia gave up while in college. Awkward moments ensue between the three as their varying personalities collide.
10
The Big Wedding
Starring: Robert De Niro, Diane Keaton, Ben Barnes, Katherine Heigl, Amanda Setfried, Topher Grace, Susan Sarandon, Robin Williams
Director: Justin Zackman
Release Date: April 26, 2013
Don and Ellie Griffin are a divorced couple with three children, Lyla, Jared and the adopted son, Alejandro. Donand Ellie must pretend to still be married while Alejandro's biological mother visiting from Columbia for Alajandro's wedding. This truly becomes complicated when Don's current girlfriend, Bebe, shows up and Ellie's former best friend makes her presence known.
ANY IDEAS ABOUT THIS TOPIC?