2014 has presented us with so many amazing romantic comedies that I cannot wait to share with you. My fellow editors and I have compiled a list of the top 10 romantic comedies 2014 that you simply cannot miss. The key to a great romantic comedy is one that makes you want to fall in love with someone that you can laugh with. It makes you revert to the childhood yearning for a fairytale romance. Take a look at the list that I have put together and let me know what your favorites are.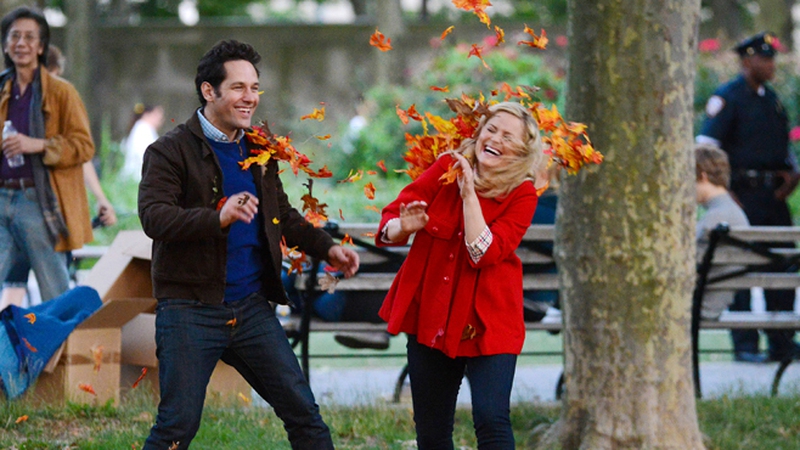 10 Best Romantic Comedies 2014
These 10 best romantic comedies 2014 are in no particular order, but each of them gets high rate on IMDb.
1
Begin Again
Starring: Keira Knightly, Mark Ruffalo, Adam Levine, Hailee Steinfeld, James Corden
Director: John Carney
Release Date: June 27, 2014 (US)
Dan Mulligan is a recently fired record label executive living in New York City who encounters Greta while she is performing in a local bar. Dan offers to sign her to a record deal, but Greta initially shuns him. Through flashbacks their tales are told and the duo uses their past to conquer their personal comebacks.
2
What If (The F Word)
Starring: Daniel Radcliffe, Zoe Kazan, Megan Park, Adam Driver, Mackenzie Davis, Rafe Spall
Director: Michael Dowse
Release Date: September 7, 2013 (TIFF)
Wallace has a miserable job and lives in Toronto, Ontario with his sister and nephew. He drops out of medical school after discovering that his girlfriend has been having an affair with his anatomy professor. After vowing to not be social for a year, he is convinced to go to a party where he meets Chantry, and although she has a boyfriend, they become fast friends accidently on the quest for more.
3
Blended
Starring: Adam Sandler, Drew Barrymore
Director: Frank Coraci
Release Date: May 23, 2014
Lauren Reynolds is a divorcee with two sons, who meets Jim Friedman a widowed father of three daughters on a blind date that ends horribly. The two end up on the same pre-booked African vacation where they are pushed to reconcile their original encounter.
4
Le Week-End
Starring: Jim Broadbent, Lindsay Duncan, Jeff Goldblum
Director: Roger Michell
Release Date: September 7, 2013 (TIFF)
Le Week-End is not only just one of the romantic comedies 2014, you may even get surprised by its genius hilarity. Nickand Meg Burrows is a couple that have been married for thirty years. For their wedding anniversary and in hopes to rejuvenate their marriage that has been filled with tension, the two travelto Paris where they honeymooned thirty years earlier.
5
Cuban Fury
Starring: Nick Frost, Rashida Jones, Chis O'Dowd, Olivia Colman
Director: James Griffiths
Release Date: February 14, 2014
Engineer Bruce Garrett revisits his passion for salsa dancing due to his crush on his new boss, Julia. Heuses the language of dance in an attempt to win her over.
6
That Awkward Moment
Starring: ZacEfron, Miles Teller, Michal B. Jordan, Imogen Poots, Mackenzie Davis, Jessica Lucas
Director: Tom Gormican
Release Date: January 27, 2014
Three friends, Jason, Daniel and Mikey make a pack to be single after Mikey's wife requests a divorce from him. The problem is the three enter into relationships during the time period that the pact is supposed to be in effect. Therefore, the three go to great lengths to conceal their loves from one another.
7
About Last Night
Starring: Kevin Hart, Michael Ealy, Regina Hall, Joe Bryant
Director: Steve Pink
Release Date: February 14, 2014 (commercial)
The movie follows friends Bernie and Danny as they embark upon new relationships with Joan and Debbie. The budding relationships contradict all contemporary rules which cause conflicts with all dynamics.
8
They Came Together
Starring: Paul Rudd, Amy Poehler, Cobie Smulders, Christopher Meloni, Max Greenfield
Director: David Wain
Release Date: June 27, 2014 (US)
As a fan of Amy Poehler, I just can't leave this one out of this list of romantic comedies 2014, and this is a great one anyway. This story tells Joel and Molly original meet when Joel's corporate candy company threatens to shut down Molly's quaint candy shop. The two predictably fall in love but break up. Will they find their way back to love? Watch the movie and find it out by yourself!
9
Think Like A Man Too
Starring: Micheal Ealy, Jerry Ferrara, Meagan Goode, Regina Hall, Taraji P Henson, Terrence J, Romany Malco
Director: Tim Story
Release Date: June 20, 2014 (US)
A bunch of longtime friends gather in Las Vegas to celebrate the wedding of Michael and Candace. A competition as to which group (the men or the women) would have the best time in this "sin city" leads to outrages partying and jail time.
10
The Other Woman
Starring: Cameron Diaz, Leslie Mann, Kate Upton, Nokolaj Coster-Waldau, Nicki Minaj, Taylor Kinney, Don Johson
Director: Nick Cassavetes
Release Date: April 25, 2014 (US)
Even only thinking about the casting, The Other Woman can easy make its way into romantic comedies 2014. Carly discovers that her new boyfriend Mark has a wife, Kate, and another girlfriend, Amber.The three form a very unlikely friendship and use their bond to exact revenge on the man that has cheated on them all.
ANY IDEAS ABOUT THIS TOPIC?