A reference sheet is usually requested by potential employers and consists of a list of people who can verify and vouch for your professional experience. You can include contact details of your previous employers, professors and advisors in the reference sheet. It is recommended to keep a reference sheet handy as potential employers can ask for references they can contact.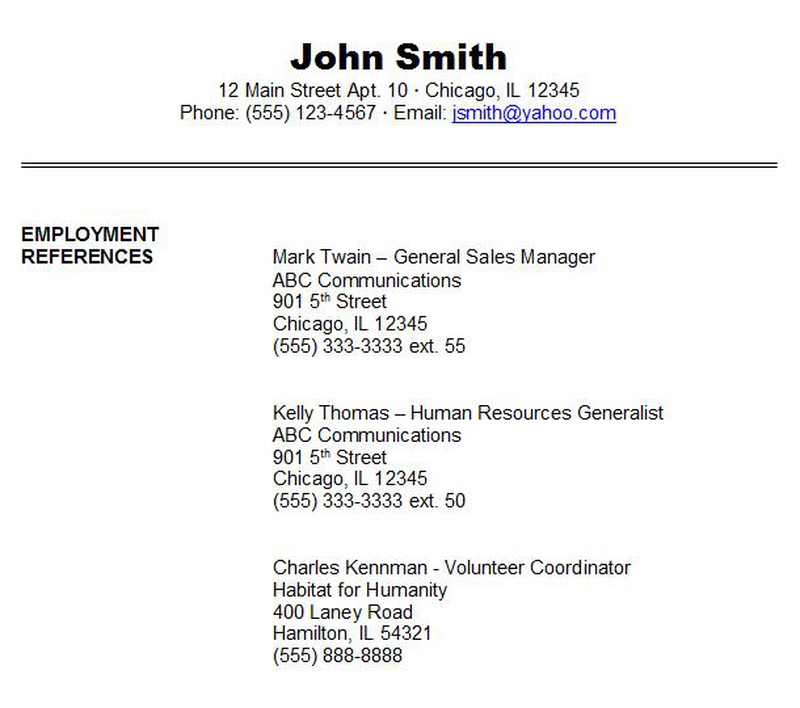 Part 1: Do You Need a Reference Page in Your Resume?
Usually an employer will request for the reference page only at the end of the interview and if they consider you as a good candidate. You should not mention references as a part of the resume, as the information of your references should be private and shared with employers you can trust.
You can carry the reference sheet to interviews and submit it when asked for it. Some employers ask for the reference list along with the resume. In such a scenario you should submit it if you really want the job and trust the employers as well.
Part 2: How to Write a Reference Page in Your Resume
1
Write a Resume
Ensure that you write the resume depending on the type of job you are searching for. It is important to present your best on the resume. You need to highlight the accomplishments of your career and get your friends or colleagues to proof read the resume for typos and grammar.
2
Choose References
It is important to choose the professional references wisely to be listed on the reference list. You can list 3 names, 4 or 5 names can also be given. These people should have known you at least for one year either at work, job, and volunteer situations or even in a community.
The people mentioned as references need not to be your friends, but should be people who can vouch for your good character and ethics.
3
Call Each Reference Individually
Give a call to all the people you have planned to list down in the reference sheet. Let them know the type of job you are searching and ask for their permission to list them as reference. This will allow them to be prepared when they receive the call or email.
If they seem hesitant or unsure, thank them and call the next person on the list. Those who seem enthusiastic can be listed down after asking them how they would like to be contacted – phone or email.
4
Collate the Contact Information
For a professional reference list you would need to have the details like – Name, their designation and work place, phone number and email address. You can provide the information for these topics without actually using the words – Name, Title, Phone Number and Email Address.
5
Write the Reference List
Write down the final list in an easy format with all the information you have collated. You can have details of all the 3 names you have decided to include in your resume.
E.g.:
Larry Smith
Supervisor, XYZ Corporation
123-456-7891
Part 3: A Reference Page Sample
Donna Jones
A-1, Rodeo Drive, Los Angeles – 90210
555-123-6789
==========================================================================
References
Joseph Smith
Manager
Dawn Corporation
342-678-1231
Have worked as head clerk under Joseph Smith for a period of 2 years at Dawn Corporation
Karen White
Head Supervisor
SYS Health
142-479-5282
Have worked as supervisor under Karen White for a period of 1.8 years at SYS Health
Cynthia Stone
Director
Give-a-life Foundation
444-786-9345
Have worked as a volunteer at Give-a-Life Foundation for the last 5 years.
Tips
Select references who know you well. It is important to list the names of people who have seen you work and know what kind of person you are. They should be able to give positive feedback and accurate description of you to the potential employers or company.

Make sure that you have contacted the person before listing them as reference and let them know about the type of job you are searching for. It will be helpful if you give them a copy of your resume, so they know how to present you and highlight your positives.

Additional References. If you have any additional references in various fields, you can break down the reference list in various sub-sections depending on the fields. This will make it more reader-friendly. However, you should ensure that references from fields which are very different from the job you are applying for are not in the reference list.
ANY IDEAS ABOUT THIS TOPIC?