The Nigerian Princes and winning lottery ticket distributors just took their online scams up a notch - majorly. As an increasing number of Americans are doing financial transactions over the internet, an equally increasing number I.D. theft cases is on the rise, according to the Treasury Inspector General for Tax Administration. Here are five quick tips to protect you from identity theft or from getting your financial information hacked that you have no excuse to ignore.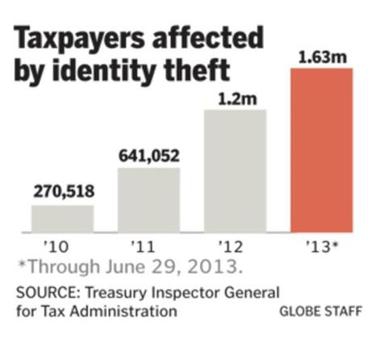 Protect Yourself From ID Theft: 5 Tips in Less Than 60 Minutes
1
Paysafecard
There's a way to shop online without handing out any sensitive information such as credit card numbers. Paysafecard offers a handy little product that's similar to a gift voucher posing as a single-use credit card. You can buy it practically anywhere (Walgreen's, Wal-Mart, gas stations) and use it on hundreds of sites (Apple Store, eBay, Amazon) to pay for music, games, items, etc.
Careful: You cannot use it for online gambling and if you lose the slip, it's tantamount to losing cash.
2
Bitcoin
This demands considerably more know-how than the credit card alternative above, but once up and running is worth the effort. Bitcoins and other cryptocurrencies have been hailed in some circles for their radical structure (being asset-based and not debt notes such as the USD or EUR), but beyond the economics or financial interest in speculation, cryptocurrencies are highly secure while at the same time completely transparent.
Coinbase is a great one-stop place for beginners, offering comprehensive customer support, an online wallet and an exchange platform. Turn Dollars into Bitcoins and pay someone online; the transactions and addresses are posted publicly, though tracing an identity to an address might prove difficult.
Careful: If you store your bitcoins without a backup and the server / hard drive is damaged, that's tantamount to losing cash. Furthermore, the market is more volatile than that of Dollars, so it's best not to store money in Bitcoin form for long periods of time.
3
Anti-virus software
This is a no-brainer these days, and there are many cutting-edge programs to choose from. There isn't a software on the market that can honestly claim to be 100% fail-proof, but the important thing to look for in an antivirus program is a firewall. This will pop up and notify you every time a program tries to access the internet. It may be annoying at first - okay, honestly it's quite irritating - but once you've approved the programs you use often such as Microsoft Office, you're not prompted to approve the request to access the internet anymore.
Careful: A firewall will keep malware from accessing the internet and sending out your private data, but it can't prevent you from accidentally downloading / installing viruses or other malware.
4
Don't store sensitive data online
It seems to me that PayPal is some hacker's heaven waiting to be cracked. I can hook up my credit cards as well as checking account online, and pay online at multiple places with PayPal. If I'm purchasing goods or services online, I'd prefer to go the old fashioned route and order on invoice, either paying cash on delivery or mailing a check (yes, those haven't become obsolete yet).
Careful: Even if you don't shop online, stores often retain credit card information for months after you've made a single purchase. At the risk of sounding paranoid, cash is king and the safest way to go.

5
Shred old financial documents
This is also a no brainer: credit card statements, bank statements, IRS notices, and anything else that has more than just your name on it should be ripped up and disposed of.

ANY IDEAS ABOUT THIS TOPIC?