Environmental change, economic development, and the constant demand for energy are profoundly affecting natural systems the world over. There are places where this is a good thing. New jobs, electricity, and new water sources can be great news for local populations. Unfortunately, they can also spell curtains for the singular landscapes and ecosystems that suddenly find themselves besieged. These are some of the beautiful places that may not be around for the next generation — places to visit before it's too late.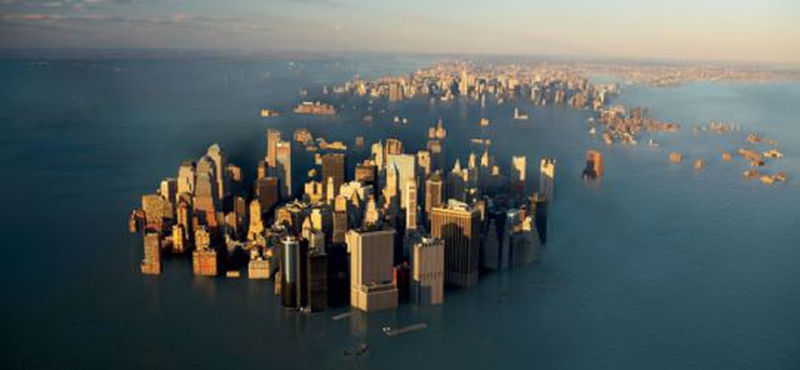 1
The Dead Sea
Why: One of the saltiest bodies of water on Earth, the Dead Sea is the world's original health resort. Herod the Great and Cleopatra allegedly took dips in the mineral-rich waters, which have been said to relieve ailments ranging from psoriasis to osteoarthritis. In the past four decades though, the lake has shrunk by 30 percent and sunk 80 feet. The culprits? Surrounding countries tapping the River Jordan, which is the Dead Sea's sole water source. Eli Raz, a researcher at the Dead Sea and Arava Science Center, is alarmed by the plunging water levels, which are falling around 43 inches every year, despite heavy rainstorms. At the current rate, experts predict the Dead Sea will be gone within 50 years.
What to do: Access the Dead Sea from either the west shore (Israel) or east shore (Jordan), both of which host a variety of cultural attractions and health and wellness resorts, such as the eco-conscious Mövenpick Resort & Spa Dead Sea in Amman. On the Jordan side, the Amman Touristic Beach, a mile from the resort area, offers swimming pools and changing rooms for day-trippers.
2
Jamestown, Virginia
Why: If you ever wanted walk in the footsteps of Pocahontas and Captain John Smith, you'd better hurry. A 2014 "Landmarks at Great Risk" report by the Union of Concerned Scientists concluded that before the end of the century, America's birthplace may only be experienced through history books and Instagram archives. "Sea level on the Virginia Coast is rising as fast as anywhere on the Atlantic coast," says Adam Markham, Deputy Director of Climate and Energy at UCS, adding that most of the area is only a few feet above water — a startling reality check when you consider that the Virginia Institute of Marine Science projects the state could see its coastal waters rise as much as two feet by 2050. "Jamestown is one of the places that has already changed because of global warming," says Markham. "Parts have been lost; so the longer you wait to visit, the less of it will be there." Indeed, recent storms like Hurricane Isabel have destroyed the sites of colonial and Civil War forts, and damaged nearly a million artifacts.
What to do: Book the Colonial Virginia: Riding the Road to Independence with VBT Bicycling and Walking Vacations for an active, all-inclusive journey back in time. You'll be in the saddle for up to 35 miles per day as you explore not only the first English settlement in Jamestown but also many other historic sites such as Yorktown, where you'll pedal the seven-mile Battlefield Tour loop, and Colonial Williamsburg.
3
Fort Jefferson, Dry Tortugas
Why: The largest masonry fortification the United States has ever built is located on a pretty spit of land about 70 miles off the coast of Key West. The sea here is cerulean, the turtles are easy to spot, and the sands are as white as clouds. Dry Tortugas National Park is one of the most remote national parks, which also makes it one of the most vulnerable to the effects of global warming. Harsher and more frequent storms are expected to increase in the Gulf due to the warming air and water surface temperatures, leaving this important historic site in the path of certain destruction. "Fort Jefferson is the poster child for making the investment in trying to save all these places. If we don't make that decision to save it," says Adam Markham, Deputy Director of Climate and Energy at the Union of Concerned Scientists, "it's going to be severely damaged and lost eventually." When it was built in 1847, the "masonry at the base of the fort was not expected to be under the water. But every day, the water is getting higher and eating away at it," says Markham.
What to do: Bring camping equipment, snorkeling gear, supplies and an underwater camera on board the Key West-based high-speed Yankee Freedom catamaran for an overnight stay at one of eight campsites next to Fort Jefferson. After pitching your tent on the beach, dive into one of the world's largest barrier reefs, where shallow waters (5-15 feet) and rich marine life, like nurse sharks, large turtles, and butterflyfish, make the Dry Tortugas a snorkeler's paradise.
4
Mesa Verde National Park
Why: It's easy to imagine that a UNESCO World Heritage Site like the Ancestral Puebloan ruins in Mesa Verde would be around forever if it's lasted since 600 AD. But Mesa Verde National Park and its 5,000 archeological sites — the biggest collection in one preserve in the United States — are facing a conflagrant future due to climate change. "Fire seasons in the west are two months longer than they used to be before the 1970s, and the reduction in snowpack combined with droughts make it not just warmer, but drier for longer periods," says Adam Markham, Deputy Director of Climate and Energy at the Union of Concerned Scientists. Not only does fire peel away cliff dwellings and destroy ancient petroglyphs, as it did in a massive 1996 blaze, but the methods which firefighters must use to combat the inferno, such as aerial water drops and fire retardant, are destructive and leave red stains on the sandstone. "I do think the landscape is likely to change in a way that historians and archaeologists weren't expecting," says Markham, adding his concerns for other big scale changes like the loss of pinyon pine trees.
What to do: Located near mile marker 15 on the main road inside Mesa Verde National Park, The Far View Lodge offers the most convenient basecamp for hiking through backcountry and taking ranger-guided tours of the cliff dwellings. Explore the 2.4-mile Petroglyph Point Trail near the ancient ruins of Spruce Tree Canyon as well as climbs up to the rim of Chapin Mesa. For a cave dwelling experience, consider Kokopelli's Cave B&B a little over an hour away in New Mexico.
5
Jamaica Bay, Queens
Why: Nestled between JFK airport and the converted-park Floyd Bennett Field, where Amelia Earhart and Howard Hughes once took flight, is the 9,000-acre Jamaica Bay Wildlife Refuge. A sanctuary for overworked New Yorkers and 325 bird species, this under-the-radar cluster of islands and wetlands is facing the threat of more extreme annual storms. Even worse: "Sea level rise analyses show the islands disappearing," says Bill Ulfelder, the Nature Conservancy New York's Executive Director. "Jamaica Bay is a hugely important migratory bird stop-over area." According to TNC's Climate Adaptation Tool, this critical natural defense system could lose a big part of its landmass in our lifetime.
What to do: It's not every day you ride the subway with your tent in tow. After setting up camp at Floyd Bennett Field — the only place you can legally camp inside the five boroughs — head off the runway and out into a totally different kind of urban jungle. Go for a hike along 2.2-mile West Pond trail, explore the historic Fort Tilden, or paddle the area on a guided kayak tour with Sebago Canoe Club.
6
The Coral Triangle
Why: You won't find a more magnificent underwater world than the Coral Triangle, home to over 2,000 species of reef fish, 134 sharks and rays, 30 marine mammals, and 75 percent of all known coral species. Indonesia, Malaysia, the Philippines, Papua New Guinea, Timor-Leste, and the Solomon Islands all share this precious ecosystem that's being harmed by destructive fishing methods and ocean acidification. Jim Sano, World Wildlife Fund's Vice President for Travel, Tourism and Conservation, says the "rising sea levels and warming sea temperatures are having a dramatic effect on the Coral Triangle." President Obama's new pledge to cut greenhouse emissions by almost a third over the next decade is promising, but if other nations don't quickly take similar steps to reduce C02 output, a WWF study by over 20 experts discovered that by 2050 less than 30 percent of this region's bountiful habitat — which 100 million people depend on to survive — will remain functional.
What to do: Experience the untarnished splendor of the Coral Triangle in the Solomon Islands, where you'll want to shack up in a beachfront bungalow at Uepi Island Resort. Pass the day diving in caves and around WWII shipwrecks, kayaking through the Marovo Lagoon, and gently rocking in a private hammock, a local Solbrew in hand.
7
Coastal Louisiana and New Orleans
Why: "Most of New Orleans would be flooded or become wetlands if not for the levees that were built," says Dr. Bruce Molnia, a research geologist at the United States Geological Survey. "But as we saw during Katrina, the embankments were breached, destroying neighborhoods that still haven't been rebuilt." While the Dixieland jazz, daiquiris, and Mardi Gras celebrations will outlast the next great hurricane, it just might not be possible to stay in the Big Easy. A White House official from the Office of Science and Technology Policy told Men's Journal that communities across the country are being impacted by coastal flooding due to sea level rise and storm surge, and that "climate change is happening now." A few hours beyond Bourbon Street, other parts of Coastal Louisiana are vanishing rapidly. Collin O'Mara, National Wildlife Federation's President and Chief Executive Officer, says, "climate change and the 2010 Gulf oil disaster have made the stakes even higher. NWF is working to restore our Mississippi River Delta, which was already losing critical wetlands at the rate of a football field an hour and has lost land mass the size of the state of Delaware off its coast since the 1930s."
What to do: Stay in the heart of New Orleans at Hotel Modern, offering free bikes, low rates, and a "green guest" policy that puts money in your pocket for accepting limited housekeeping services. After soaking in the sights, sounds, and suds of New Orleans — including a 10-mile bike ride along the scenic Mississippi River Trail — plan to get a different taste of Coastal Louisiana, what O'Mara calls the "sportsman's paradise and a must-visit for anglers and wildlife watchers." If you go, NWF recommends a fishing expedition with Venice Marina.
8
Alaskan Tundra
Why: Perhaps more than any other species, the polar bear has become an emblem of global warming. "With the rate the ice is melting in Alaska — where temperatures are increasing twice as fast as the rest of the world, according to the National Climate Assessment — it is likely that polar bears will disappear in our lifetime," says the World Wildlife Fund's Jim Sano. As the ice thaws much earlier in the season, and more rapidly, the animals are facing a decreasing number of days that they're able to spend on ice and catch seals during the limited feeding time from November to April.
What to do: To witness the polar bears in the wild, book a six-day trip to Manitoba with WWF partner Natural Habitat, the first travel company to go carbon-neutral. During the Classic Polar Bear Adventure, you are guaranteed to see these incredible creatures — as well as the northern lights from the outfitter's brand new Aurora Pod mobile.
9
Great Blue Hole, Belize
Why: Since Jacques Cousteau first explored the sinkhole in 1970, calling it one of the world's top ten scuba diving sites, the Great Blue Hole has remained in pristine condition. But luxury resort projects and oil interests are putting the UNESCO World Heritage Site at risk. "Belize has offered up 99 percent of its waters to offshore drilling, including the Great Blue Hole, even in light of widespread citizen opposition," says Oceana's Dustin Cranor. "Can you imagine a Deepwater Horizon-like spill in the Blue Hole?"
What to do: The solar-powered Turneffe Island Resort is perched on a 14-acre private island, 35 miles off the coast of Belize. Travelers come here to eat, sleep, and dive, so you can count on memorable trips not only to the Great Blue Hole, but also to some of the 70 dive sites within a mile of the hotel.
10
The Tarkine, Tasmania
Why: Australia's largest remaining cool climate rainforest is often put on those Top 10 lists of unbelievable places that really do exist. Yet despite its fabled beauty, mining companies see the Tarkine as a natural treasure to cash in on. Tasmania's own government rejected the National Heritage Council's recommendation that it become a National Heritage site but has welcomed nine proposals for new open pit mines over the next five years and an additional 60 licenses for mineral exploration. "The overwhelming majority of the Tarkine remains unprotected or underprotected, meaning it is technically in a conservation reserve but open to logging and mining," says Vica Bayley, Tasmanian Campaign Manager at The Wilderness Society, which has built a movement to protect the Tarkine and fight the damage being done by four-wheel drive tracks. Along with valuable metals like gold, iron, lead, and copper, there are 60 rare and endangered species that inhabit this nearly one million-acre landscape. If the government does not halt mining developments, threatened plants and animals will be displaced by waste dumps and polluted dams.

What to do: At the gateway to the Tarkine wilderness, on the North West Coast of Tasmania, the Tall Timbers hotel offers luxurious lakeside apartments at affordable rates and a panoply of resort-style amenities. Take one of several guided adventures of the Tarkine, like a Tasmanian Tiger tour or a helicopter charter. Vica Bayley suggests kayaking from Corinna to the Pieman Heads, and then walking north up the Western Tasmania Aboriginal Cultural Landscape. "Highlights include spectacular giant Huon pines, ancient Aboriginal heritage, wild coastline and immense sand dune systems," says Bayley. "If you're lucky, you'll see a Tasmanian devil and sea eagles."
ANY IDEAS ABOUT THIS TOPIC?