Armando Christian Pérez, better known as Pitbull to you and me, is the very epitome of an all-round entertainer for the 21st century. A multi award-winning rapper and record producer from Miami, Pitbull has appeared with pretty much every big name in the book and has become a byword for quality in the music business. He is quite simply one of the hottest commodities on earth right now in the music game and throws out more singles and albums each year than most manage in a lifetime.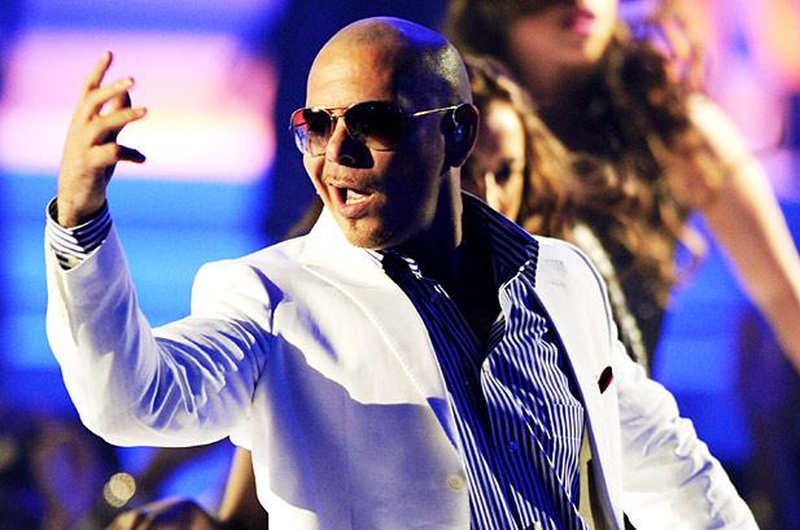 Top 10 Pitbull Songs
With so many to choose from, it's tricky to narrow Pitbull's work down to ten standout singles, though in terms of their popularity and critical acclaim, the following are perhaps the most important 10 Pitbull songs.
1
"We Are One (Ole Ola)"
When talking about Pitbull songs, this is always the first one into my mind. It's not every day you get asked to write and perform the official single for the 2014 FIFA World Cup, so it's hardly surprising that even Pitbull with his arsenal of accolades was pretty psyched about this one. He performed the track alongside Jennifer Lopez at the opening ceremony for the tournament and it became the tune synonymous with a summer of amazing sport and world unity.
2
"Fireball" feat. John Ryan
Yeah, yeah, surprise, but no surprise. This huge hit is for sure one of the best Pitbull songs. Pitbull decided to take a step back away from the country overtones of "Timber" with his follow-up single "Fireball", which was a decidedly more energetic and spicy hit. It's everything that you could have expected with a wee bit of John Ryan glory sprinkled in for good measure too. It's such a huge hit of the summer that still goes on and on.
3
"Wild Wild Love" feat. G.R.L.
The unique and surprising MV shooting marks this song a special one in all the Pitbull songs. So, you're about to drop a single featuring G.R.L that's hot as hell and super steamy from start to finish, where on earth are you going to shoot the video? The Playboy Mansion of course, which is exactly where Pitbull headed with is small army of lady folk for the shooting of the "Wild Wild Love" video. We could go into detail as to what happens, but to be honest there's really nothing you can't work out for yourself!
4
"Timber" feat. Ke$ha
The moment we heard that Avicii's iconic smash hit "Wake Me Up" was going to be in any way used by Pitbull for "Timber", it was pretty obvious that it was going to be something special. And then he went and teamed up with Ke$ha to create an absolute dance monster which is loaded with Miami vibes and a lavish dose of the harmonica. This is definitely another notch in Pitbull's belt and more evidence of his endless versatility.
5
"Feel This Moment" feat. Christina Aguilera
Christina Aguilera is of course yet another byword for quality in the music business, so when you put her together with Mr. Entertainment himself, you just know there is going to be like a firework festival and there were, in the form of "Feel This Moment" which brilliantly included a nod to 80s pop legends A-Ha. It was another guaranteed hit and held out in the charts for weeks in both the US and the UK.
6
"Don't Stop the Party" feat. TJR
As one of the big hit of all Pitbull songs, it's almost impossible to conceptualize a dance party song that would be any better than 2012's "Don't Stop the Party". It's the kind of masterpiece that just has everything–the hook lines, the lyrics, the vocal performance, the build ups, the breakouts, you name it. Two years down the line, it's still considered perhaps the best summer party tune on the radio. It's pretty impressive stuff really.
7
"Hotel Room Service"
There's really only Pitbull who could at this stage in the game dip right back as far as "Push the Feeling On" by the Nightcrawlers and bring a sample back to life to a 2009 standard. And that's exactly what he did with "Hotel Room Service" which came shortly after "I Know You Want Me" and took pretty much everyone by surprise in a good way.
8
"International Love" feat. Chris Brown
Chris Brown's reputation may have taken a beating over recent years…no pun intended…but he still managed to do a hell of a good job working with Pitbull on this quite excellent tune. Brown's vocals on the chorus really are second to none and the track just oozes the classic dance vibe that's made Pitbull a household name the world over. It charted globally as expected. Totally a master piece in all the Pitbull songs.
9
"Give Me Everything" feat. Ne-Yo, Afrojack & Nayer
It wasn't as if Pitbull needed to prove his point any further at the time, but "Give Me Everything" was like a full demonstration of his portfolio in one song. He was amazing, the guest vocalists were amazing, the production was amazing and the video was…well, amazing of course! Three years on, it's still fresh as it ever was.
10
"Bon, Bon"
This is the only Spanish song that we've chosen from all the Pitbull songs. It's understandable that some would argue that Pitbull's Spanish language albums feature his finest work–this is after all where he started and where his roots lie. As such, it's also little wonder that "Bon, Bon" turned out to be a stellar success with Spanish and English speaking audiences alike as with a tune like that it's almost unimportant what he's taking about!
ANY IDEAS ABOUT THIS TOPIC?