Many rock songs have been written and played over radio stations for the enjoyment of all. Some are distinctive for their lyrics, while others stand out because of certain instruments used that you may not associate with rock music. Here we have compiled 10 great piano rock songs. They have a unique sound but are usual favorites of most people who like rock music.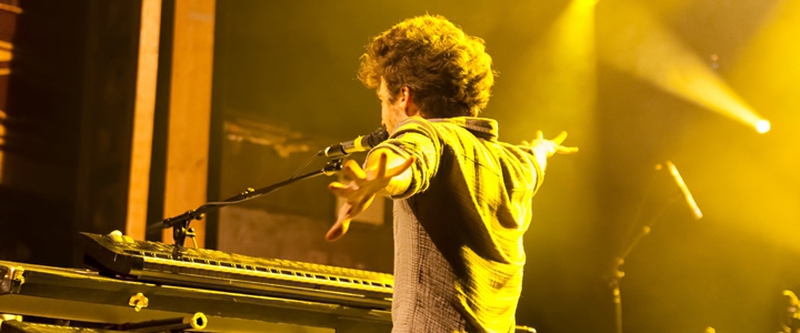 Top 10 Piano Rock Songs
1
Great Balls of Fire, Jerry Lee Lewis
Written by Otis Blackwell and Jack Hammer, the song was recorded by Jerry Lee Lewis in 1957 for the famous Sun Records, who was home of Elvis Presley and featured in the film Jamboree. One of the most famous piano rock songs ever recorded, it features a searing and pounding piano played by Lewis himself.
2
All the Way from Memphis, Mott the Hoople
Performed by the band Mott the Hoople, the song was released in 1972 on the album of the same name. It tells the story of a musician who loses his guitar but gets it back, only to be scolded by someone for not taking proper care of his instrument. It has a beautiful piano arrangement and reflects the weariness of the rock and roll lifestyle that members of the band felt.
3
Benny the Bouncer, Emerson, Lake and Palmer
The song appeared on the 1973 album Brain Salad Surgery by Emerson, Lake and Palmer. Written by Greg Lake and frequent collaborator Pete Sinfield, the song features amazing piano along with the progressive rock the band is famous for, fusing rock and classical music.
4
Tuesday's Gone, Lynyrd Skynyrd
Performed by legendary southern rock band Lynard Skynard, the song appeared on the band's first self-titled album in 1973. It is a slow and calm paced song with piano and guitars and reflects the lead singer's realization that his old life is over due to the band's popularity. The song has been covered by many bands and remains a favorite among fans of Lynard Skynard.
5
Thunder Road, Bruce Springsteen
Written and performed by Bruce Springsteen, the song appeared on his breakthrough album Born to Run in 1975 and is considered to be one of Springsteen's most famous songs. The song begins with a quiet and somber piano and harmonica and quickly builds in tempo through the rest of the song. The song gets its name from a Robert Mitchum film.
6
Angry Young Man, Billy Joel
Written and performed by the legendary Billy Joel, the song appeared on the 1976 album Turnstiles released by Columbia records. The song opens with a rapid-fire piano played by Joel himself and then brings in other instruments. It is about the struggles of a rebellious young man who despite repeated failure continues to do things his own way.
7
New York State of Mind, Billy Joel
This is another piano rock song that written and performed by Billy Joel. The song appeared on the 1976 album Turnstiles but was never released as a single. Joel wrote the song after returning to New York City from Los Angeles and it is a love song to his beloved hometown. It became a theme song, of sorts, for families of 9/11 responders when he played it at The Concert for New York City.
8
Old Time Rock and Roll, Bob Seger
Written by songwriter George Jackson and performed by rock legend Bob Seger, the song appeared on the album Stranger in Town in 1978. Made famous in the 1983 film Risky Business, Old Time Rock and Roll is full of a great piano sound and has become one of the most popular songs of all time.
9
Don't Stop Believin', Journey
A popular "anthem" song featured in movies, television shows and commercials, the song is a power ballad from Journey's seventh studio album Escape in 1981. It is one of the highest selling digital tracks in history and features one of the greatest keyboard riffs ever recorded. The song has become a favorite among karaoke enthusiasts.
10
One Angry Dwarf and 200 Solemn Faces, Ben Folds Five
Performed by the band Ben Fold Five, who are known for their many piano rock songs, the song was released on the 1997 album Whatever and Amen. The song has a fantastic piano intro and remains strong throughout. The band has many piano rock songs and this is one of the best.
ANY IDEAS ABOUT THIS TOPIC?