Nate Norman is a character interpreted by actor Jonathan Daniel Brown in the 2014 film "Kid Cannabis", a film that mixes drama and humor as a way to depict some biographical aspects of the life of a real individual.
Generally, it tells the story of a 19-year-old guy called Nate who drops out from high school and starts earning by delivering pizzas. Later on, Nate decides to try luck in the marihuana dealing business, eventually becoming quite a figure in the clandestine industry. The movie allows us to follow his experiences in the dangerous world of drug dealing.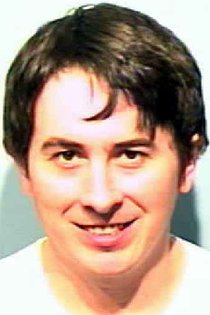 The Story of Nate Norman
"Kid Cannabis", a true story, depicts a kid, Nate Norman, who went through from being nobody to someone owning millions of dollars. Starting off as a pizza delivery guy and getting a mere $6 an hour, Norman ends up having the life of his dreams by getting drugs across the Canadian border into the US through some woods that connect the country of the maple syrup with the state of Idaho.
In the real life, Nate Norman was born and lived until the age of 19 in Coeur d'Alene, a little town in Idaho, with his little brother and their single mother. After dropping out of high school, he spends most of his time smoking weed non-stop with an older friend, until they both decide they should do something more than just laying down smoking herb. Their luck changes when Nate meets a rich womanizer who claims to have made his money by getting weed into the US from Canada. After checking about Canadian laws on marihuana, Nate and his friend Topher decide to take their chance.
The two friends soon realize how easily they can sneak back and forth between Canada and the US by crossing some isolated woods that nobody ever goes to. After earning some money by selling a sunken motorboat, they drive a car towards Canada and are stopped by a patrol officer, who sends them elsewhere for inspection. They did not have anything on them, of course, and this first frightening experience is not enough to make the two friends pull back from their dreams of glory. Once in Canada, they drive to a border town called Creston, where they find a venue crowded with people smoking medicinal marihuana, where they are able to find a man who takes them to his apartment to sell them $1,800 of pot.
On the way back, Topher takes the weed himself through the woods while Nate drives cross the border and picks his friend up on the other side, after being searched again by another border patrol. Topher, on his side, gets lost but finally finds his way to meet Nate. Once in their home town, both friends manage to quickly sell all of their stuff and decide to get back to Canada to find a supplier that can sort them out with some high-quality stuff.
Nate and Topher get lucky when they find a girl called Nicole at a gas station who leads them to her house to meet her dad. Nicole's father happens to own a barn full of weed. After discussing about it during dinner, John (Nicole's father) decides to form a business partnership with the two guys.
With John as their supplier, both Nate and Topher slowly manage to build up a prosperous drug-dealing network until they start having trouble with rival gangs who are under the lead of Brendan Butler. The following stories all concern about Nate and Topher with Brendan Butler.
We don't want to spoil the story, but from this point on, it involves crew hiring and training, parties, sex, shootings, treason, negligence and, finally, jail sentences and police bribery. You can see the trailer first to decide if you want to enjoy this film or not.
Another 10 Great Movies Based on True Stories
Like "Kid Cannabis," there are many great movies that are based on true stories and can be really exciting and unexpected. Like a film line, "Life is a box of chocolate, you don't know what you are gonna get", so just see how wonderful people's life could be in these great movies.
1
Catch Me If You Can
Main stars: Leonardo DiCaprio, Tom Hanks
The film tells the story of Frank Abagnale, a fraud who managed to gather millions of dollars by signing on fake checks.
2
127 Hours
Main Stars: James Franco
In this film, Aron Ralston, an aficionado hiker and mountain climber, gets stuck in a canyon when a rock falls from above and traps his arm against the rocky wall, leaving him alone and trapped in the middle of nowhere.
3
The Terminal
Main Stars: Tom Hanks, Catherine Zeta-Jones
A man arrives at the JFK airport and is denied entrance in the United States after he gets to know a war has started in his home country.
4
Argo
Main Stars: Ben Affleck, Bryan Cranston
The Academy Award-winning film is a cinematographic adaptation of the CIA operation that took place in order to rescue 6 American diplomats during the Iran hostage crises.
5
Bonnie and Clyde
Main Stars: Warren Beatty, Faye Dunaway
The film depicts the life of the infamous thief couple who had ever raided part of the US during the times of the Great Depression.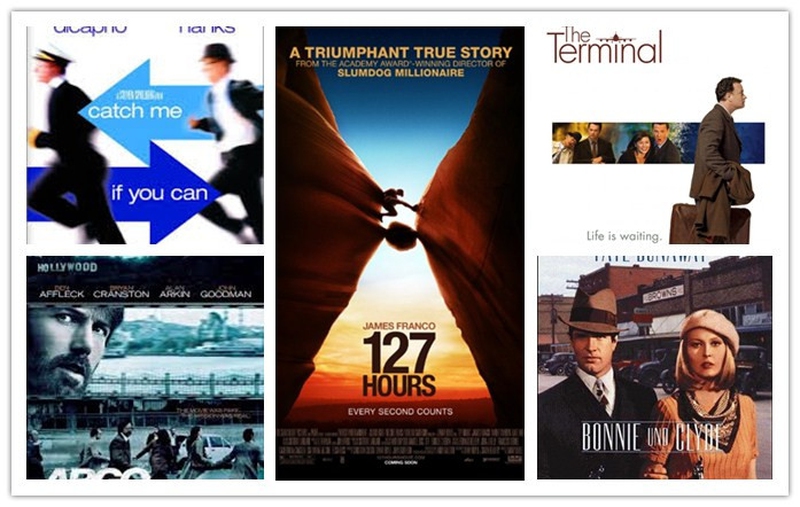 6
All the President's Men
Main Stars: Dustin Hoffman, Robert Redford
Redford and Hoffman interpret two reporters that uncover the details of the Watergate scandal that lead to President Nixon's resignation. Like Nate Norman, they all become someone from nobody.
7
JFK
Main Star: Kevin Costner
This film follows up the obsessive research of a reporter for the truth behind the assassination of President John F. Kennedy, leading him to court even.
8
Zodiac
Main Stars: Jake Gyllenhaal, Mark Ruffalo, Robert Downey Jr.
A close-look to the infamous assassinations by the Zodiac Killer, who operated in California during the 60s and was never caught, and the obsessive investigation carried out by a reporter to discover the identity of the killer.
9
United 93
Main Stars: Khalid Abdalla
This breath-taking film narrates the stories of the passengers, the families and the air-traffic controllers of flight 93, before and after being turned into the fourth hijacked plane of 9-11.
10
The Social Network
Main Stars: Jesse Eisenberg, Andrew Garfield, Justin Timberlake
This film narrates the story behind the creation of the biggest social webpage in actual times: Facebook.
After knowing all the movies based on true stories like Nate Norman from Kids Cannabis, which one is your favorite? If you have great movies in mind, do share with us.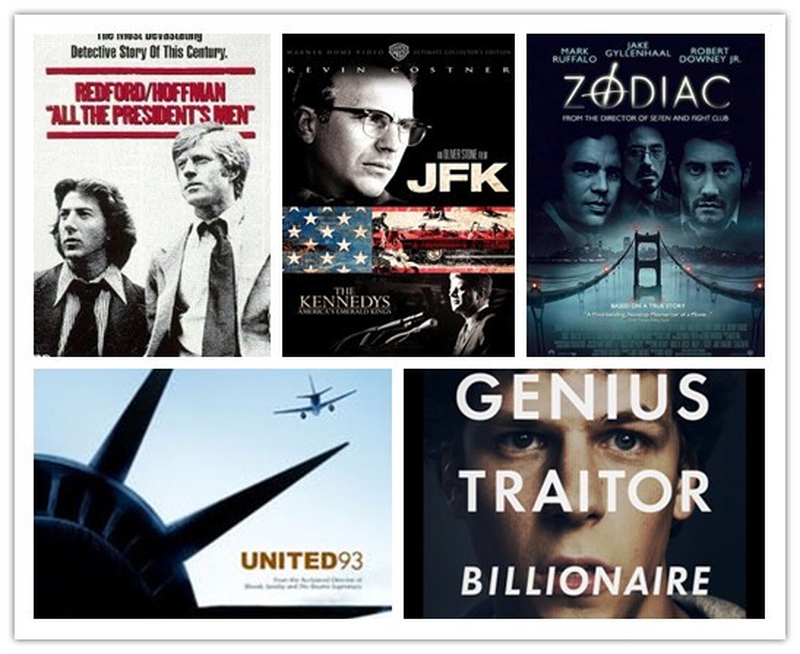 ANY IDEAS ABOUT THIS TOPIC?