We see movies about child abuse and we feel sensitivity to the plight of the children, but we often regarded it as part of the film only. However, there are movies based on true stories that the abuses in the story have really occurred in real life. Here is the list of 10 child abuse movies based on true stories.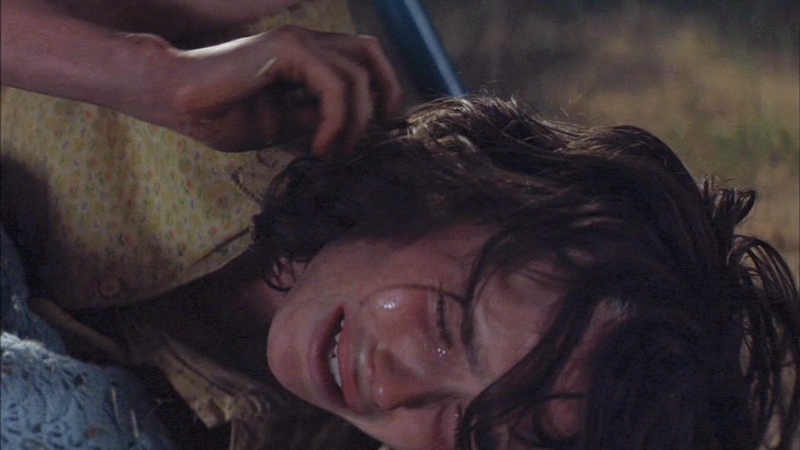 10 Child Abuse Movies Based on True Stories
1
Mommie Dearest (1981)
Director: Frank Perry
Stars: Steve Forrest, Diana Scarwid, Faye Dunaway
"Mommie Dearest" is one of the best-selling biographical drama films. It tells the abuses and trauma that Christina Crawford had suffered while she was under the care of her adoptive mother, Joan Crawford, one of the most popular actresses of all time. Joan was a great Hollywood actress who decided to adopt children, Christopher and Christina. However, Joan has problems with show business, men and alcohol, which all together had affected her personal life. In one scene of the film, Joan was so enraged at Christina that she beat her up with a hanger. Later, Joan had slapped Christina while she was being interviewed about her adoptive daughter. What a crazy and insane mother! This is why it tops this list of 10 child abuse movies based on true stoyies.
2
I Know My First Name Is Steven (1989)
Director: Larry Elikann
Stars: Corin Nemec, Luke Edwards, Arliss Howard
"I Know My First Name is Steven" had won four nominations in the Emmy Awards which include one award Corin Nemec won for his character Steven in the film. The movie was based on the real kidnapping of Steven Stayner. He was kidnapped and kept by Kenneth Parnell for seven years. Steven had suffered repetitive sexual abuse on the hands of Parnell. He was only returned to his home when he was 14 years old. The title of the movie "I know my first name is Steven" was based on the actual words of Steven when he was asked for a police statement in the early morning of March 2, 1980.
3
The People Under the Stairs (1991)
Director: Wes Craven
Stars: Brandon Quintin Adams, Wendy Robbie, Everet McGill
It is a story of two adults and one juvenile who break into the house of their landlord. Fool is the young juvenile who planned to enter the house, but along with his two elder brothers, they were trapped in the house. Inside the house, they discovered that many children were kidnapped and kept under the stairs. The story was based on the true story of a couple from Santa Monica, CA, who abused their children and imprisoned them inside the house. The plight of the children was later found out when the neighbors had reported a break-in and the police came.
4
Just Ask My Children (2001)
Director: Arvin Brown
Stars: Virginia Madsen, Graham Beckel, Jeffrey Nordling
"Just Ask My Children" is a film based on the real story of Kniffen child abuse case. This child abuse case involved the real parents Brenda Kniffen and her husband Scott Kniffen. The real names are used in the television movie. The film focuses on the sexual abuse of children, minor abuse and sex rings that involved worship of Satan. The story itself had made headlines back in 1982 when the Kniffen children had accused their own parents of sexual abuse, which involved Satanic rituals. The Kniffen's were arrested and were convicted, but their conviction was overturned later. Here we got you the full movie! Watch it and you will find out why it's got the 4th place in this list of child abuse movies based on true stories.
5
Hard Candy (2005)
Director: David Slade
Stars: Patrick Wilson, Ellen Page, Sandra Oh
The story is about Hayley Stark, a 14-year-old teenager who chatted with a 32-year-old photographer Jeff Kohlyer who is suspected of pedophile, and it's a goal of Hayley to expose him. On their first meeting, they go to his house. He passes out and when he wakes up, Hayley is already tied him in a chair and accusing him of pedophile. The movie is inspired by a story that occurred in Japan where a young woman lured a man to extract vengeance.
6
The Exorcism of Emily Rose (2005)
Director: Scott Derrickson
Stars: Laura Linney, Shobreh Aghdashloo, Tom Wilkinson
The film tells the story of young girl, Emily Rose, who died due to the excessive exorcism, which was done by Father Moore. The priest was arrested for the murder case. The story was based on the 1976 murder case of Anneliese Michel, a German young girl who died because of starvation and dehydration done by the two Catholic priests. In real life, the parents of Michel along with the two priests were imprisoned for manslaughter. Because of the case, Catholic Church had reformed some parts of the ritual for exorcism.
7
The Amityville Horror (2005)
"The Amityville Horror" tells the story of a family who was terrorized by evil forces after they had moved in their new home. Although their new home was the site of a mass murder a year before the new family had moved in, George and Kathy Lutz had still decided to move in and forget the horror story in their new home. But George started to act weird and their children Chelsea started seeing people. That's not even enough—sheer terror was waiting for the whole family for the next 28 days. The film was based on the real experiences of Lutz family when they transferred the house located at 112 Ocean Avenue.
8
Aurore (2005)
Director: Luc Dione
Stars: Yves Jacques, Helene Bourgeois-Leclerc, Sarah Jeane Labrosse, Michel Forget
"Aurore" is a French film released in Canada in 2005. It was based on a true story of Aurore who died of blood poisoning. Aurore had lived in the village of Sainte-Philomene de Fortierville, and her mother was Marie Anne Carron who was a good mother to her. Problem aroused when her mother had died of tuberculosis and her father had married the cousin of her mother. Her stepmother, Marie Anne Houde, was a brutal stepmother to Aurore and two other siblings. When Aurore died, the coroner had revealed that the girl had died of blood poisoning as a result of the abuse from her stepmother.
9
Deliver Us From Evil (2006)
Director: Amy Berg
Stars: Thomas Doyle, Adam
"Deliver Us From Evil" got one Oscar nomination and won 7 international awards. The film was based on the real abuses of Father Oliver O'Grady. The priest had served in several parishes in Northern California during 1970's. Everyone had trusted and respected the clergy, but unknown to many, he is a pedophile. The church did not know that it was harboring an abusive clergy for more than thirty years. Father O' Grady had admitted molesting about 25 boys and girls in California from 1970 to 1991. He was spent imprisoned for seven years and was deported back to Ireland in 2000.
10
The Girl Next Door (2007)
Director: Gregory Wilson
Stars: William Atherton, Blanche Baker, Blythe Auffarth
"The Girl Next Door" is based on the book, written by Jack Ketchum, that has the same title. Both the book and the movie are based on the real story of torture and murder of Sylvia Likens. Sylvia was tortured to death by her aunt, Gertrude Baniszewski. Her aunt who was supposed to take care of her had killed her with the help of other boys. The boys who witnessed the crime did not report it at all. In real life, the prosecutor in the trial had called the death of Sylvia as the most terrible crime ever done in Indiana, US.
ANY IDEAS ABOUT THIS TOPIC?