Football fans know the difference between the NFL, CFL, USFL and Arena football. So, if you know who Ricky Carmichael, James Stewart and Ryan Villopoto are then you probably know the differences between the different styles of Motocross vs. Supercross. But if you're new to the scene, all these different styles and "leagues" if you will, just like in football, can be a little confusing.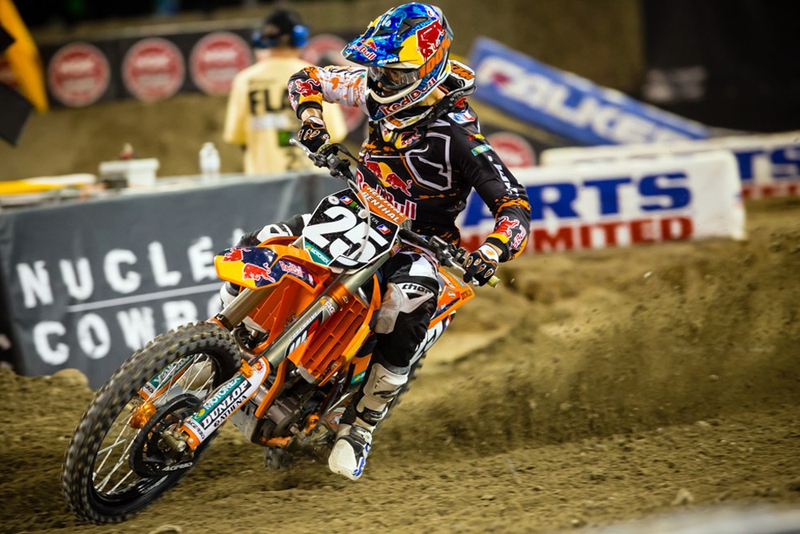 Part 1
1
Motocross and Supercross represent the biggest and most popular of all the racing events. Similarities exist but the two are quite different. Both racing series invite the top professional athletes in racing. Both series feature jumps, insane tight turns and a whole lot of dirt. The difference lies in how each course is created.
We'll start with Monster Energy Supercross since that series starts the professional racing season every year in January. Supercross takes place on a man-made course in an arena or stadium. Riders tackle high jumps, whoops, and lots of curves and turns. There is one 20-lap race to determine the winner. The Supercross series consists of 17 races, is based on a points system and the rider with the most points at the end of the season wins the Supercross championship.
The Lucas Oil Pro Motocross series can be seen as the second half of the racing season. Riders get about a month break at the conclusion of the Supercross season before the 12-race Motocross series starts in May. All riders begin with zero points as the Supercross champ has been crowned. Motocross takes place outside the confines of a stadium on a man-made course built into naturally occurring terrain with some complex obstacles thrown in like high jumps. Riders compete in two races, or motos, with the outcome of both determining the overall winner. So, a rider who places second in both motos can be the overall winner and take first-place on the podium. Each moto is 30 minutes plus two laps and the winner is whoever crosses the finish line first after the checkered flag is waved.
Arenacross is similar to Supercross but usually takes place in smaller arenas and is considered a stepping stone to the Supercross series. In fact, the AMSOIL Arenacross series is the biggest and most popular of all arenacross events and features Ricky Carmichael's "Road to Supercross." Riders wishing to compete in Supercross must first pass through the AMSOIL Arenacross series. There are many other smaller arenacross series that take place throughout the country.
Both Motocross and Supercross have races using 450cc and 250cc bikes. The 450 class is considered the highest level of racing. However, in Supercross, riders in the 250 class compete in either an Eastern Region or Western Region series. Race dates scheduled, for example, on the West Coast, makes up the Western Region standings and likewise with East Coast dates.
2
Trials: Trials or "Observed Trials" is in a league all its own. Trials eschew racing altogether and instead offer a test, or a trial, between rider and machine over difficult terrain. Riders are judged for their ability to best boulders, fallen tree trunks and other obstacles without touching their feet to the ground. The goal is to accumulate as little points as possible. If a rider touches the ground with their feet for support or "dabbing" they get one to three points. Riders also get points for dismounting, going out of bounds and rolling backwards among other infractions.
3
Enduro: Enduro is an endurance test (hence the name enduro) between the rider and the terrain. Enduro racing is physically and mentally demanding as the rider endures low-hanging tree branches, fallen logs, rocky upgrades, splashing through streams and riding up and down hill on gravel, dirt, sand and even mud for long distances.
The most popular enduro racing in the United States is the Grand National Cross Country (GNCC) series. Each race is three hours long and riders follow a predetermined path through the woods, forest, across creeks and whatever terrain makes up that part of the country (usually East Coast). Riders can experience sand, mud and hard soil all in the same race. Some enduro races go on for days and whether you ride in the GNCC or other enduro challenges you need to bring along extra equipment and a whole lot of gas to keep running and stay in the race.
GNCC Enduro bikes are all 450cc but typically have different suspension and larger gas tanks, among other differences from dirt bikes equipped for Supercross or Motocross. Riders eventually lap around back to the pits and can fill up, get new tires or address any mechanical issues if needed.
ANY IDEAS ABOUT THIS TOPIC?