There is a clear and important difference between a singer and a legend–a difference best illustrated in an artist like Lionel Richie. Here's a singer, songwriter, actor and record producer that's won pretty much every award in the book, broken all manner of records and is considered one of the most influential musicians in history. He's over 100 million record sales under his belt, his impact on the world's music has been enormous and many of the world's leading stars today insist they owe it all to Lionel Richie. This why we must make a great list of Lionel Richie Songs. Stress!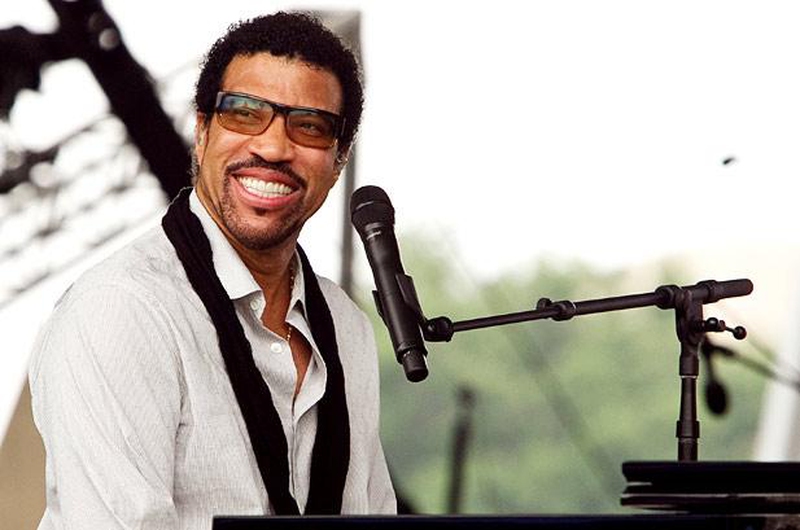 Top 10 Lionel Richie Songs
Singling out his most iconic works isn't an easy job as he's really never put a foot wrong. However, there are certain tracks that stand out above and beyond all others. The following are top ten Lionel Richie songs. Enjoy!
1
All Night Long (All Night)
You need only hear a second or two of "All Night Long" to know what it is and who you're listening to. It combines a wonderful Caribbean rhythm with the amazing soul we know and love from the man himself, which is why it stormed the charts to hit the number-one spot all over the world. He even took the time to re-record his hit in 2012 with Jimmy Buffet.
2
Stuck On You
There was no denying the strong country music undertone that Lionel Richie presented with "Stuck On You" so much so that he even went so far as to wear a cowboy hat for the cover! Say what you want about taste and style when looking back form a 2014 perspective, but there's no denying that the song itself was everything we could have expected from a God of soul and smoothness.
3
Say You, Say Me
Lionel Richie won an Academy Award for his 1985 single "Say You, Say Me", which was recorded for the movie White Nights. It again proved to be a massive hit all over the world and took the number one position in various countries, including the US and the UK. This is another of the track he once again laid down in 2012 for his album "Tuskegee."
4
Hello
It's probably safe to say that the video for "Hello" is every bit as famous as the song itself. Covered a million times by a million fellow artists though never with quite the same power, "Hello" is going on to become one of the biggest hits Lionel Richie would ever record and remains a global favorite today.
5
Endless Love
Lionel Richie teamed up with Diana Ross in 1981 to record "Endless Love", which immediately become Ross' fourteenth number-one hit and also her most successful release ever. Not that it did too badly in Richie's books either, as not only did it storm the charts in dozens of countries, but it was also nominated for an Academy Award.
6
Dancing On The Ceiling
There was a time when it was largely impossible to walk into a party without hearing this track blasting from the speakers. To be honest, "Dancing On The Ceiling" is still every bit as fresh today as it ever was. He wrote the song in reference to the movie Royal Wedding in which Fred Astaire performs his famous ceiling dance routine. It was also rerecorded in 2012 with Rascal Flatts.
7
Running With The Night
Here's a song that saw a whole bunch of super famous faces brought in for the ride, including Richard Marx, Cynthia Weill, Steve Lukather and Bob Giraldi. The result was yet another smash hit to add to Richie's fast growing collection and a genuinely brilliant video. The UK in particular responded well to "Running With The Night", where sales of the single were quite astronomical.
8
You Are
Yes, it's difficult to take the cover of the single seriously when looking at it from a 2014 perspective, but this really was about the coolest and most well-respected guy on the face of the earth at that time. It was only his second single and one he wrote with his wife, which could explain the brilliant genuineness about it that hit home with buyers all over the world. He also brought in Blake Shelton to rerecord this track in 2012.
9
My Love
Even from Richie's first ever solo outings, he was establishing himself as something of a genre buster, having managed to bring wonderful country elements into his usual soul standards. For "My Love", he brought in country music legend Kenny Rogers to take care of backing vocals and it seemed to be a recipe for success—another number-one in so many major markets all over the world.
10
Truly
A well-deserved tip of the cap has to go to "Truly" which was in large responsible for kick-starting Lionel Richie's career as a solo artist. Expectations were high and thankfully he delivered in the form of a single that not only stormed the charts for months, but also earned Richie another Grammy to add to his collection.
ANY IDEAS ABOUT THIS TOPIC?