It is easy to forget about Led Zeppelin after they have been out of the picture for such a long time. Nevertheless, Led Zeppelin, the group consisting of Jimmy Page, Robert Plant, John Paul Johns and John Bonham, is widely considered the most innovative, influential and successful rock group in history. After all, they are one of the best selling artists in history with an estimated 300 million albums sold. In 1995, the group was inducted into the Rock and Roll Hall of Fame. So what are some of the best Led Zeppelin songs? Let's find out.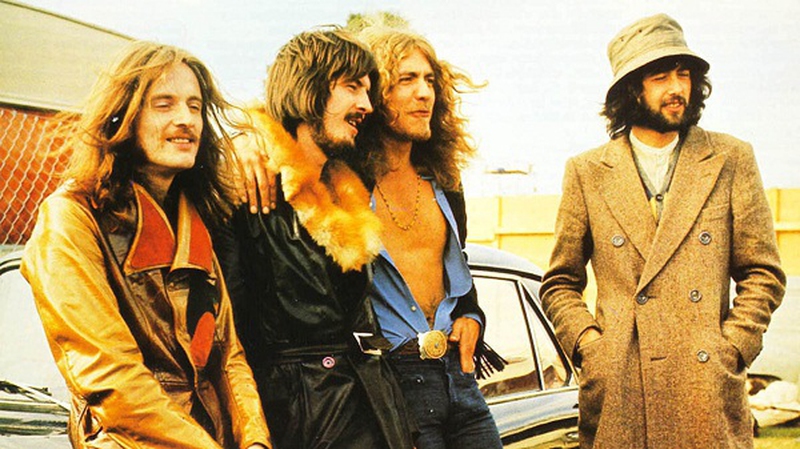 15 Best Led Zeppelin Songs of All Time
Led Zeppelin are considered the 'Beetles of the 70s' by many rock fans. Over that time period they released some timeless pieces that stand out even today. Below is a list of some of Led Zeppelin best songs.
1
Dazed and Confused (1969)
This is a psychedelic blues piece that went on to become the centerpiece of their stage performances for many years. The original version of this song was recorded by Jake Holmes in 1967. Zeppelin re-imagined the song for their debut.
2
Babe I'm Gonna Leave You (1969)
They picked up this song from a Joan Baez record. If you are a fan of 60's rock, you will notice that it's a heavy jam on a familiar song like what Vanilla Fudge and Blue Cheer were doing back then. However, Led Zeppelin was drawn from American folk music and was more precise and visceral.
3
​Heartbreaker (1969)
The song "Heartbreaker" was recorded at A&R studios and was credited to all four members of the band. It was recorded during Zeppelin's 2nd concert tour in North America and was engineered by Eddie Kramer. The song opens the second side of the album and is known for Jimmy Page's memorable guitar riff.
4
Whole Lotta Love (1969)
"Whole Lotta Love" was brutish, obscene and absolutely awesome. It was Zeppelin's opening track for their second album. It became their first hit single and was certified Gold in 1970 after selling one million copies. In 2004, the song found its way into the 500 Greatest Songs of All Time list in the Rolling Stone magazine.
5
Good Times Bad Times (1969)
This was the first song on the first album. The song featured a stun gun riff and a syncopated, restless drum pattern that highlighted Bonham's awesome technique. Page was so amazed by what Bonham had pulled off in the song that he actually called him superhuman since he was not playing with the double kick.
6
How Many More Times (1969)
This song is mostly remembered for Paul's "Green Onions"-like walking bass line, and the manner in which the song's into unfolds from that point. It is dazzling first minute and there is simply no reason on God's green earth why the song goes on for another 8 minutes.
7
Immigrant Song (1970)
The opening line in this song is as ominous as they come – "we come from the land of ice and snow". The inspiration for the song came from their concert in Iceland in June of 1970. This is a time of the year when the sun never fully sets. This song is one of my all-time favorites, and I think it's one of the Led Zeppenlin's best song.
8
Since I've Been Loving You (1970)
When led Zeppelin was preparing for their third album, this was one of the very first songs to record. It was recorded live in studio with almost no overdubbing. It was one of the hardest songs they recorded. In fact, Page spent several months working on his solos for this song.
9
​When the Levee Breaks (1971)
The lyrics to this song were copied from Memphis Minnie. The song was originally inspired by the upheaval caused by the Great Mississippi flood in 1927. Led Zeppelin reworked it and used it as the last song in their fourth album.
10
Black Dog (1971)
This is the opening track of Led Zeppelin's fourth album. According to Plant, the song's title was inspired by a black Labrador Retriever that entered the studio during recording. The Retriever was sexually adventurous despite his age, much like the song's protagonist.
11
Stairway to Heaven (1971)
This is the signature power ballad of Led Zeppelin IV. Composed by Page and Plant, the song is billed as one of the best rock songs of all time. Some consider it as one of the best Led Zeppelin songs. This 8-minute song has 3 sections with each one progressively increasing in tempo, from Plant's lyrical mysticism to Page's spiraling solo.
12
Over the Hills and Far Away (1973)
This unusually poppy boogie rock sugar shot was Led Zeppelin's first flop. Not that it was bad music, but it never made it to the top 50. Plant's pure hearted come-on accompanied by Page's open-road strumming is literally a dose of music heaven.
13
Kashmir (1975)
This is one of the few that featured a guest musician. From their 6th album, Physical Graffiti was released in 1975 and was written by Page and Plant with a contribution from John Bonham. The song took over 3 years to write and it became one of their concert staples.
14
​Trampled Under Foot (1975)
This is one of the tightest, thickest stomps by the band due to the exceptional work John Paul Jones did with the clavinet. The tune is generously borrowed from the Long Train Running by the Doobie Brothers. While the song is fun, Led Zeppelin let the song go on for too long and it starts to feel somewhat repetitive.
15
Achilles Last Stand (1976)
This was the first track in their album "Presence". The album was one of their lowest points and it beats logic how the general malaise of this album failed to impact on Achilles Last Stand. This chugging monster of a jam was the best Led Zeppelin songs in the album. It was put together by Page and Plant at Page's house in Malibu when the two stayed together during Page's recovery after an accident.

ANY IDEAS ABOUT THIS TOPIC?