Tim Duncan, "The Golden God," turns 39 years young today. His birthday wish was to stay at 38 and while I can't make that happen, hopefully this awesome Tim Duncan Things will suffice.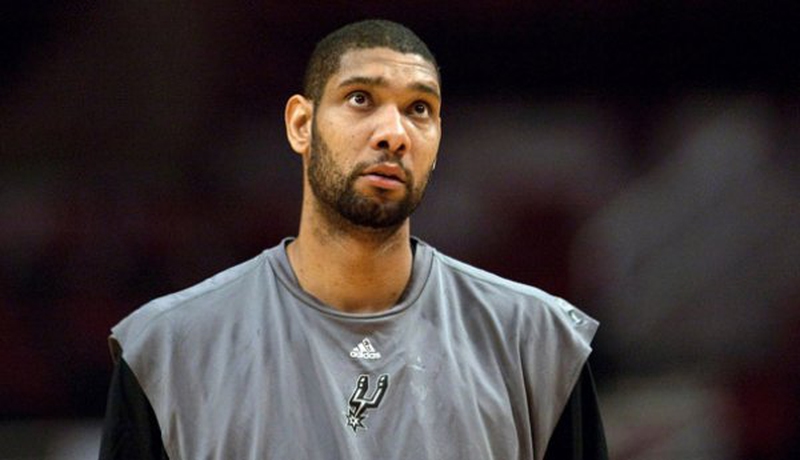 Part 1
1
It took a literal force of nature to get him to play basketball.The entire history of the San Antonio Spurs and the NBA itself would've been radically different if Hurricane Hugo never happened.
2
He kicked Hakeem Olajuwon's ass to save Pop's job. The Spurs got off to a 6-8 start in the lockout-shortened 1998-99 season and ownership was growing impatient. Rumor had it if they lost their next game, they would've fired Pop, the coach and general manager, and replaced him with popular team broadcaster Doc Rivers.
3
Don Nelson thought Duncan was good enough to shoot Pop over. As the story goes, after the favored Celtics lost the lottery, Rick Pitino had M.L. Carr, a high-ranking team executive, call Gregg Popovich to offer the third and sixth overall picks for the rights to the Spurs first pick. Wisely, Pop politely declined the offer. Nelson, whom Popovich was an assistant coach for with the Warriors, offered a typically blunt assessment of the non-decision:"If Pop trades him, I'll go down there and take my shotgun to his house."
4
He convinced Pop to drink something even more disgusting as a practical joke. From Ric Bucher's 2005 story for ESPN: The Magazine "All Work and No Play..." which will always be the definitive feature about the Spurs:"The first move was made by Duncan, when he convinced Pop to try a local shaved-ice drink that is a nonalcoholic cross between ouzo and grappa. "Most godawful thing I've ever had," Popovich says. "He laughed at me like I was 12 years old. But I told him, 'You opened the door, Jack.'"
On the same getting-to-know-you trip to St. Croix, Duncan yanked Pop's chain again by pretending to be drowning.
5
He tormented the Suns from the beginning. In his first ever playoff game, on the road at Phoenix, Duncan scored 32 points and grabbed 10 rebounds and pretty much singlehandedly won the game for the Spurs.
6
He wrote a manual on how to prepare for life in the NBA while in college at Wake Forest. He contributed to an academic published study entitled "Aversive Interpersonal Behaviors." Duncan's chapter, which he co-wrote with three fellow psychology majors, was "Blowhards, Snobs And Narcissists: Interpersonal Reactions To Excessive Egotism." In a completely unrelated story, he's faced LeBron James in three NBA Finals.
7
He is actually "a clown, cleverly disguised as a regular person." Duncan wrote a self-psychoanalysis for Sport magazine back in 1999 that so weirded everyone out that he promptly tuned down the promotional aspect of his public life 8,000 percent. I don't know why, I thought it was great. Lots of athletes start terrible clothing lines. Only Duncan admitted he'd do it on purpose, just to mess with people.
8
Timmy continues to discover new things about himself. Duncan's up to ninth all-time with 14,644 rebounds, which is all the more impressive considering he only realized he has arms a few years ago.
ANY IDEAS ABOUT THIS TOPIC?