There are many factors that could warrant an urgent resignation from your current job post; it might be a health issue or any emergency. But instead of leaving the job without notice, it is better to write a formal immediate resignation letter. This is going to help you in conveying the message to your employer that you are very sorry for having to resign without notifying him in advance. Moreover, it will also earn you a positive reference from your current employer that can help you in getting a new job.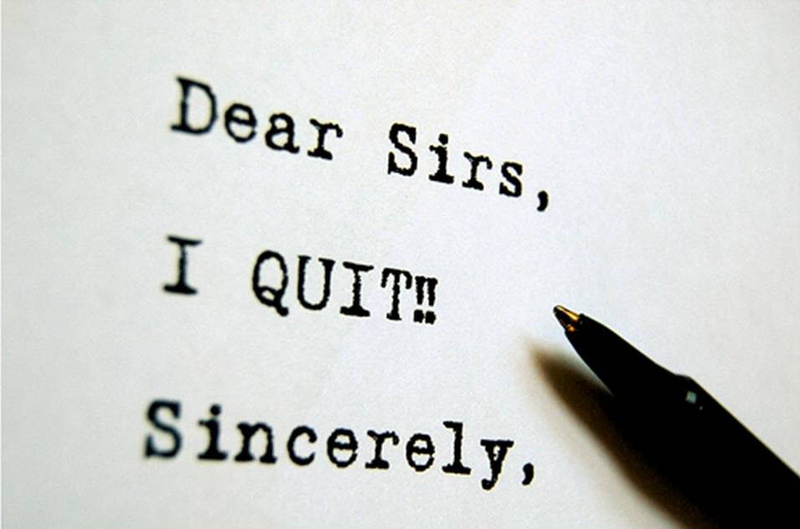 How to Write an Immediate Resignation Letter
1
Adopt a business format for writing the immediate resignation letter. Left justify the date, your name, your supervisor's name and your company's name and address. Address the supervisor with the word "dear" and if you do not have one then address it either to your company's human resource department or simply write "to whom it may concern".
2
Inform your employer that you are resigning from your post effectively and immediately. Tell him how sorry you are for not informing him earlier. Stress upon the fact that you wanted to notify him earlier but your circumstances were such that you were unable to comply with the 2 week notice period rule. If you are a contractual employee, then you must request your employer to waive the notice period requirement and permit you to leave at once.
3
Mention that you will always remain available to answer any questions that the employer might have regarding the projects that you had been handling. If there is a colleague that is capable of taking over some of your projects then it is best to notify the employer about him as well. It is also important to thank the employer for the work opportunity he had given you.
4
End the resignation letter effective immediately in a courteous manner by writing "Yours Sincerely" and then write your name followed by your signature. Do remember to make a copy of the resignation letter for record keeping.
Samples of Immediate Resignation Letter
1
George C. Anderson
123 Bond Street
Suite 1
Houston, Texas
Tel: (555) 555-5555
To:
Patricia M. Johnson
Manager, HR
Bell Communications
123 Broadway Street
Suite 1
Houston, Texas
November 26, 2014
Dear Ms. Johnson,
I am writing this letter to inform you that I am quitting from my job at Bell Communications. I have befallen a personal tragedy and I'm no longer able to work properly. It is for this reason that I want to vacate my position with immediate effect. I will not come to work from tomorrow onwards so please consider this letter as my official resignation effective immediately.
I apologize for the inconvenience that I may be causing to Bell Communications, but I think it is the right thing to do at this moment of time. If you want to ask anything about the work that I had been doing recently, you can reach me at (555) 555-5555 or send an email to [email protected]. I will try to reply to the messages promptly.
I will miss all of the coworkers that worked alongside me at Bell Communications and thank you for the amazing opportunities and experience that working at this company has gained me. I wish everyone at the company success and look forward to meeting you again in the future. I am grateful for the cooperation and patience with which you have handled this situation.
Yours Sincerely,
George C. Anderson
Sales
Bell Communication
2
Adam Bates
Company Name
Sales
Address
November 26, 2014
Name of Organization
Address
City, Sate, Zip Code
Phone Number
Dear [Manager or Supervisor],
I am writing this letter to let you know about my resignation from the [Job Title] effective immediately because of an unexpected new career opportunity that has been offered to me.
You might be aware of my interest in [Hobby or Job Offer] and I have just been offered the role of [New Company Role] at [New Company]. Since I love this work, I was not able to refuse the offer.
My experience at [Company Name] has been truly great and I have picked up a lot of things while working here. I am grateful for the 2 years that I spent at your company and wish you and the rest staff at the company the best of luck.
Sincerely,
Signature
3
Steve H. Harold
Company Name
Sales
Address
November 26, 2014
Name of Organization
Address
City, Sate, Zip Code
Phone Number
To [Manager or Supervisor]:
I am writing this letter to tell you about my immediate resignation from the post of [Your Title] because of the issues that were raised during the appraisal interview that was held recently.
I am aware that changes are inevitable in the company, but I was a little disappointed to see that the changes being made did not take into the account of employees' desires who have been working for the company for a long time. The changes that have been made in my department have made it impossible for me to work as [Your Title] and I am left with no choice except for stepping down from my position.
The two years that I have spent at [Company] have been very valuable for me and I wish that you are able to find someone to replace me quickly. I am grateful for the opportunity you offered me and wish you a bright future.
Sincerely,
Signature
More Tips on Immediate Resignation Letter
No matter whether leaving the job is an excitable thing for you, your immediate resignation letter must be written in an apologetic manner. Mention how sorry you are for having to resign in this manner and thank the employer for giving you the chance to work at his company.
Never write anything insulting in the resignation letter about your company or your supervisor. Moreover, don't gloat about the new job because of which you are leaving your current job. Remember that you might require the employer to give you a recommendation in future so write your resignation letter accordingly.
A resignation letter immediate must contain the reasons why you are quitting your job at such a short notice. The letter must be at least three paragraphs in length. Do remember that simply writing that you are leaving your job does not suffice for a resignation letter that is served without prior notice.
Besides this, it is best to provide your employer with your future contact information in case he has some questions to ask you. Moreover, make sure that you notify the employer about the status of the projects that had been assigned to you.
If there is any amount of money that the company owes you in term of back pay, retirement funds or back pay, then you must notify your employer in the resignation letter. It is your legal right and you must make sure that the company issues the sum of money you are entitled to get with your last paycheck.
ANY IDEAS ABOUT THIS TOPIC?