In the spring of 1909, nearly two years after Ismay hatched his plan to top Cunard, construction began on the Titanic at Harland & Wolff's large shipyard in Belfast, Ireland. Of Harland & Wolff's 15,000 workers, around 3,000 labored on the Titanic. Records show injuries to nearly 250 workers, with two workers dying in construction accidents in the shipyard and six more dying on board ship during building and fitting. Given the lax worker protection standards at the time, this was actually a good safety record.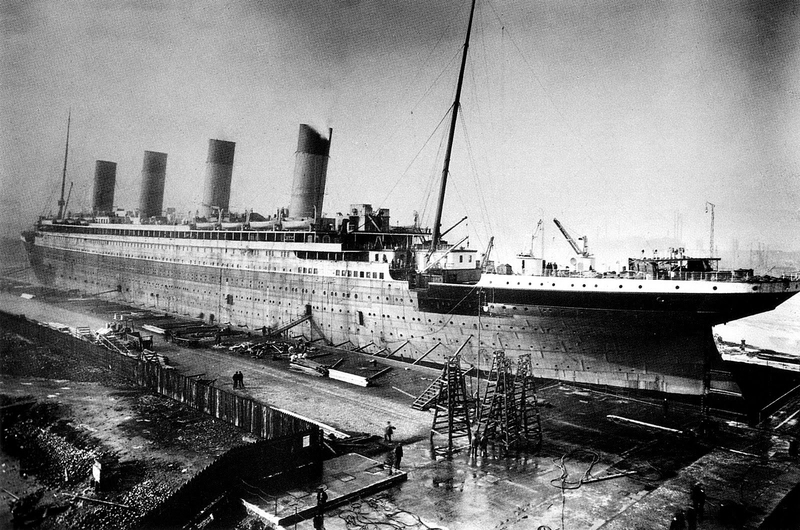 Part 1
1
The Titanic and Olympic, which were built at essentially the same time, were so much larger than previous ships that Harland & Wolff had to dismantle three existing slipway and build two new dry docks to house them. It took two years to complete the actual construction of the Titanic, during which time workers placed 2,000 steel plates to form the hull, held together with more than three million rivets. Many riveters reported developing hearing problems later in life as a result of the noise the accompanied this task.
Meanwhile, British forging company N. Hingley & Sons cast Titanic's side and center anchors. The center anchor, over 18 feet long and weighing over 15 tons, was the largest hand-forged anchor ever made at the time. Most links in the anchor chains N. Hingley & Sons forged were 33 inches long, though the largest links were a full three feet in length. In all, the Titanic received nearly 1,200 feet of chain for its anchors.
Once construction was complete, on May 31, 2011, the Titanic moved to a berth for the next year to await fitting out. During that year, workers installed the Titanic's engines and funnels and completed its remarkable interior. By April 2, 1912, the ship was set to begin its sea trials.
Twenty-five stories high, weighing 46,000 tons, and the largest moving object ever built at the time, the Titanic was ready to sail. Nevertheless, not all of the Titanic's fixtures were in place when the ship departed Southampton, England on its maiden voyage on April 10, 1912. Gilbert Logan, working in Harland & Wolff's cabinet workshops, had designed a table, sideboard and chairs to be placed in the Captain's private quarters on board ship, but these pieces were not finished until a few days after the Titanic set sail. Today, these pieces are on display in Belfast.
ANY IDEAS ABOUT THIS TOPIC?