Any file type can get corrupted. If you don't back up your data, finding out something broke can be a nightmare. Here, we're looking specifically at PDF recovery.
It may be possible to fully repair the entire PDF, restoring it to its original state, or you might only be able to extract elements and rebuild the rest. Anything you can get, right?
Once you've checked out our tips, please pop into the comment section at the bottom to let us know if you've ever suffered PDF corruption and if you managed to resolve it.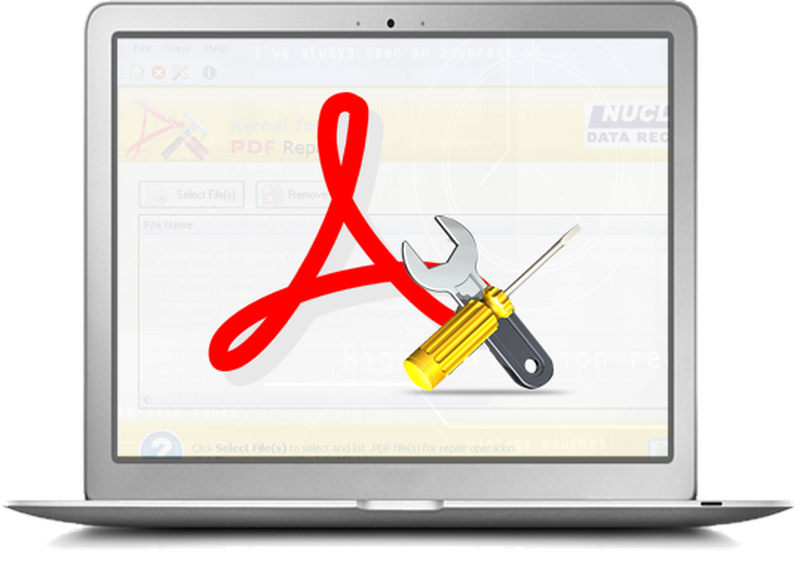 Part 1
1
Your PDF Reader
Are you sure that the problem is with the PDF file? Instead, it might just be that the program you're using to view the PDF is playing up.
Repairing Adobe Reader
The most common PDF viewer is Adobe Reader. First, check the program is up to date by launching it and going to Help > Check for Updates…. You'll either be told the program is up to date or that there are updates to install. If there are, go ahead and install them.
If that doesn't bring any luck, keep Adobe Reader open and this time navigate to Help > Repair Adobe Reader Installation. It might be that the files Adobe Reader relies on to run have become corrupted and this method will try to patch them up.
Still no luck? Search uninstall a program on your system search, select the relevant option and then uninstall Adobe Reader. Then head to the Adobe Reader website to download and install the latest version. At this point your copy of Adobe Reader should be good to go.
Using an Alternative Reader
Adobe Reader should now be spick and span, but it might be that your PDF file just doesn't want to play ball with it. In this case, it's worth trying out another tool.
In the past we've rounded up alternative PDF readers that are more focused on the reading of a PDF rather than anything extraneous. Two of the best choices, and both free, are Foxit Reader and Sumatra PDF. Download these and give them a shot with your PDF.
You might also find that Okular and Evince are able to read your PDF file when other software cannot. This is because they use a different rendering method to display PDFs. Thanks to user Mechanical snail at Super User for sharing that tip.
If you're still having problems then it's time to start focussing on repairing the PDF file itself or at least scraping it for what you can pull out.
2
Repair or Recover a PDF File
We've previously written about corruption with Office files, but some of those techniques can also apply to PDFs, namely looking for previous versions of the file and using third-party applications.
Previous Versions
If you make use of Windows Backup or have another backup program then you may find that you can roll back to a previous and working version of the PDF. To check with Windows Backup, right click the PDF in Windows Explorer, select Properties and then the Previous Versions tab.
This will bring up a list of all the old versions of the file that exist. You can Open the copies to check them out and then use the Restore… button to bring them back to life on your system.
A similar technique would be to use a data recovery program, like Recuva, that will scan your drive and look for old files that have been deleted from your system. If you had an old copy of the PDF file that you've removed, this technique may bring luck.
Repair Applications
There are applications out there that specifically aim to repair your PDF. Some of these don't require you to download any software and can be run in the browser, like PDFaid and PDF Tools Online. Give these both a shot, but if the corruption is severe then they may not be able to help.
You can also try specialist file repair programs, like FileRepair1 (our FileRepair1 review). This will scan the PDF, identify the failure and fix what it can. It's not always successful in every case, but you may find it helpful.
3
Extracting From the PDF
If you're not able to repair the entire PDF, then you may still be able to extract elements like the text and images.
For the text, you can use programs that will convert your PDF to a Word file and allow you to get the text that way. However, I find one of the best tools is actually the online application PDF to Word Converter offered by Nitro; although some characters may look a bit funky depending on the type of corruption.
If your PDF contains images, try following our guide on how to extract images from a PDF. Again, this may have varying results depending on the level of corruption, but it's definitely worth seeing what can be pulled out.
4
Save Your PDF
Hopefully these methods have been useful in saving your PDF. You might not have been able to recover everything (such is the bane of corruption), but you may have saved elements of the file.
Remember, you should always have a stable backup plan in place to ensure that corrupted data doesn't bother you because you'll always have a secondary copy to restore from.
ANY IDEAS ABOUT THIS TOPIC?