Anyone who is not a US citizen or not a permanent resident of US then he would need Employment Authorization Document (EAD)—a work permit. The permit is required by all employees so as to show that they have been cleared for working in the US. The permit is also needed by employees to provide verification about their identities and permit to work in the US to their employers.
The EAD (Employment Authorization Document), better known as work permit or the EAD card confirms that the holder of the document is eligible for working in the US. The EAD is issued by USCIS (United States Citizenship and Immigration Services) and the plastic card has a validity period of one year before it requires a renewal. Read on to know more about how to get a work visa in USA.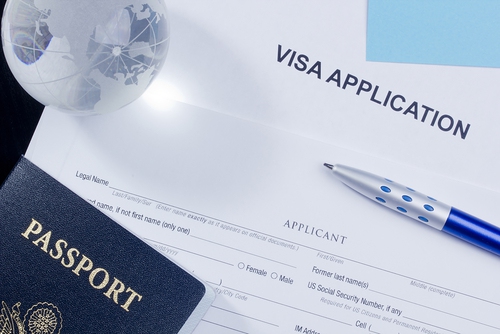 Part 1: What Is a Work Visa in USA?
The state places the responsibility on all employers within USA to ensure that all of their employees have the permit to work in the US. While USA citizens and permanent residents can prove that they are authorized to work in the US through their ID cards, anyone who isn't a permanent resident or a US citizen would need an EAD (Employment Authorization Document) to show that they are eligible to work in the US.
The categories of United States Citizenship and Immigration Services issues EAD can include:
EAD: EAD shows that you have the authority of the state to work in the US.

Renewal EAD: An EAD card expires after one year then you would need a Renewal EAD. You should apply for one at least six months prior to when your original EAD would expire.

Replacement EAD: The Replacement EAD is issued if the original EAD gets stolen, misplaced or becomes unrecognizable. It is also issued if the original EAD had some incorrect information.

Interim EAD: An interim EAD can be requested if the USCIS neither approves nor rejects your application for EAD within 90 days. The case is different for asylum seekers where interim EAD can be requested if the application is neither accepted nor rejected within 30 days. It should be noted that the asylum seekers can only submit an EAD application 150 days after they had filed their asylum applications.
All foreign nations are eligible for applying for a work visa in the US. There are different categories of visas for individuals with different kind of professions. Some of these options and categories are:
E2 and E1 Visas: for people who want to establish trades or are investors by profession.

L-1 Visa: for people who want to be transferred to existing or fresh U.S. businesses.

H-1B Visa: for specific professions and occupations.

H-2B Visa: for people not related to agriculture.
For residents of Canada and Mexico who want to work in the US can have their applications processed quickly via the TN Visa after NAFTA (North American Free Trade Agreement).
Part 2: How to Get a Work Visa in USA
1
Complete the Online Visa Application
The online visa application form (Form DS-160) also known as the Online Non-Immigrant Visa application form should be completed online and a printed copy of the form's confirmation page should accompany you when going for the interview. When filling the form, you would be required to upload a photograph as well and you should read the Photograph Requirements so that you upload the photo in the proper format.
2
Schedule an Interview
Interviews are a necessity for applicants between the age of 13 and 80, while it is up to the consular offices to decide whether they want to interview anyone below 13 or above 80 as well.
You should decide a specific time with the US Embassy in your own country for giving the interview for the visa application. You would be required to give the receipt number present on Form I-129 (Petition for Non-Immigrant Worker) or on Form I-797 (Notice of Action) when scheduling the interview.
It's not necessary to schedule the interview with the Embassy in your own country and you can get the interview scheduled at any Consulate anywhere in the world. The chances of success are very little though in such cases though.
3
Appointment Wait Time
There is a wait time for the appointments given for interviews for visa applications by the US Embassies and the wait time usually depends on the location as well as the applied visa category. It's best to see the normal interview time in the location which you have applied to know how long you would have to wait.
4
Prepare for Your Interview
You would be required to do certain tasks before the interview appointment. The tasks include payment of the visa application fee and the Fraud Prevention and Detection fee. The fee structure and the time to pay specific fees can be viewed at the website of the particular Embassy at which you apply for the interview.
5
Gather Required Documentation
You would be required to appear for the interview with certain documents. These include:
A passport that is valid for travelling to the US and whose validity lasts for at least 180 days longer than the intended period for which you will stay in the US.

The confirmation page of Form DS-160 (Non-Immigrant Visa Application)

The payment receipt of the Visa Application Fee.

A proper format photo in case of failure with photo uploading when filling the DS-160 form online.

The receipt number that has been provided to you by USCIS via Form I-797 (Notice of Action) or Form I-129 (Petition for Non-Immigrant Worker).

Form I-129S which is related to applications based on the L Blanket Petition should accompany you if you are a part of the L blanket petition.
6
Attend Your Visa Interview
The consular office would decide whether you are eligible for getting a work visa during the interview. If you are confirmed to be eligible, then it would also decide on the visa category best suited for you depending on the type of profession you will pursue. For this reason, the consulate would require you to show that you are in line with requirements of the category you have applied. Your application is forwarded for administrative processing after the interview.
7
Note
There are a number of requirements that need to be fulfilled when applying for a permanent work visa in the US. A number of steps involved in the visa application and approval process and everything must be in order from your side if you want to get the work visa.
Here is a helpful link which contains all the details of the entire permanent work visa process.
http://travel.state.gov/content/visas/english/immigrate/types/employment.html
Part 3: Eligibility of Getting a Work Visa in USA
1
There are a number of categories where the Employment Authorization Document is required. The categories include
Foreign fiancés of US citizens

Asylum seekers

Students who want certain types of employment

Refugees

People who want to get their status to permanent resident

Workers who accompany foreign government diplomats

People with a status of temporary protection
There are also other categories of individuals who would require an EAD before being eligible for work in the US and the complete list can be accessed through the Application for Employment Authorization form (Form I-765).
2
You won't need an EAD if you are the citizen of United States. You won't need an EAD if you are either considered a permanent resident by law or a conditional permanent resident by law. This is because the Alien Registration Control shows your eligibility to work in the United States if you are a permanent resident.
3
You won't require an EAD if you have authority to work for a given employer in the US (like a foreign government). In such a case, the Arrival and Departure Record (Form I-94) along with the passport would serve as proof that you are eligible for working in the US. The complete list of categories of individuals who won't need an EAD to work in the US can be seen by reading 8 CFR 274a.12 (b).
Tips
You shouldn't buy tickets and setup travel plans before you get your visa even if your petition is approved. This is because petition's approval doesn't necessarily mean that you will get the visa.

In order to be with you during your time in the US, your family including your children and spouse are eligible for applying for the visa category you have applied for. However, you will have to establish that your family would be no burden on the state and that you will be able to fulfill all their financial needs.

Your visa would stay valid till the expiration date unless of course, it gets revoked. So, even if your passport gets expired but the visa hasn't, then you can use the same visa along with the expired passport plus the new passport for travelling to US.
ANY IDEAS ABOUT THIS TOPIC?