Social media can drive you crazy with the amount of rubbish that gets posted on their daily. If you are tired of the internet, you can delete your Instagram account within a few minutes after following the easy steps this article will explain to you.

Consider Having a Back-Up Account by Using Instaport.me
I found this link online and I've tried using this method but I cannot download at the very last step. Despite this, a lot of people say it's working. I checked the Twitter account of instaport.me and shows that it was last active in 2013 which means that it may not be working now. You can still try it out but be careful when backing up pictures. Below are some steps on how to do it.
4
Other apps you can try are Frostbox and iDrive. I tried logging into Frostbox and I discovered that it provides a 7 day free trial. The app can sync photos and videos from Instagram, plus I was able to download photos one by one but cannot download it as a bundle. I think it may be better to pay for the service so you can get more benefits from it.
How to Deactivate an Instagram Account: Step By Step Instruction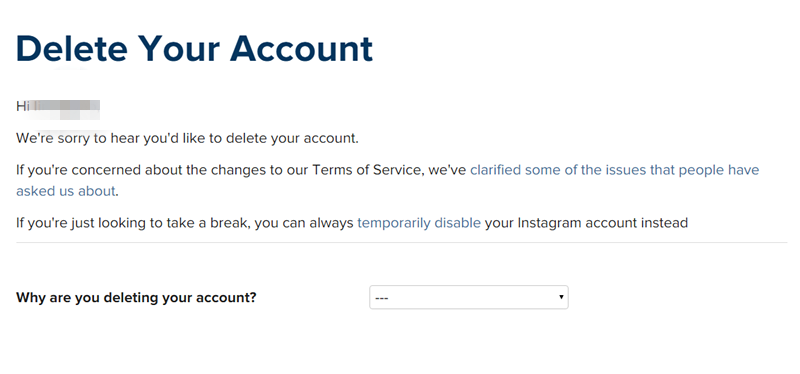 3
Choose a reason.
Instagram likes to argue against all your reasons to delete your account, so just stick to your guns and choose "permanently delete my account".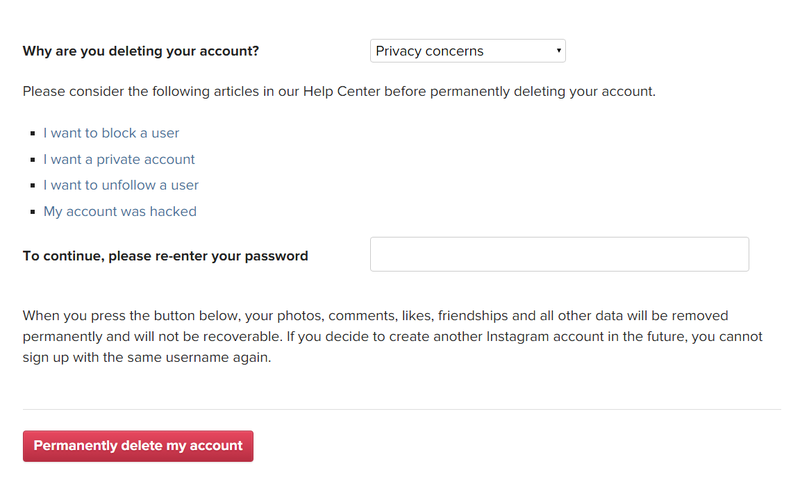 Related Topics: How to Unfollow Everyone on Instagram
You can unfollow everyone by doing it manually or through an automatic process, but please note that it is against Instagram's terms and conditions. Fortunately, there are other methods that will sort out the job.
1
Third Party Apps
There are some third party apps that can do this for you such as: Instagress, Instamacro, Unfollowers, JustUnfollow.
2
Manually
On Instagram, you can only unfollow 200 people in an hours and on average 600 in a day. If you try to do more than that then your account may be terminated.
Step 1: Login into Instagram and go to Profile.
Step 2: Press the box which shows you your followings.
Step 3: Once you can see all your followings, click on green button which says 'Following' on the top right side of your profile.
Step 4: Click on the persons profile then a box will appear saying confirm 'unfollow' by clicking yes.
Step 5: Follow the process 200 times in an hour.
Step 6: After an hour, repeat the process again.
3
Tricky Oblivion
Delete your Instagram account and wait for few hours till. After, create the same account with the same credentials (yes Instagram lets you do this) and follow only a select group of people.
4
Delete the Account Instead
Instagram doesn't notify people if someone has unfollowed them. Neither will anyone know that you have unfollowed them unless they search for you specifically. It is better to delete your account instead of annoying the people you follow.
Related Topics: How to Untag Yourself on Instagram
1
The purpose of the tagging feature is to give other users a way to identify who you are in photos. It also adds the photos to your personal collection (but not your main profile), which is called the 'Photos of You' tab. Tagging is a great way to connect with other people who share the same interests as you. You can remove the tag so that other people don't see it when someone tags you.
1. View your profile by clicking on the 'person' icon located on bottom right.
2. Click the person icon on the middle right. This will let you view 'Photos of You.'
3. Decide which photo of yourself you would like to untag or hide, then click on the three dots (in the right corner at the bottom of your photo and choose 'Photo Options'.
4. To untag yourself, click on "More Options" then "Remove Me from Photo."(You could choose "Hide from Profile" if you want to hide but not untag yourself).
5. To prevent being tagged into the pics you don't like, you can opt for tagging permission.
Change Tagging Permission:
Step 1
Go to your profile click on the "Photos of You" tab.
Step 2
Click the "Options" icon in the top right hand corner – On the Android device it looks like three vertical dots and a gear on an iOS device.
Step 3
Click on "Add Manually." Now, any time other users tag you in a photo, you will have to approve it before your identity is revealed in the photo.
ANY IDEAS ABOUT THIS TOPIC?