If your closet's overflowing with items you never wear, here's the 411 on creating the capsule wardrobe of your dreams.
When I open my overstuffed closet to try and find something to wear, it makes me feel like a country song. Why does fashion have to be so complicated? Oh, wait: It doesn't! There's this minimal-yet-stylish concept called a capsule wardrobe that's making a splash, and it takes all the muss and fuss out of getting dressed in the morning. The secret? Cutting the crap of course.
Here's all you need to know about capsule wardrobes—and how to create a killer one of your very own: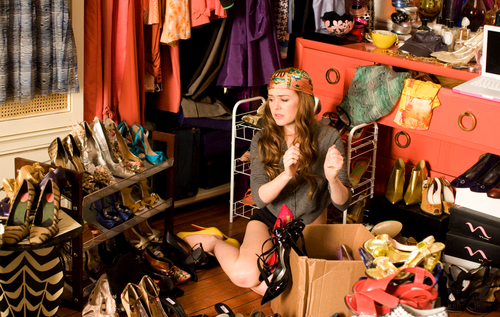 Part 1
1
​What is this capsule wardrobe you speak of?
A capsule wardrobe is essentially a streamlined collection of garments based on your own personal style—usually consisting of anywhere from 10 to 37 items, depending on how daring you are. These pieces are timeless, versatile, built to last, and some can be transitioned from season to season. They can be easily mixed and matched to create oodles of outfit choices for your fine self.
2
​What are the benefits of a capsule wardrobe?
Honing in on your personal style will save you time, money and energy that you can put toward the things that really matter to you (and I'm assuming spending half the day scowling in front of the mirror isn't one of them). Plus, you'll never hear yourself whine about having nothing to wear ever again. Like, ever.
3
​What are the steps involved in creating a capsule wardrobe?
STEP ONE:
Pick a number, any number: Based on your lifestyle, estimate the magic number of pieces you'll need for your capsule wardrobe and try to stick within that range. Once you have your pieces pared down, this will become the (rough) number you carry with you from season to season.
Items to include in your capsule collection: Tops, bottoms, shoes, dresses and outerwear. Don't include things like workout clothes, accessories, socks and undies, pyjamas, or anything that's super duper formal.
STEP TWO:
Take everything out of your closet (and I mean everything). Lay out all your pieces so you can clearly see everything you own.
STEP THREE:
Organize your pieces into four piles: Yes, No, Maybe, Seasonal.
Yes items are the items you're madly in love with. They're perfect for your bod and your lifestyle. You feel like Beyoncé wearing them. On a scale of one to 10, they're a 75. These items go back in your closet pronto.
No items get donated, swapped, given to a friend or sold to fund the blanks you may need to fill in your capsule wardrobe.
Maybe items are the ones that don't feel quite right yet you're afraid to get rid of them. Simply set these aside or store them for later (but do not put them back in your closet). Give yourself a deadline—for example, if you don't wear or even look at your maybe pile by the end of the season, you'll sell or donate them.
Seasonal items are also items you love, but don't fit the season you're currently creating a capsule wardrobe for. Store these items until the season they're meant for, such as winter coats and sweaters.
STEP FOUR:
Live with your current capsule wardrobe for a little while to get a sense of what might be missing from it, then shop for those pieces.
STEP FIVE:
Allow your capsule wardrobe to evolve. As you go along, tweak it as you see fit until it's just right. (In other words, by the time you're done, make sure every item on a scale of one to 10 is a 75.)
4
How do I update my capsule wardrobe at the end of the season?
Transfer any items that can be used the following season too, and take any pieces out of storage you've saved for the upcoming season. Again, wear your updated capsule wardrobe for a while and see if there are any blanks that need to be filled, or duds you need to swap out with something different.
You'll do this for every season until you have a capsule wardrobe for each one. And when a season comes back around, for every new item you want to add, get rid of one.
The trick to the entire process is to go with your gut. There are so many rules attached to what women "should" and "shouldn't" have in their closets that we've lost sight of our own personal style. This process will help you create your own rules—and look amazing to boot.
And if you're worried about getting lost or overwhelmed during the process, don't fret: Caroline Rector of Unfancy is the grand poobah of the capsule wardrobe, and you can go here to score her incredibly wonderful (and incredibly free) wardrobe planner.
ANY IDEAS ABOUT THIS TOPIC?