If you have been practicing yoga for many years, then your will accumulate a lot of knowledge in this field and wish to teach others, too. For that you need to complete certification course in yoga, which will give you more knowledge about it, by which you can share to your students. The training program in yoga will give you deep knowledge, and you can get more idea about philosophy, anatomy, alignment and sequencing. How to become a yoga instructor is not as tough as you thought if you study yoga class with dedication.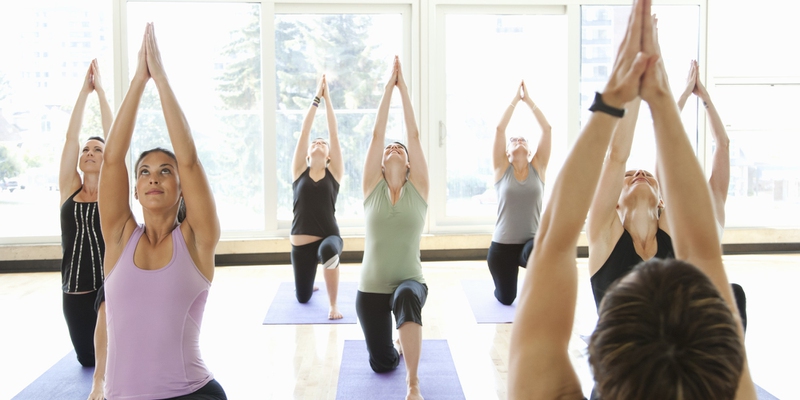 Part 1: What Are the Qualifications of a Yoga Instructor?
No certification needed for becoming a yoga instructor if you have good amount of knowledge about it. But some institutions will prefer only instructors having yoga instructor certificate from any registered authority.
1
Degree
For the degree level, the teachers must complete short term post-secondary training programs or bachelor/associate's degree in health and fitness field. As for degree field, they must complete yoga teacher training, kinesiology or exercise science.
2
Certification
Registration or certification is not compulsory, but many employers are nowadays demanding it while selecting yoga instructors.
3
Instructing Experience
Some employers will select yoga instructors having 1 to 5 years' experience, but it is not necessary for entry level positions.
4
Other Qualifications
Speaking or motivational skills and good communication are the key skills each employer expects from a good yoga instructor. Other than this, it will increase the chances of getting job as a yoga instructor if you have CPR certification.
Part 2: How to Become a Yoga Instructor
1
Knowing Yoga Course Details
There are many courses given by Yoga Alliance, which is a registered national organization in United States. Their certificate courses mainly consists of two levels based on time duration. The first one is 200-hour course which is the minimum requirement each employer will prefer for entry level posts. After 200-hour course, you can join for 500-hour course by which you will get certified as Registered Yoga Teacher or RYT which you can add after your name as a degree.
2
Learning Yoga
There are many types of yoga from which you have to select suitable one to learn. Ashtanga, Hatha, Anusara, vinyasa and bikram are few among them.
Other than just the style of yoga, the instructions will differ by each teacher. You have to select the classes according to the instructions which are suitable for you. This will help you to learn very fast by understanding each and every point precisely.
3
Finishing Yoga Teacher Training Course
Yoga philosophy, instructional techniques, physiology and anatomy are the main parts of yoga teacher training courses. Also, you can gain more knowledge by watching teaching classes and teachers. Nowadays most of the yoga institutes are following particular guidelines set by the Yoga Alliance, which can make study easier.
4
Registration
After completing the training according to the guidelines of Yoga Alliance, you can now apply for RYT (Registered Yoga Teacher). Even though the registration is voluntary, most of the employers nowadays prefer only registered teachers.
5
Continuous Study
You have to attend seminars and workshops regularly to improve your knowledge even after the completion of course, helping you update your knowledge. Other than this, each registered yoga teacher must attend continuing education of 75 hours in every 3 years conducted by Yoga Alliance.
Part 3: What Careers Can You Expect As a Yoga Instructor?
1
Mentoring/Assisting with Famous Teachers
You can get free ongoing training if you assist an expert teacher in teaching. By becoming an assistant, you have to handle workshops and classes as well as some administrative work. You can learn lots of things by doing this even though you will not be paid for the work. Before you start taking classes, you have to observe the classes of senior teachers, which helps you learn methods of taking class easily.
2
Specialty Training and Certifications
You can join in trainings for specialties in kid's yoga, prenatal yoga, stress reduction, yoga for seniors and yoga for treating back pain after the completion of 200 hours yoga teacher training program. By this you will be eligible to give classes to schools and hospitals other than yoga training centers. There are many specialty training programs with duration varying from one week to several months. Some programs are ongoing which will give a chance to update your knowledge continuously.
3
Out of Classroom
Other than just in fitness industry or workshops, you can get opportunity in huge business. You have to make a strategy by yourself to teach yoga by creating a unique method for this purpose. If you are a yoga instructor with many ideas such as managing ability and organizational skills, then you can make a good promising career easily with a little effort and dedication. You have to analyze your skills and passion before entering into the yoga instructor career. Choose the correct path with your own ideas and follow systematic ways to reach success in less span of time.
Tips
Initially you have to select a good tutor for learning yoga. The tutor can help you to learn different styles and techniques of yoga easily. Also they can guide you in selecting suitable training program for you.

Maintain network of teachers. There is no guarantee of direct job after the completion of yoga teacher course. So you have to develop the network of your classmates and teachers to get information of vacancies.

Understanding the market is very important. There are many areas where you can see high competition for the post of yoga teacher. So you have to keep yourself updated with the latest techniques to get more preference.

Try to get CPR certification. This is important because many fitness centers prefer teachers having such certificate to ensure the teachers can deal with any health issue which can come to any of the students any time while learning yoga. You can join in CPR course also after enrolling in yoga teacher training program.
ANY IDEAS ABOUT THIS TOPIC?