It doesn't matter if you're new to makeup or have been applying it for many years. There's always room to improve when it comes to applying eyeshadow. And who knows? This article might even end up changing your eyeshadow game forever! Might sound like exaggeration, but then again, the average girl doesn't really know all the tricks in the bag when it comes to makeup tricks, does she?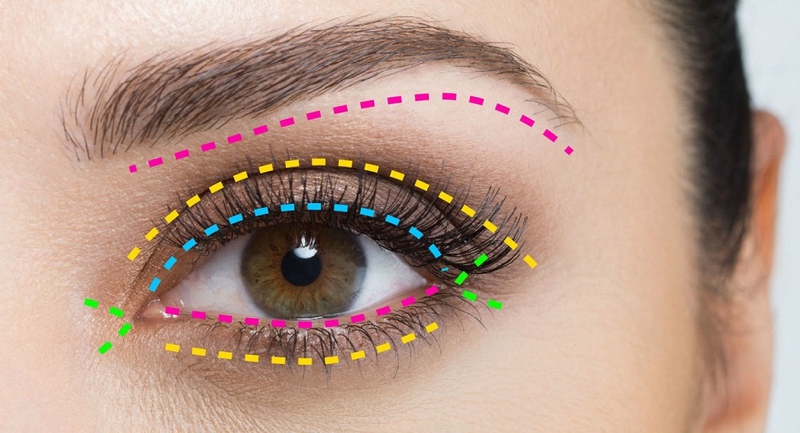 How to Apply Eyeshadow – The Basic Steps
1
A primer is a must
Irrespective of whether you have dry, oily, sensitive or combination skin – a primer not only ensures the longevity of your eye makeup, but smoothens out any creases or fine lines in your eyes, which makes the application and blending of eyeshadows that much easier. An "eye" primer isn't necessary – you can use your regular primer. If you have oily skin, remember to buy a primer that's meant specifically for your skin type. Do let the primer dry for 2-3 minutes.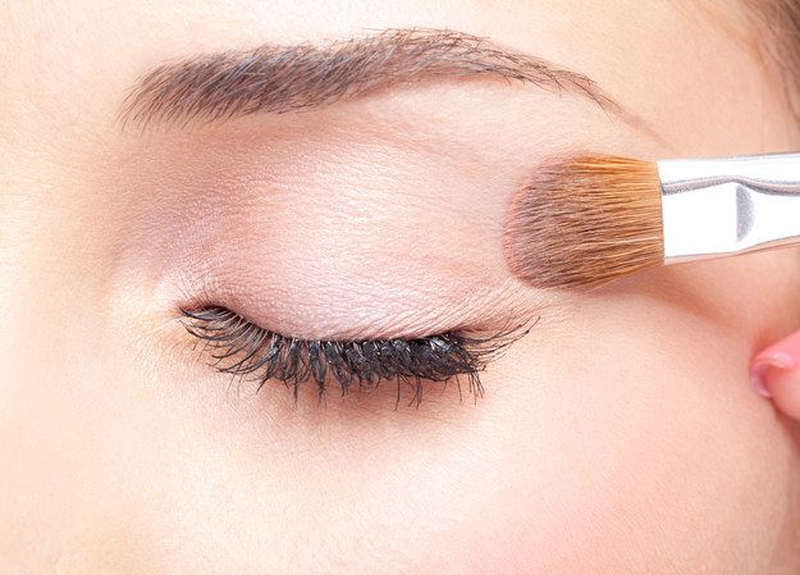 2
Apply an eyeshadow base
If you don't have one, then concealer or even foundation will do. Let it dry for 2 minutes. Here's a helpful trick: If you're applying bright or pastel colors and need them to stand out, use a foundation or concealer that's at least 2-3 shades lighter than your skin tone. Apply a nude shade closest to your skin tone all over your eyelid. This will make the blending of your eyeshadow shades that much smoother.
3
Choose your eyeshadow colors
Grab all the brushes you will need for your eye look. Grab your quad or eyeshadow palette, and pick out the 3 basic colors you want to work with. Remember, the colors have to be dark, medium and light from the same shade. Until and unless you're going for a very dramatic look, which isn't advisable if this is your first time.
4
Apply the light color first
When working on how to apply eyeshadow, always remember to pick the lightest shade first and tap your brush so that any excess eyeshadow falls off, instead of falling under your eye. Apply this on the inner corner of your eyes, and then spread it to one third of your eyelid. Don't worry about going wrong because the darker colors will cover your mistakes.
If the shade is too light or dry, simply dampen your brush with a little bit of water and then run it through the eyeshadow. Use the same color (or a highlighter, if you have one) to highlight the arch of your eyebrows.
5
Apply the middle layer
Now, pick the mid-tone color and apply it in the center of your eyelid. Leave one third of the area on the outer corner side for the darkest shade. Now take out a fresh blending brush, and blend the dark and the light shades. Ensure that you don't blend too much because that could result in a smush of the light and mid-tone shades. Remember – we want them to stand apart distinctly as different colors. The blending is just to soften the edges between the two tones.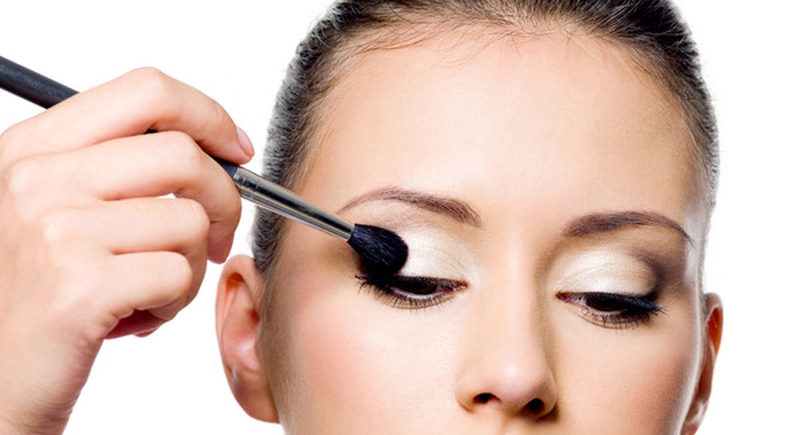 6
Apply the dark shade of eyeshadow
Take the darkest tone, and apply it on the outer corner of your eye. For a more dramatic look, go beyond the 1/3rd portion of the eyelid and for a more daytime look, just add a hint of the shade on the outer corners. And then blend, blend, blend!
7
Take care of your bottom half of the eyes
Sure, you can use pencils or liners. But if you're in the mood to use eyeshadows, then you can either use the darkest tone and use it to line your eyes for a dramatic look or the mid-tone for a more casual look.
8
Don't ignore the last touch
Make sure the lines of your dark-tone eyeshadow on your upper eyelids meet the eyeshadow applied on the bottom half of your eyes. The blending should be seamless. If you have a highlighter, apply it just in the middle of your light for that extra pop. The lightest tone will work just as well if it's light and/or sparkly enough.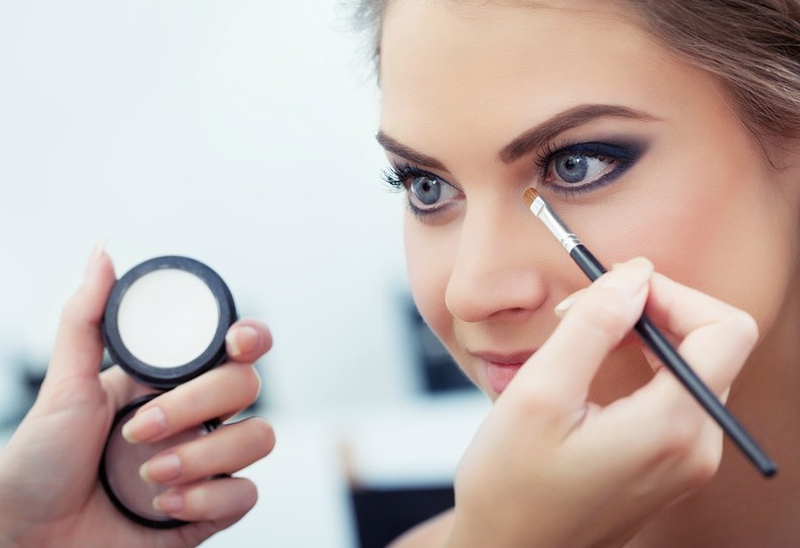 Apply Eyeshadow According to Your Eye Shape and Lids
Know your eye shape
Knowing your eye shape is very important when it comes to how to apply eyeshadow perfectly. But first, do you even know what your eye shape is? If not, then check this video out:
Hooded lids
Apart from highlighting your lids with the extra pop of highlighter as mentioned above, you can take the dark toned shade and apply it to your eyelid crease in order to give the appearance of a lid. This will give your eyes added dimension. Avoid cream and pencil liners as they have a tendency to smudge. And remember to keep your eyeliner close to the lash line.
Monolids
The best option for you is smokey eyes, because they give added depth to your lids. For daytime, opt for light browns, and for night time, opt for deep browns, greys and blacks. Avoid applying kohl or eyeliner on your waterline because that will make your eyes look smaller. Use fake lashes to enhance your eye size.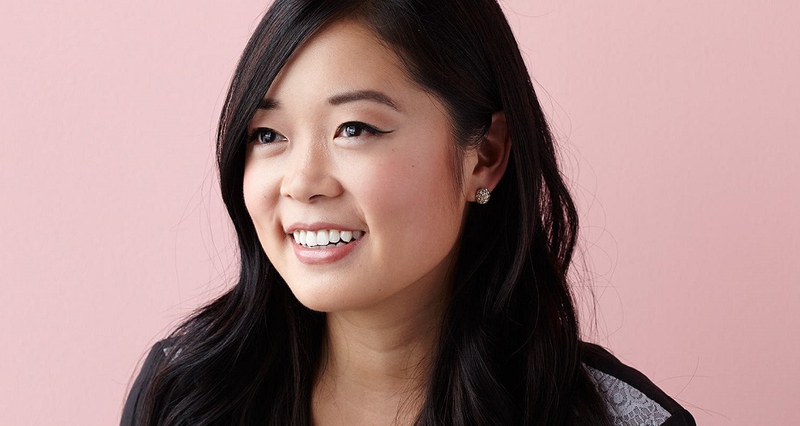 Wide set eyes
Avoid light colors in your inner corners. Always opt for darker colors. You can also increase the length of your eyebrows from where they begin. Both these tricks will give the appearance of reduced distance between your eyes.
Close set eyes
When it comes to how to apply eyeshadow for close set eyes, do as instructed in part 1. And always apply eyeliner to only 2/3rd of your bottom eye – this will accentuate your close set eyes, giving them a wider appearance. Use nude or peach liners to line your lower waterlines. And it's a strict no to deep colored tightlining.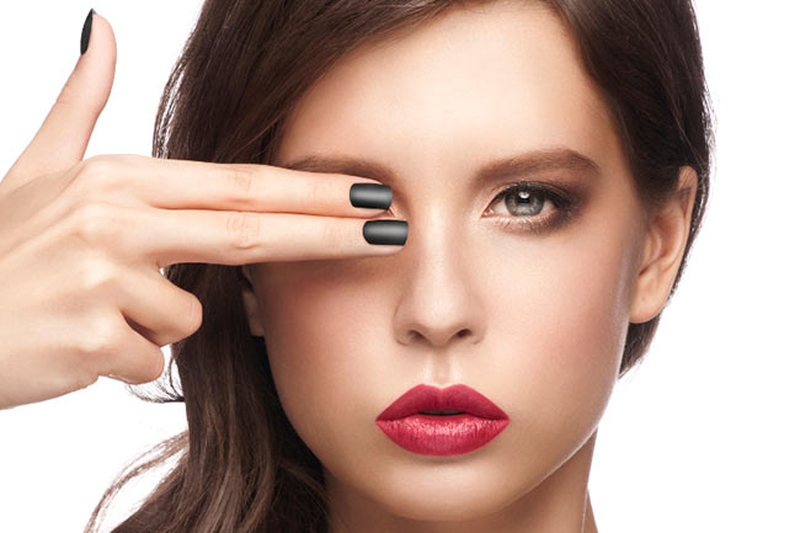 ANY IDEAS ABOUT THIS TOPIC?