Sometimes a sport can bless us with a mixture of undeniable beauty, pure artistry, and cutthroat competition. A sport that is fast paced, highly entertaining, and absolutely serious. That sport is women's volleyball. Every year, women from all over the world come together in competition to see who is the best of the best. Whether they play in bikinis on the beach or in compression shorts and a jersey's indoor, they are some of the hottest female athletes. The television networks show more men's volleyball matches but we really don't want to see that. Here is a list to shine some light on some of the hottest women who play volleyball.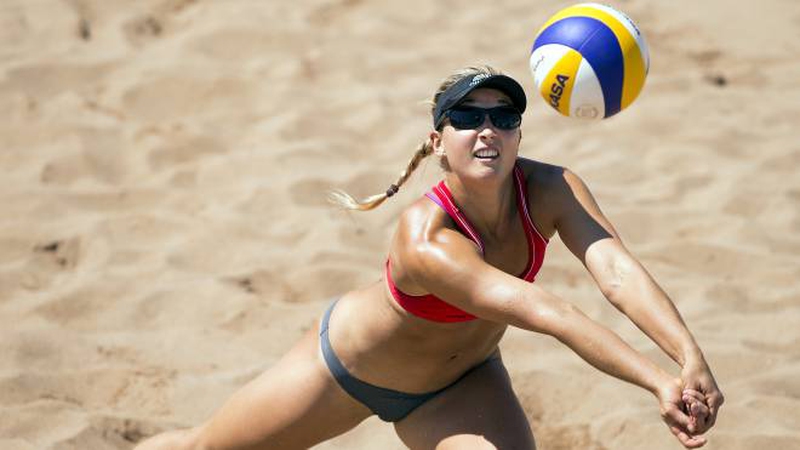 Part 1
1
Rachel Wacholder
Rachel Wacholder has eight volleyball championships that she has won with three different partners. She was a dominate player from 2005 to 2008, even stopping two-time Olympic gold medalist team, Kerri Walsh and Misty May's 50 win streak with her partner Elaine Young. On top of begin a good volleyball player, Rachel Wacholder is also a hot model. She only shows off her sexiness through modeling during the off season.
2
Talita Rocha
God bless Brazil and the abundance of beautiful women that it produces. Talita Rocha is a goregeous beach volleyball player. She was discovered by Olympic Champion Jacqueline Silva at the age of 19. Silva was impressed by Rocha's playing style and brought her on has her partner. The two went on to win the South American Championship in La Paz, Bolívia 2002. Rocha went on to different partners and has acquired different championships and awards since 2002.
3
Gabrielle Reece
Gabrielle Reece wears a few hats. She is a professional volleyball player, sports announcer, fashion model and actress. She played volleyball at Florida State University and was inducted into their Athletics Hall of Fame in 1997. Reece began her modeling career while attending FSU. In 1989 she was named by Elle as one of the five most beautiful women in the world, which I can agree with.
4
Brooke Hanson
Brooke Hanson played volleyball at the University of California-Santa Barbara. After college she turned professional joining the FIVB World Tour and Top US Pro Tour. Hanson and her teammate Lauren Fendrick placed 3rd in the U.S. qualifications for the 2012 London Olympics and ranked 10th in the world after their first full season together. On top pf looking good in a bikini, Brooke Hanson, was the 1st Pro-Athlete in the world to offer to brand a permanent tattoo with a corporate partner through a social media auction.
5
Siri Bjorkesett
With her girl next door sex appeal and looks, Siri Bjorksett makes beach volleyball a hot sport to watch when she is playing. She is a cheery person who is always smiling on and off the court. She hails from Norway and though she looks dainty she is a serious volleyball player though her record may not show it. She still hot though.
6
Liliana Fernandez
Liliana Fernandez is a volleyball player from Spain and is one of the most curvy players to play. Her physique is a hot topic amongst volleyball forums and sports blogs. It's not just her boody that looks good, her facial feature deserve praise as well. Liliana and her partner Elsa Baquerizo participated in the 2012 Summer Olympics tournament and were eliminated in the round of 16 by the Italians Greta Cicolari and Marta Menegatti.
7
Jaqueline Carvalho
Jaqueline Carvalho is another sexy Brazilan volleyball player that you can fantasize about. She is a member of the Brazilian national team. She is a double Olympic Champion from Beijing 2008 and London 2012, and a double silver medalist of the World Championship. She won the Best Spiker award at the 2010 FIVB World Grand Prix. Did I mention that she was super hot?
8
Sheilla Castro
Sheilla Castro is a volleyball player from, guess where. Brazil. I swear I love this country. Castro participated in the 2008 Summer Olympic Games, in Beijing, China, and in the 2012 Summer Olympic Games, along with Jaqueline Carvalho. Castro was named Most Valuable Player at the 2006 FIVB World Grand Prix. Standing at 6'2″ she is one of the tallest on the Brazil national team and one of the sexiest.
9
Jennifer Kessey
Jennifer Kessey is a professional beach volleyball player on the Nivea AVP Tour. Growing up in Southern California, Jen excelled at multiple sports. In high school, she was the MVP of the swim team her junior year and the Captain and MVP of the volleyball team her senior year. She continued to play volleyball in college at USC before going pro.
10
Zara Dampney
Zara Dampney is a British volleyball player that competed in the 2012 London Olympics. She was a photographer's favorite at the Olympics. There are amany action shots of Dampney playing her heart and showing off her good looks. That is not an easy task to do in the middle of a match. Dampney makes it look easy.
11
Sara Goller
Hailing from Germany, Sara Goller is one of the finest volleyball players from the country. She has won gold in two European championships. Goller and her partner Laura Ludwig peaked in 2007 ending the season as leaders in the German women's ranking and were placed 7th overall. The blonde beauty even made a trip to London for the 2012 Olympics.
ANY IDEAS ABOUT THIS TOPIC?