Whether you have a dedicated home office you use for work, or a space for taking care bills and other household business, it's probably a given that your office is the one area in your home you aren't so proud to show off. If you are like most folks, your office is filled with rejected furniture items, stacks in need of filing and an overflowing paper recycling bin. It's not pretty, but you view it as a utilitarian space, so you don't sweat it.
But it doesn't need to be that way. With a little inspiration, planning and effort it is possible to transform your home office into a space that you actually enjoy. You might even keep the door open when guests come over.
These home office hacks will help you get more organized and do so in a way that adds a bit of style as well.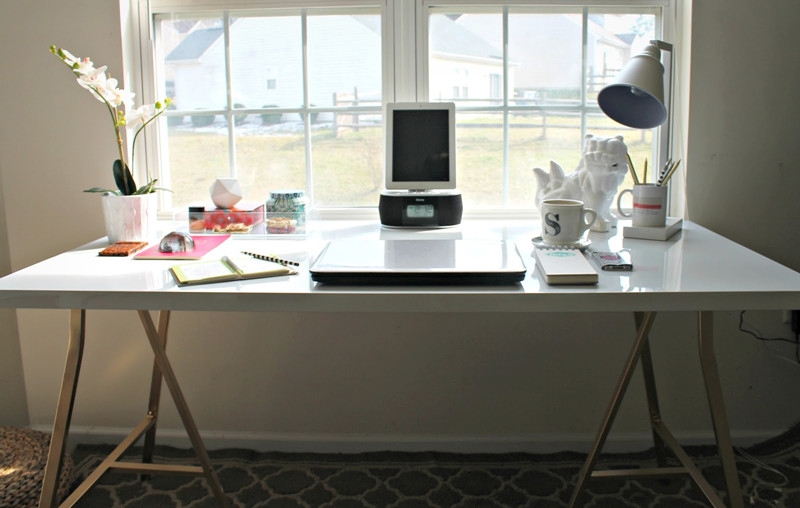 Part 1
1
Art Deco Desk – Add style to a boring old desk with this hack that turns an Ikea desk into a chic art deco workstation.
2
Clip-on Desk Organizers – In need of more storage space on your desk to keep everything at hand? Make your own clip-on organizers from grip clips and old coffee or soup cans.
3
Color-Blocked Bulletin Board – Add some style to your display/reminder board by adding some color. We all need a space to keep reminder notes, but it doesn't have to be a drab bulletin board.
4
Bookshelf Work Station – Don't have the luxury of a room for your office, consider converting a bookshelf into a home office work station.
5
Chalkboard Wall – Forget post-it notes! Instead paint a wall with chalkboard paint to keep track of when bills or due or when that project is due.
6
Hanging Storage – Create more organizational space with this project that uses magazine files and a wall shelf to create additional space to organize your paper.
7
Fabric Corkboard – Add fabric covered cork board squares above your desk to add functionality and color and pattern.
ANY IDEAS ABOUT THIS TOPIC?