As a society, we owe schoolteachers a lot. They not only spend countless hours with our children teaching them and preparing them for life in the real world, but most of them genuinely care about their students and give 110% to make sure the kids are successful. So when it comes time to give a gift of appreciation to a teacher, where do we begin?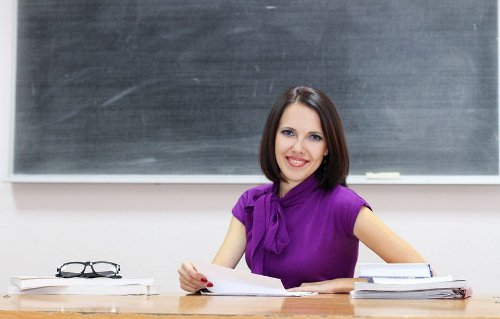 Part 1
1
Handmade Gifts
There's an old saying to the effect that the best gift you can give is one you made yourself. Many of us aren't talented artisans or crafters, but for those who are, consider applying your craft to create a unique teacher gift. Stained glass ornaments, a small painting, a personalized poem, a beautiful flower arrangement; any of these items would make a lovely teacher gift.
Homemade food items are also a hit with teachers. Things like baked goodies, preserves, salsas or sauces, mixes in a jar, or even dried spices from your garden make simple and useful presents. Add a recipe or two and tie everything up with pretty fabric and ribbons to create an impressive presentation. Or, if the teacher is a man, a simple presentation in a decorative box or basket is the way to go.
The best idea, though, is to get your kids involved. Bake a batch of cookies together and decorate them. Take fancy pretzels and dip them in melted chocolate and candy sprinkles. Make a decorative wreath with sprigs and other things found in nature. Check your library for craft or cooking books and choose something fabulous to give your teacher as a heartfelt gift.
2
Personal Care
Skip things like fancy perfumes or colognes unless you know the teacher very well and understand their tastes. For women, bubble bath, fancy soaps, or accessories like bath brushes or bath pillows are much better ideas. For men, try soaps, travel kits, or a soft fleece throw blanket.
Lotions, portable sunscreens, and other body care products are also a good idea. Try picking up a few different items in the same line and putting them together in a basket to make a personal gift.
3
Books
If you know any specific topics the teacher is interested in, then books are always a great gift. New releases are best, since it's hard to know what books they already have. Cook books, trivia-based books, and comedy are also good suggestions.
If the book store you purchase from offers gift receipts, be sure to request one and put it inside the front cover of the book. That will make it easy for the teacher to exchange the gift if they already have a copy.
4
Gift Certificates
If you're completely at a loss, a gift certificate is never a bad idea. Giving a gift certificate and allowing the teacher to choose something for his or herself may sound like a cop out, but quite honestly, teachers get so many gifts that they can't use – at least this way they can pick something out that they're guaranteed to like, use, and enjoy.
You can get gift certificates for almost anything these days. How about a massage from a local spa? Or a night out at the movies, complete with drinks and popcorn? Maybe a gift certificate to a local restaurant would be more appropriate. Even a round of golf or professional portraits can be given as gifts this way.
Of course you can always go with the tried and true – gift certificates to a book store, record shop, specialty coffee shop, or bath and body store would be welcome gifts as well.
Try to steer clear of things like coffee mugs, potted plants, scented candles, and other popular teacher gifts. Chances are that the teacher in question has received many, many items like these over the years and doesn't know what to do with them all. Think outside the box and give something that only you and your child can give – something personal, warm, and heartfelt – to say a sincere thank you.
ANY IDEAS ABOUT THIS TOPIC?