For someone who is passionate about food, nutrition, and healthy living, there are two primary career paths which can be chosen–nutritionist or dietitian. It may seem that the two words can be used interchangeably but there are actually many differences. The courses studied, application and even legal definition are just a few of the things that make of the differences between nutritionist and dietitian.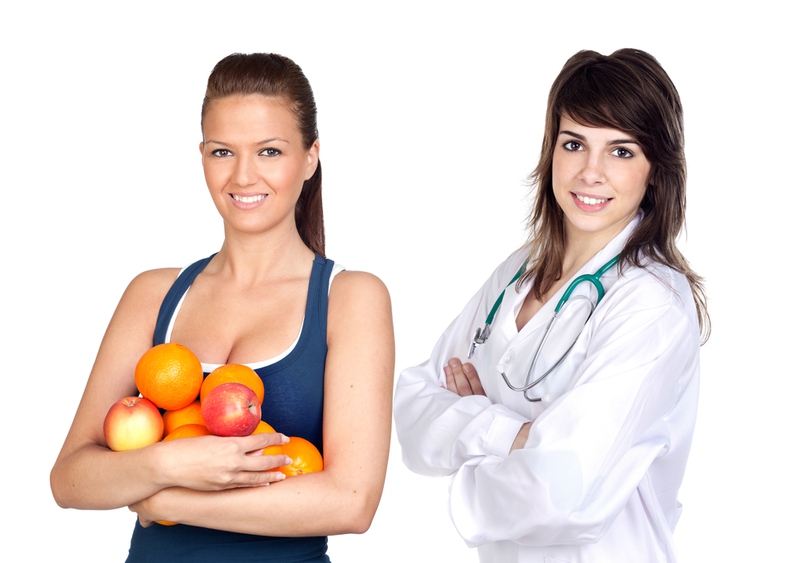 Difference Between Nutritionist and Dietitian
Although the duties of nutritionist and dietitian are similar, such as assessing the client' diet and health needs, developing meal plans, and promoting healthy eating habits and better nutrition, there are differences between their education, legal restriction of the titles and credentials. Read more to find out the differences.
Difference in Education
Registered dietitians have a complete formal education with a bachelor's degree. The program is approved by The Dietetics' Accreditation Council for Education in Nutrition and Dietetics (ACEND) and includes several key courses such as chemistry, microbiology, biochemistry, service systems management, as well as food and nutrition sciences. Nutritionists, by comparison, do not need any educational background to operate. In fact, many nutritionists are able to receive basic online certificates degrees or their practice.
Difference in the Legal Restriction of the Titles
The biggest difference between nutritionist and dietitian is the legal restrictions that their job titles carry. Nutritionist must become registered with the Commission on Dietetic Registration (CDR) and are able to also refer to themselves as dietitians or registered dietitian. However, nutritionists who are not qualified to be labeled as registered dietitians may operate with or without a license, depending on the state rules.
Difference in Credentials
Registered dietitians have completed the necessary educational courses to receive their baccalaureate degree and become approved by CDR. Nutritionists come in two different forms: those that have a certificate examination of the nutritional degree and those that have been certified by the Board for Certification of Nutrition Specialists which requires nutritionists to have masters or doctoral degree.
How About the Salary?
There is no much difference between nutritionist and dietitian concerning the salary. The average annual salary is around $56,000 per year for both positions. As the world continues to become more health-conscious, this market continues to seek newly certified professionals to cater to. States that are particularly health-conscious such as California and Hawaii are likely to pay more for a qualified individual. Career development solely depends on where your services are being offered. Individuals with private practice are able to have more career advancement and expansion opportunities than those who work in a hospital or medical clinic.
What Is the Occupational Outlook?
Medical field is always a competitive environment. By comparison, nutritionists and dietitians typically make less per hour than others at the same level in the healthcare field. This is primarily because for many years, patients haven't realized the value in nutrition enhancement. Over the last decade, however, the situation is changing and it may bring a new world of opportunities for nutritionists and dietitians to expand their careers in exciting ways. Overall, those who have a true passion for a healthy lifestyle are satisfied with their job in the types of advancements which they can create for themselves.
How to Become a Nutritionist or Dietitian
Now that you understand the difference between nutritionist and dietitian, there are several steps to follow to turn this into a career.
1
Investigate the Requirements
The requirements to become a nutritionist or dietitian can vary by state. Currently, 30 of the 50 states require a certification. 15 of the states offer accredited courses and require a certificate degree. A bachelor's degree in Dietetics or Food and Nutrition, as well as supervised clinical practice, is necessary for most states. At this time, Colorado, New Jersey, Michigan, and Arizona are the only states which have no licensing requirements for nutritionists or dietitians.
2
Find the Right Educational Program
Seek out the accredited program within your area. 46 states require you to have either an associate or bachelor degree in nutritional science. These degrees can be obtained online or on a campus. In addition to standard nutrition classes, you should also take business, psychology, and economic forces to help you better understand your patients and enhance your career.
3
Consider Completing an Advanced Degree
When it comes to the healthcare field, there is no such thing as too much education. While an advanced degree is not specifically necessary in most states, it can be beneficial in unlocking more job opportunities for you. As the world of health and nutrition continues to change the ball, it creates new opportunities for you to thrive.
4
Finish the Coursework of CNCB
According to the CNBC, there are specific courses which every individual is required to take in order to be accepted for certification. These courses include anatomy and physiology, microbiology, biochemistry, chemistry, and human biology. Be sure to check the necessary coursework and make sure that your class schedule lines accordingly for your career path.
5
Take the Course of PGSCN
This group course consists of four different segments that are 14 hours each. The courses should be completed online within a 90-day period. This course costs $1125, therefore, you want to make sure you have received the right education before pursuing this course.
6
Pass the CNN Exam
This three-hour exam is necessary to receive your license. The cost of the exam is $450.
7
Apply for State Licensure
Once you have completed all the necessary coursework and passed the required examinations, it is time to file paperwork with the state to receive official licensing. Be sure to check the requirements of your state. Also, keep in mind that licensing in one state does not carry over to licensing in another. However, some states do offer reciprocal privileges if they are bordering. The Commission of Dieticians and Nutritionists website can offer more information on this subject.
ANY IDEAS ABOUT THIS TOPIC?