The US- based actor, producer, director, writer, and singer David William Duchovny was born on 7th August, 1960. His most famous and award winning characters are from the science-fiction horror series The X Files in which he played the role of an FBI agent - Fox Mulder. Other famous roles he played are from the comedy series Californication, in which he played as a womanizing novelist and drug-abusing intellectual – the famous Hank Moody.
David Duchovny had B.A in Literature (English) from Princeton followed by M.A in same subject from Yale University.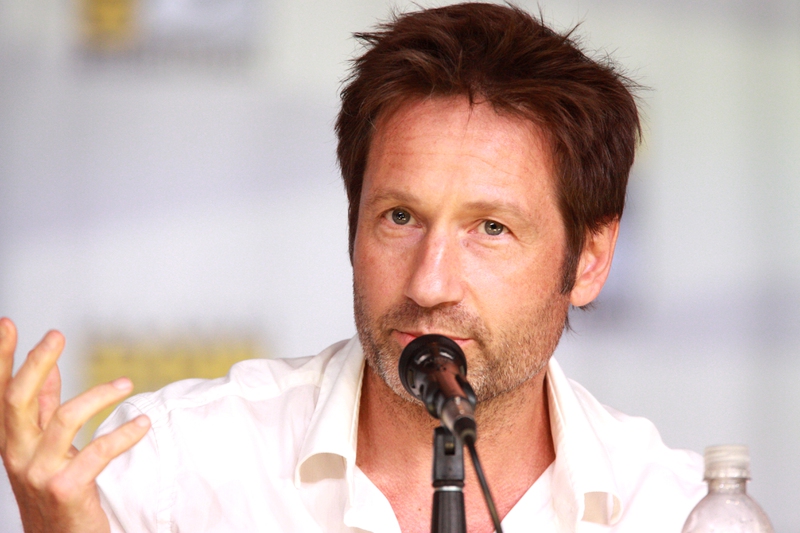 David Duchovny Basic Information
He used to have an "H" in his last name but his father removed it to avoid the mispronunciation he faces while working in US Army. His basic information includes:
DOB: August, 7th. 1960.

Birth place: New York City, USA.

Name: David William Duchovny

Nickname: Dave

Height: 1.84 meter i.e. 6' 01/2"

David Duchovny net worth: The property he owned personally was worth $60 million. He earns around $225,000 for each episode in his drama series.
David Duchovny Works
1
Drama and shows
The first Job David Duchovny did in television was for a Lowenbrau Beer commercial in 1987. After which he continued with television shows like "Twin Peaks" and "The Red Shoe Diaries" which he hosted. He started working for his award winning role of Fox Mulder, a special agent in "the X files" in 1993 which became a huge hit in very few days. He continued with his series till its 7th season which ended in 2001. He also worked in the first few episodes of the season 8 of the X Files and then discontinued due to a Contract dispute. He also worked as a director in several episodes of his series including "The X Files" and "Bones". David Duchovny is currently working "Californication" as Hank Moody and also won Golden Globe Award for it in 2007.
2
Music
David Duchovny has also been a music star and released his first album having 12 songs in total in May, 2015 with the name "Hell or Highwater"
3
Here's a complete list of David Duchovny movies and television serials as well as the roles he played.
Personal Life of David Duchovny
David Duchovny and Téa Leoni
David Duchovny got committed to the actress Téa Leoni and married her on 13th, May 1997. His first child was his daughter, Madelaine West Duchovny and his second child, son, Kyd Miller Duchovny was born in June 2002. In their 17 years of married life, they separated twice and then got divorced in June, 2014.
David Duchovny announced in August, 2008 that he has contributed in treating addiction for sex and took it as a facility of rehabilitation.
David Duchovny and Gillian Anderson
His relationships have been with multiple stars and non-stars, including X-Files co-star Gillian Anderson, he kissed her in front of public and their relationship kept secret. They finally declared their relationship publically on 12th May, 2015 by kissing on stage after a song performance together in front of a crowd of hundreds.
David Duchovny Workout and Diet
Looking at a young looking, well physique, and a hazel-eyed star, many people are curious to know about David Duchovny workouts, his exercise plans and schedules. He simply confessed that there are not secrets of his young appearance, he said that he just eats healthy, do regular exercise, and take vitamins. He also rated his diet a 9 out of 10.
His diet includes a vegetarian diet schedule including plant based foods. He supports environmental and animal rights; that's why he don't include meat and dairy products in his diet. On this prospect he said that he thinks of his diet from multiple perspectives and if he would eat animals he will only think about the kind of treatment they get and how they are harvested.
David Duchovny workouts include weightlifting and multiple sport activities including swimming, boxing, basketball, and baseball. David Duchovny workout plans also include running and he is also being trained for fundraising triathlons.
David Duchovny workouts are not only based on physical but also on mental activities like yoga, distressing mind, enhance the flexibility of body and improving the mobility of joints etc.
David Duchovny Quotes
Some of his famous quotes are:
"I never cook and If I do, I never eat that thing"

"I am half Jewish and half Scottish so it's difficult for me to buy anything"

"Privacy is something I respect a lot, I think when I was younger I wanted to tell everybody, because I thought I was very interesting. Then I heard the snoring"

"People say that the world changes all the time, and yet human nature remains the same. I think the only thing that got changed is the size of our cellphones"

"Fame does lead to money, which I don't have a close relationship with. I'm the kind of guy who never sees the money -- it all goes somewhere else. I don't understand it, I don't like to deal with it. I have a fear of not having it, because I grew up without it."

"I've always been overly concerned about what people think which has resulted in a lot of inner turmoil. I try not to give a damn but inside I'm a huge ball of worry."

"If you're smart, you'll always be humble. You can learn all you want, but there'll always be somebody who's never read a book who'll know twice what you know."
ANY IDEAS ABOUT THIS TOPIC?