Graduating high school is an important step for teens. Whether these students are going off to college or entering the work force, their lives are about to change a great deal. Families can mark this important milestone with a celebration to honor the graduate.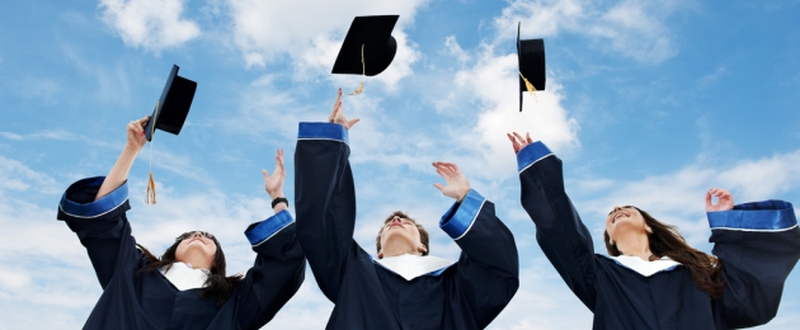 High School Graduation Ideas for Families
1
Formal Dinner
Some families may prefer to organize dinner parties to honor the graduate in a more formal manner. These are easy events to organize very close to graduation, particularly if the commencement ceremony is scheduled for the morning or afternoon.
You might:
Treat the graduate to a formal dinner in a fancy restaurant.

Have the party catered at home.

Invite immediate family and close extended family members.
2
Outdoor Barbecue
If you have a large family and want to get everyone together to celebrate, an outdoor barbecue is the perfect way to make it festive. You can provide the main course and beverages.
Ask everyone else to:
Bring some of the graduate's favorite side dishes for a potluck.

Share photos from throughout the graduate's life.

Sign a guest book or create pages for a scrapbook with their best advice for life after high school.
3
Open House
A come-and-go open house is the most popular format for a graduation party, particularly when party guests may need to visit several events in one day. These are casual parties that usually offer a few light refreshments throughout an afternoon or evening soon after the graduation ceremony.
Most open house parties include:
A buffet table with steamers and cold trays to keep the food at temperature

Tables and chairs for guests

Some decorations in the graduates high school or college colors

A memory book for people to sign
Celebrations with Friends
1
Rent a Hall
Graduates partying
If the senior class was especially close-knit, consider asking all of the parents of the graduating class to pitch in some money and rent a local hall. This will give the grads a safe place to have their party.
Parents can also:
Provide snacks and beverages.

Volunteer to chaperone.

Hire a DJ if funds are available, or ask the teens to put together their own play lists.

Decorate with classic graduation themes such as diplomas, caps and gowns, and class photos.

Set up a table with plenty of pens for yearbook signing.
2
Time Capsule Party
A time capsule party is a little less formal or structured, but it's an investment in future fun. The time capsule should be opened when everyone is together again for a ten or twenty-year reunion party.
You can:
Decide where the capsule will ultimately be stored.

Gather at a park or at someone's home for a potluck.

Ask students to donate an item for a time capsule to represent their grad year.

Display items before sealing the capsule.
Other Activities
1
Grad Night Party
This classic all-night party is usually provided as a safe celebration for all seniors on the night of graduation. Students may need to report to the party location by a certain time, and they may not be permitted to leave until morning to ensure that students are not engaged in dangerous or undesirable behaviors. Some schools may charge an entry fee for students to attend, while others host the party for seniors free of charge.
Activities at grad parties frequently include:
Music and dancing
Games such as arcades, bowling or casino simulations
Fun activities like palm reading, handwriting analysis, group pictures
Giving away door prizes
2
Yearbook Signing Party
Signed yearbook
A yearbook signing party is typically held near the end of the school year, but before school is actually out. Some schools offer a seniors-only yearbook event to honor the soon-to-be graduates.
Simply:
Set up tables and chairs.
Provide punch and cookies.
Exchange signatures and share memories.
Take last minute photos with special friends.
3
Senior Trip
Senior class trips are another rite of passage for graduation. A trip gives them opportunity to share the fun of a school-sanctioned getaway with their classmates. Chaperones are required.
Seniors typically:
Vote on a destination such as a nearby metropolitan area, a local resort, or an amusement park
Have fundraisers to help defray cost
Travel by bus or plane
ANY IDEAS ABOUT THIS TOPIC?