When applying for a teaching position, several points should be referred in your cover letter, including information regarding your various certifications, your years of experience as a teacher, details about your educational background and training in teaching.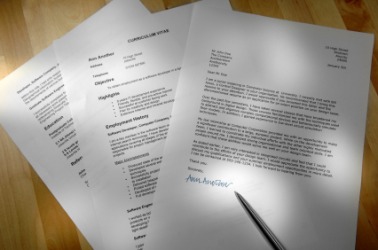 Part 1: How to Write a Cover Letter for Teachers
1
Introduction
The introduction should meet the initial questions of the reader: What is the purpose of the cover letter, i.e. what is the position that you want to apply for, how you get to know the job vacancy and what is your reason for getting the job. An appropriate introduction for your cover letter can be like:
I am interested in the vacant teaching position of a high-school English teacher at Modern City School, so I am forwarding you my resume as required on the advertisement present on the school's website. I believe that I would be the perfect fit for the job seeing that my education (M.A. English Literature and B.A. English) along with State of Indiana teaching certification and 7 years plus experience in teaching meet the job requirements.
2
The Second Paragraph
The second paragraph should tell the reader your ideas about learning. For instance, you could say in the second paragraph like this way:
The process of learning never ends at any stage and it's all about learning from your environment, your friends, your parents, your family, and even your students. Teaching should encourage this process of learning and such teaching requires a hands-on approach in which the students are given challenges to stimulate their urge to learn. It's better to highlight an important point of your teaching philosophy by underlining or italicizing the font. A couple of sentences or so should suffice.
3
The Third Paragraph
The third paragraph should ideally talk about your teaching experience. List your credentials and educational background along with specific teaching qualities like the ability to motivate students and develop strong bonds with them. If you have experience in handling education related software, mention their names as well.

4
The Closing
The closing should be kept sweet and short, which should tell the reader about your interest in having a formal interview. It should also reiterate your desire to get the job before courteously thanking the reader for his/her time.
Part 2: Samples of Cover Letter for Teachers
Sample 1: General Cover Letter for Teachers
Graham Learning High School
New Avenue Road
North London
Tel: 0207 777 1144
Date: 23 September 2014
Ref: Permanent Supply Teacher Vacancy
Dear Mr. Brian,
It is with great interest that I am forwarding my resume as required in the advertisement on Dailyteachingjobs.com for the position of a supply teacher.
I am presently working at a small teaching centre near New Avenue Road and believe that a switch to the Graham Learning High School would be great, as I have the skill set needed for the position as well as knowledge of the local environment and culture. It would be an honor to become a part of a prestigious school like Graham Learning High School whose academic excellence is unparalleled in the region.
Over seven years of experience of teaching high school students with experience in handling large class sizes and a particular ability to motivate each student to achieve the best performance by understanding each individual's learning habits and capacity, which equips me with capacities to meet all that is required to excel in this position.
I am genuinely excited about the chance to teach at Graham Learning High School and would eagerly await a call or an email regarding an interview. Please feel free to contact me in case any information is needed.
I am grateful for your consideration and looking forward to your a positive response.
Yours sincerely,
[Signature here]
Candidate's name
Home Address
Contact Number
Email Address
Sample 2: Cover Letter for Elementary School Teachers
Ms. Laura Hutchins
Coordinator Elementary Division
XYZ School
23 Lowton Lane
ABCTown, OH 42121
Dear Ms. Hutchins:
Throughout my teaching career as an elementary school teacher, I have tried to maximize every individual student's potential, to light every students' interest in technology.
It is for this reason that I was instantly interested in the job vacancy at XYZ school when I saw the ad on JobDesk.com. The school has a wonderful reputation for setting high academic standards and for incorporating technology into teaching. I would be honored to get the chance to teach at such a prestigious school which presents all of its students with the chance to shine.
Along with a Med and Bachelor's Degree in Elementary Education and Teaching Certification from the state of New Jersey, I also have over 11 years of experience in teaching elementary school students.
I last taught at IJK Domains School and was tasked with bringing changes to the curriculum of classes 3 and 4. Both my colleagues and the parents have praised about my attention to details and my creative use of technology while delivering lessons.
While I really liked teaching at IJK Domains School, I was removed from my position this September along with a number of other teachers in a layoff frenzy. I look forward to restarting my teaching career with this job and await a positive response regarding an interview. Please don't hesitate in contacting me at 321-099-0999 or email [email protected].
I am thankful for your consideration. I eagerly await a positive response from you.
Sincerely,
Ally Brooks
Click for more cover letter samples of teachers and educations positions.
Tips
Make sure that the letter is addressed to the appropriate individual (should be named in the job ad).

The name of the addressee should be spelled correctly.

Keep a record of all the letters as well as the dates when you sent and received the letters.

The quality of paper should be high.

Get a friend to proofread the cover letter before sending it.

Put your own address at the very start of the letter (the top) as is the case in business letters.

Be careful while forming sentences and check properly for any mistake without trusting Word's spell checker.

Put your contact information in the closing lines of the letter.

Make sure to sign the letter at the end.
ANY IDEAS ABOUT THIS TOPIC?