Just like us "normals" celebrities struggle to maintain a healthy weight and figure. The cruel reality for them, however, is that their fame makes them a magnet for public scrutiny, criticism and ridicule, should they falter in the Battle of the Bulge. While we fight tooth and nail to keep the LB's off, celebs must do the same, but in a very public forum.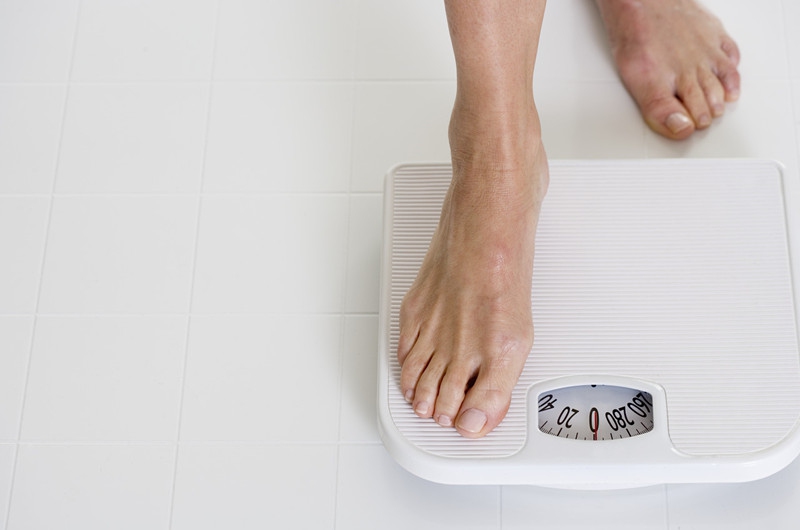 Part 1
1
Christian Bale- American Hustle
Normally known for playing serious and slender characters, Christian Bale made a surprising super-sized change as he gained 43 pounds for his role in American Hustle. According to Glamour Magazine, Bale ate junk food, in particular cheeseburgers, to help pack on the pounds to play chubby and shady conman Irving Rosenfeld. Unrecognizable to many, Bale told People Magazine that he also ate lots of doughnuts, and "literally ate anything that came my way." Mainly noticeable in his belly area, Bale admits that the extra 43 pounds of flab went straight to his waist. He told The Washington Post that he "put on weight like Santa Claus… I just get this belly that kind of extends out."
2
Toni Collette- Muriel's Wedding
Tall and slender Toni Collette took on a dramatic change to play, what turned out to be, her breakthrough role in Muriel's Wedding. The actress gained 42 pounds to play Muriel Heslop, which she managed to do with the help of a dietician. According to "People Magazine", Toni Collette, then 20 years old, gained the weight to play an overweight misfit obsessed with getting married. She ate pizza, chocolate and ice cream to put on the pounds, but it came to her advantage as she won Australia's Oscar for "Best Actress."
3
Matt Damon- The Informant
Usually slender Matt Damon gained 30 pounds for his role in the film The Informant. To play corporate vice president Mark Whitacre, Damon had to put on some serious weight. He told "Entertainment Weekly" that he started "eating like crazy and drinking dark beer." "NY Daily News" advises that Damon thought the first 15 pounds were fun, but then it started to become work. After gorging on tons of junk food, Damon had covered his chiseled pecs, abs and arms with the extra pounds, and once he added the famous moustache he was ready to take on the role.
4
Renee Zellweger- Bridget Jones's Diary & Sequel
What may be one of the most famous examples of an actress gaining weight for a role, Renee Zellweger proved she could morph into the adorable character. According to "US Weekly" Renee Zellweger gained 30 pounds, not once but twice, to play the leading role in 2001's Bridget Jones's Diary and its 2004 sequel, Bridget Jones: The Edge of Reason. What became an iconic role, petite Zellweger ate lots of fattening foods like pizza and doughnuts to fulfill her characters eccentric persona. She hired a nutritionist and transitioned to a size 14 in a healthy and controlled manner.
5
George Clooney- Syriana
Handsome a-lister George Clooney took on a big change to his body as he gained 35 pounds for his part as a CIA operative in the 2004 film Syriana. According to "The Telegraph," Clooney ate a pasta-heavy diet to aid in his weight gain to help portray the character Robert Baer. Clooney told "Businessinsider.com" that "there was nothing fun" about gaining weight as he injured his spine while filming, which he contributes to the weight gain. His hard work paid off as he was awarded his one and only Academy Award, which was for "Best-Supporting Actor".
6
Rob McElhenney- It's Always Sunny in Philadelphia
There was quite a surprise in the 7th season of It's Always Sunny in Philadelphia as character "Mac's" physique changed dramatically. Series creator and star Rob McElhenney decided that "Mac's" character needed to look worse and get fatter. According to "foxnews.com," McElhenney gained 50 pounds, with the aid of a nutritionist, by eating 5,000 calories a day. He wanted the character to gain weight to create a juicy storyline and show how he deals with the onset of obesity. McElhenney told "MTV" that he ate lots of doughnuts, and the key was to "force-feed myself a milkshake that I made every day that had weight gainer, chocolate milk, chocolate ice cream, and creatine."
7
Russell Crowe- Body of Lies
In order to play a CIA agent in the 2008 film Body of Lies, Russell Crowe had to gain 63 pounds. He did so by eating burgers for breakfast and according to "Glamour Magazine" Crowe's cholesterol levels were dangerously high. Considered to be a pro at the Hollywood weight loss/gain game, Crowe told "Fox News" that he also ate Sprinkles cupcakes to help with the weight gain. He also led a sedentary life style as he was working on packing on the pounds.
8
Jared Leto- Chapter 27
Typically svelte pretty-boy Jared Leto famously gained a lot of weight, close to 67 pounds actually, to play John Lennon's murderer Mark Chapman in 2007's film Chapter 27. Leto reportedly ate entire pizzas for dinner, drank melted pints of ice cream, and "gorged and force-fed" himself in order to gain the weight. According to "The Telegraph," Leto suffered from gout as a result of his weight gain, and has since vowed he would never gain weight for a movie role again. "Fox News" describes Leto's transformation as an "impressive anti-makeover".
9
Charlize Theron- Monster
What may be one of the most dramatic changes in Hollywood, Charlize Theron showed her true talents as she played serial killer Aileen Wuornos in 2003's hit movie Monster. Packing on an extra 30 pounds to her slim figure, Theron transformed her body almost to an unrecognizable point to get herself into character. According to "businessinsider.com," Theron ate Krispy Kreme doughnuts and potato chips to gain the weight. She obviously did a great job as she won the Golden Globe and Academy Award for "Best Actress" the film.
10
Vincent D'Onofrio- Full Metal Jacket
Known for playing unique characters who all look different, Vincent D'Onofrio packed on 70 pounds for his role as Private Leonard Lawrence in the 1987 film Full Metal Jacket. What turned out to be his first major film role, D'Onofrio proved he can be a human chameleon when it comes to acting. In order to play the role of the overweight, psychopathic, suicidal Marine recruit, D'Onofrio had to gain the weight in nine months. The super shocking transformation was made by eating lots of greasy junk foods. D'Onofrio can be proud of his shocking weight gain about-face… According to "businessinsider.com" he holds the record for gaining the most weight for a role.
ANY IDEAS ABOUT THIS TOPIC?