Celebrities often choose other big names to be their life partners, although that has sometimes been known to lead to the clash of oversized egos. Richard Burton and Elizabeth Taylor are the classic example of that phenomenon.
Some stars have enough sense to marry an ordinary person with no more than a normal amount of vanity. Those marriages have often been more enduring than the double celebrity sort.
There's no guarantee. A good relationship takes effort, commitment, a lot of talking and a certain amount of sacrifice. That's too much to ask of some stars, whether they are married to a fan or a fellow star, but there does seem to be more chance of a long marriage if the couple are not both "A listers".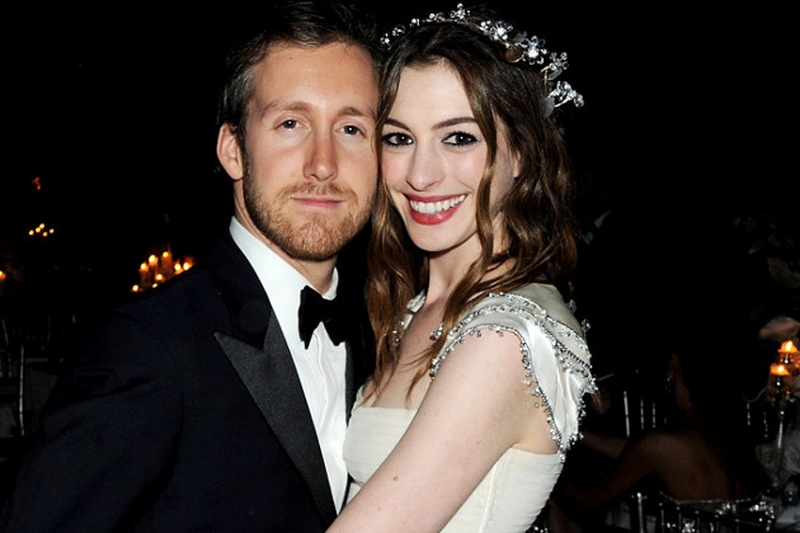 Part 1
1
Julia Roberts and Daniel Moder
The star of "Pretty Woman" and "Erin Brockovitch" wed the well-known country singer, Lyle Lovett, on her first trip to the altar.They divorced two years later but the actress didn't do the usual Hollywood thing of leaping straight into a second then a third marriage.She dated fellow actor Benjamin Bratt for three years without marrying him, then met her second and lasting marriage partner, a cameraman named Daniel Moder.Moder was working on Roberts's film, "The Mexican", when the pair met in 2000.The actress was still dating Bratt, and Moder was married, but they both left their current partners behind to pursue the romance. Moder got a divorce and the couple married in the summer of 2002.They now have three children, including twins, and their marriage is a long one by Hollywood standards, showing that equal fame and status between partners isn't the key to a successful romantic partnership.As a celebrity, Roberts's private life is the subject of scrutiny and gossip, sometimes not very kind, and her affair with the married Moder naturally earned her some criticism. But we don't really know the ins and outs of the situation. They have been together for 12 years now, which shows that at least she didn't just decide to steal someone's husband on a temporary whim.
2
Matt Damon and Luciana Bozan
Matt Damon is another bankable star whose marriage to a 'civilian' has lasted, following previous romances with fellow film stars Winona Ryder and Minnie Driver.Damon's relationship with Driver lasted two years and he later had another two year affair with one Odessa Whitmire.None of those relationships led to a wedding, so his union with Argentine-born Luciana Bozan in 2005 is still his first and only marriage.Not only is the marriage an enduring one, it's clearly been happy, or why would the couple have renewed their vows in 2013, when you might have expected the seven-year itch to strike instead?The couple met when Damon was filming "Stuck on You" and Bozan was working as a bartender, both in Miami. Damon hid behind the bar to escape fans and the rest is history.
Damon is stepfather to Bozan's daughter by a previous marriage, as well as being father of the couple's three daughters: Isabella, Gia Zavala and Stella Zavala.The initial ceremony was low key, with the big party reserved for the couple's reaffirmation of their vows seven years later. That played out before a cast of celebrity friends and family in the beautiful Caribbean island of St Lucia.Perhaps the couple didn't want to tempt fate by having a massive public celebration for the original wedding. If that's the case, the strategy seems to have worked
3
Elvis and Priscilla Presley
Elvis Presley met his wife-to-be, Priscilla Beaulieu when she asked to be introduced to the singer in 1959. She was clearly a fan, only 14 years old at the time, and Elvis was already famous as a singer at the age of 24. Elvis was serving in the US forces in Germany where Priscilla's father was also stationed. The gap of 10 years is a big one, especially at that age, and it's obvious that the teenager must have had a case of hero-worship.
Presley impressed Priscilla's parents with his lovely manners, promising them faithfully that he would never keep her out late again after bringing her home at a late hour from the party where they had been introduced. He also had a generous spirit, as appears by his giving his army pay to charity, and donating various luxury items like a TV for the comfort of his army colleagues. It was clear the singer was smitten by the teen and he saw a lot of her during his time in the army stationed in Germany. But when he returned to the States, Priscilla thought she would lose his attention. That didn't happen and they kept in touch over the phone. Eventually the young girl, then 17, went to live close to the star in the US. Her parents gave permission for that, on the strict understanding that there would be a marriage when Priscilla was old enough.
That duly happened, and the couple seemed happy to start with. They had a daughter, Lisa Marie, but the singer's success, his long absences and numerous affairs led to the marriage ending after eight years.
4
Ann Hathaway and Adam Shulman
Ann Hathaway's previous love was a dodgy property developer who ended up behind bars, so understandably the actress says that she was looking forward to a little time to herself without a man in tow, when she met Adam Shulman. They were introduced by mutual friends in 2008 and Hathaway found herself being swept off her feet, in spite of her plans for a single interlude.
The man she fell for is a quiet person and that's one of his attractions for the actress, who has said, "Mellow doesn't make for a good story, but it makes for a good life". The couple married in 2012. Shulman, like Hathaway, is a native of Brooklyn. He is also a trained actor who has played small parts in soaps and made-for-TV movies.
He has other talents too. He personally helped to design the couple's engagement ring, having previously worked alongside a goldsmith, Heidi Nahser Fink, in a jewelry design business that the two founded together.
Hathaway isn't known for her wild living and it seems that she and her husband have a lot in common, coming from the same place and having worked in the same industry. He isn't famous and she is, but that's no bar to a successful partnership.
5
Ringo Starr and Maureen Cox

Back in the early 1960s, when the Beatles were still playing in the Cavern Club in Liverpool, they had a lot of teenage fans. One in particular managed to catch her idol's eye and ended up by marrying him. The fan was Maureen Cox, and the idol was Ringo Starr, probably the least widely idolized of all the Fab Four. Maureen was a young hairdresser who came to the club whenever she could, and tried her best to get Ringo's attention.
Eventually, she succeeded and he asked her to dance. That was the start of a romance which had its share of problems. Once, poor Maureen was attacked by a fan. She suffered bad scratches to her face as she waited for her boyfriend outside the hall where the group were performing. The pair drifted apart when the Beatles moved to London, but their affair was rekindled after they went on holiday in the Caribbean with Paul McCartney and Jane Asher.
Then Ringo fell ill and Maureen's care for him in his vulnerable state sealed the deal. Ringo proposed, and they were married in 1965. Maureen was only 18 when she married Ringo, so it's probably not surprising that the marriage didn't last for life. But Maureen, or Mo as she was known, was immortalized in a song called 'Little Willow' which Paul wrote and dedicated to her children after her sad early death from Leukemia.
6
Sandra Bullock and Jesse James
Sandra Bullock has played a lot of romantic comedy roles, though she doesn't relish the type casting. She is more of a serious type, a thoughtful liberal who has been at pains to distance herself from some of the parts she has played. For instance, she says she is nothing like the pushy blonde mom of "The Blind Side". She has built up a solid reputation over the decades as a talented and hard-working professional. So what was she thinking about when she linked up with and married Jesse James, the motorcycle builder and host of the program, "Monster Garage"? Apparently, she used to be a fan of his!
James, a survivor of two previous marriages, the latest to a porn star, is not the sort of character one would expect the more sensitive Bullock to fall for. The two met when the actress was showing her godson round a set he was working on. James must have lived up to her expectations when she met him in the flesh and a romance began. The pair married in 2005 but it only lasted five years. When she heard about her husband's infidelity, Bullock filed for divorce, in spite of his pleas for forgiveness.
ANY IDEAS ABOUT THIS TOPIC?