We have heard this age old tune "happy birthday to you, happy birthday to you..." sung year after year on our birthday as well as our loved ones' birthdays. It gets a little boring after a while, right? We are here today to let you in on the ten best pop songs that you can sing as the birthday song to change it up.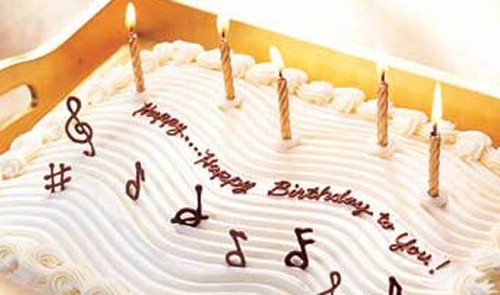 Top 10 Birthday Songs of All Time
These 10 birthday songs of all time are ordered by their release year, from the latest to the oldest.
1
Birthday Song, 2 Chainz ft. Kanye West (2012)
This music video was published August 30th, 2012 under the label "The Island Def Jam Music Group." The music is pretty catchy indeed that you will find yourself tapping foot to it. Featuring a lot of ladies shaking their "booty" makes it the perfect guy song.
2
Birthday, Pixie Lott (2011)
This song was published under the Mercury label in November of 2011. Not a bad tune either. This writer thought it popish, but it has just the kind of energy that usually comes with someone's birthday.
3
Birthday Cake, Rihanna (2011)
Rhianna released this song in 2011 under the label The Island Def Jam Music Group. Of course Rhianna puts her usual flair and style into it. With each song, this artist seems to put more of herself out there in her music videos.
4
Happy Birthday, The Click Five (2007)
This band published the song in 2007. They have a Hanson sort of feel to them. Their music is not too familiar to most public, but this song will get your foot tapping.
5
Trip Around The Sun, Jimmy Buffett and Martina McBride (2004)
This song was released in 2004 and features the rich, velvety voices of two of the most talented artists of all time. You will find yourself getting lost in how Martina's voice melds perfectly with Jimmy's.
6
Birthday, Destiny's Child (1998)
This song was released by the group in 1998. It features the lovely trio of ladies voices showcased at their finest. These ladies have had many number one hits before they decide to go their separate ways.
7
Happy Birthday, Stevie Wonder (1981)
This song was released under the label EMI in 1981 from the album "hotter than July." Stevie Wonder has had many number one hits, and the absolute favorite line in this song of course is "I just called to say i love you."
8
Too Bad on Your Birthday, Ram Jam (1977)
Little know the fact that the band was renamed "American Ram-Jam" when they released the song in the UK so as not to be mixed-up with another band. The band Ram Jam is best known for their tune "Black Betty" which someone has torn up the dance floor to in their younger days.
9
The Greatest Discovery, Elton John (1970)
This is a beautiful song with amazing piano, of course! This song was released in 1970, long before Elton John was ever dubbed Sir Elton.
10
Birthday, Beatles (1968)
Everyone is familiar with this group! The Beatles are probably one of the most well-known groups of all time! They have had many, many number one hits that topped the charts in many countries and stayed there for quite a long time before releasing yet another hit. The charismatic group released this song in 1968 from their "White Album."
ANY IDEAS ABOUT THIS TOPIC?