There are many examples of true friendship in the Bible. The Bible gives a foundation of how to treat others and we learn that our most true friend is Jesus. True friendship is characterized by love and understanding. Let's find out what those great Bible verses about friendship are.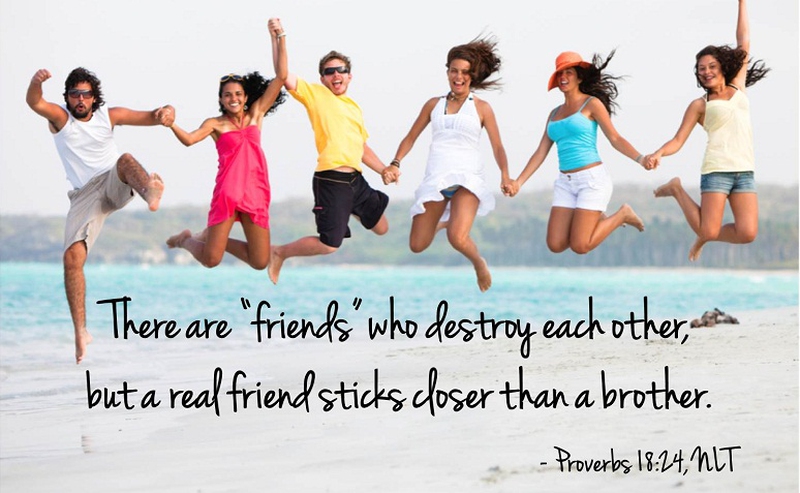 Top 10 Bible Verses About Friendship
Here we selected 10 great bible verses about friendship for you. Check them out.
A man that hath friends must shew himself friendly: and there is a friend that sticketh closer than a brother. (Proverbs 18:24)
Don't you think this is totally true? Sometimes we make all kinds of friends without even thinking about what they bring to us. And other time, we don't know how to tell good friends from bad ones. With this verse, God guides us the real friend will always stay by your side.
Greater love hath no man than this, that a man lay down his life for his friends. (John 15:13)
The Bible has many quotes and parables about friendship. It gives us wisdom how to be a friend, how to treat our friends and how to recognize false friends. Most significantly, the Bible has an important message—resonating about forgiving our friends.
Two are better than one; because they have a good reward for their labour. For if they fall, the one will lift up his fellow: but woe to him that is alone when he falleth; for he hath not another to help him up. Again, if two lie together, then they have heat: but how can one be warm alone? And if one prevail against him, two shall withstand him; and a threefold cord is not quickly broken. (Ecclesiastes 4:9-12)
This explains how to be a supportive friend. It illustrates the comfort of having someone to lean on in good and bad times. Falling alone is hard. Having someone to catch your fall gives you a softer space to land. Having a sense of brotherhood and community resonates both in the Old and New Testament. Support is needed for all of us in times of happy or sad, success or failure.
And above all things have fervent charity among yourselves: for charity shall cover the multitude of sins. Use hospitality one to another without grudging. As every man hath received the gift, even so minister the same one to another, as good stewards of the manifold grace of God. (1 Peter 4: 8-10)
So many simple requests, yet if we break them down, they can be sometimes challenging to do all day, every day. Love each other without judgment and show hospitality without grumbling. This could be as simple as keeping calm when someone cuts us off in traffic. Each has received a gift, and you should share the gift with others in need.
Henceforth I call you not servants; for the servant knoweth not what his lord doeth: but I have called you friends; for all things that I have heard of my Father I have made known unto you. (John 15:15)
Jesus wanted the people to know the friendship of God, so people could know how to be a friend indeed. Abraham was seen as a friend to God and God speaks to Abraham as a man speaks with his friend.
And the Lord spake unto Moses face to face, as a man speaketh unto his friend. And he turned again into the camp: but his servant Joshua, the son of Nun, a young man, departed not out of the tabernacle. (Exodus 33:11)
We also get reminded that true friendship and love is costly and can be hard but worth the price. Speak to God as if you were speaking to a friend.
Teach us Good Lord, to serve as you deserve, to give and not count the cost, to fight and not heed the wounds, to soil and not seek for rest, to labor and not ask for any reward, save that we know we are doing your will, through Jesus Christ our Lord. (Prayer of Ignatius Loyola)
Scripture further reveals to us that if we truly love our neighbor, we will bear much fruit in our lives, fruit that will last for eternity. We are to be loyal friends to each other and be a person for others.
DAnd Ruth said, Intreat me not to leave thee, or to return from following after thee: for whither thou goest, I will go; and where thou lodgest, I will lodge: thy people shall be my people, and thy God my God. (Ruth 1:16)
Ruth lets Naomi know that she will always be by her side. It is comforting to have a friend always being with us in good and bad times for support and sharing all of life's events.
Be not overcome of evil, but overcome evil with good. (Romans 12:21)
Most significantly, the Bible has an important message resonating about forgiving our friends. The bible tells us to be at peace and let Jesus handle it. Friendships would work easier if we all followed this more closely.
To him that is afflicted pity should be shewed from his friend; but he forsaketh the fear of the Almighty. (Job 6:14)
Everyone is going through their own life struggle and challenges. We are always reminded but tend to forget to not take anything personally. Praying for the friend that challenges us makes us stronger. Friendship may get stronger for it.
ANY IDEAS ABOUT THIS TOPIC?