The Merriam-Webster Dictionary defines a concerto as "a piece of music for one or more main instruments with an orchestra" or "a piece for one or more soloists and orchestra with three contracting movements." Such a straight forward, simple definition for such complex and brilliant masterpieces of music. Over the centuries, composers such as Mozart, Bach and Beethoven have graced audiences by pitting the solo piano against the orchestra, producing uplifting and thrilling results. Whether the piano and orchestra complement or battle each other, the two combine to create amazing melodies. If you truly open all your senses to the mystical sounds, you will enjoy a wonderfully majestic moment. As with any form of art, there are always the masters. Listed here are 10 of the best piano concertos.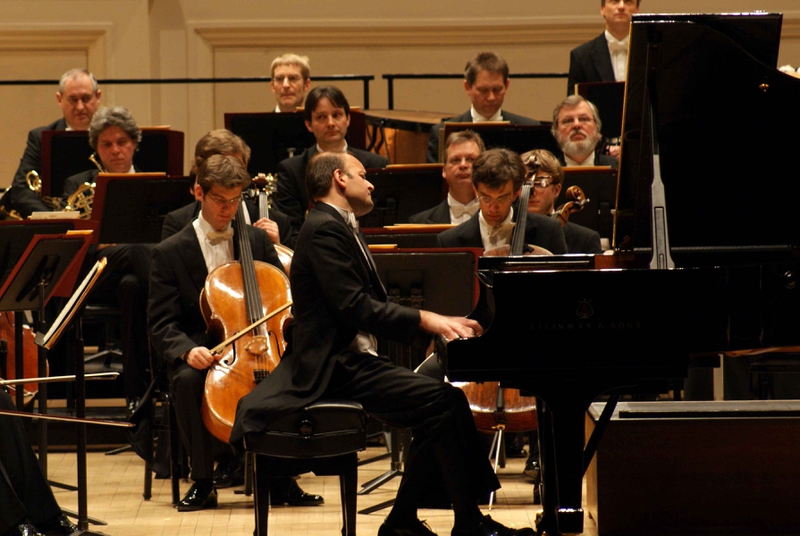 Top 10 Best Piano Concertos
1
Harpsichord Concerto No. 1, BWV 1052
Composer: Johann Sebastian Bach

Time: 1685-1750
Bach created this brilliant and amazing concerto, originally scoring it for the solo violin and later for the harpsichord. The piano had just been invented so it was not refined enough for the piece at the time it was written. The music is so pure that it can be played in any combination of instruments with no musicality lost. It is exceptionally complex with stark technical demands, exactly for what Bach is known for. It is often referred to as artistry for the senses. Close your eyes when you listen and take it all in.
2
No. 4, G Major, Op. 58
Composer: Ludwig van Beethoven

Time: 1805-06
This piece is often considered Beethoven's finest concerto. The masterpiece provides a perfect meeting of melody and development. The pristine technique and musicality of it created a perfect balance between the soloist and ensemble. Beethoven wrote the 2nd movement in manner that reflects the composer's discretion, leaving the 1st movement to be improvised by the performer. This act was so unique that today it can only be done on a period piano.
3
Piano Concerto No. 21, C Major, K. 467
Composer: W. A. Mozart

Time: 1785
Mozart is known for carefree, happy compositions and this one does not let the listener down. However, the quality of piece requires a pianist be equipped with a finished technique. The technicality and musicality of the concerto commands perfection. It provides uplifting transitions and chromatic scales. It is his most popular piece, living up to the phrase of "Mozart gave us God's laughter." A delightful and moving composition, it draws you into its depths making it one of the best piano concertos.
4
Piano Concerto No. 1, D Minor
Composer: Johannes Brahms

Time: 1881
The piano is balanced within the orchestra as an equal partner in this masterpiece by Brahms. It has been triumphantly acclaimed as a great conception filled with tender melodies. Although it has been described as exquisite and beautiful, it took several revisions to achieve its magnitude. The first time it was played, only a handful of the audience clapped. When Brahms made the final revision, the applause could not be contained. But even after that, it would receive mixed reviews over the years. However, the concerto has stood the test of time and has been played so feverishly and passionately by so many artists it is now considered one of the best ever written.
5
Concerto for Piano, Trumpet and Strings
Composer: Dmitri Shostakovich

Time: 1933
This piece was written to be played with one piano and also arranged for two pianos without the orchestra. Both versions are with the latter more so. The concerto is full of lean piano writing and irony, combined with bursts of energy throughout. Filled with strings and a solo trumpet, he caught the audience by surprise with its brilliance. It continues to delight listeners, even today. Therefore it is no doubt one of the best piano concertos.
6
Piano Concerto No. 3, E Major
Composer: Bela Bartok

Time: 1945
This is Bartok's most moving piece of music as he was dying from a long battle with leukemia when he wrote it. Audiences have always adored it with critics hanging on the fence, teetering either way. Compared to his earlier works, this concerto is light and airy with a melancholy tone. Written as a birthday present for his wife, it includes the tonality and complexity of Bartok's work but is much simpler and accessible. It is often referred to his goodbye to the world.
7
Piano Concerto No. 1. B-Flat Minor, Op. 23
Composer: Pyotr Ilyich Tchaikovsky

Time: 1874-75
Considered one of Tchaikovsky's most popular works, it is the definitely one of the best piano concertos. The piece is particularly famed for its sequence of pounding chords that launch off the first movement. It has alternating melodies throughout, ending with the powerful energy that started it off. It was an immediate hit at its premiere and has continued to amaze audiences all over the world. This legendary piece of music has been said to have been made of the unbridled elements of fire and ice, rain and sunshine.
8
Piano Concerto in G Major
Composer: Maurice Ravel

Time: 1929 – 1931
This piece has been met with consistent enthusiasm since its creation. Highly popular at the time, Ravel this concerto with jazz and harmonies. Its rich and entertaining rhythm delights all that hear it. When he initially composed it, he was so inspired that he could barely get his ideas down on paper. Ravel loved jazz so much that he was even heard saying that he was surprised more modern composers were not influenced by it. He wanted so much to play the piece himself but unfortunately health issues prevented it. The concerto was a revolutionary piece of music, inspiring composers to open their compositions to all possibilities.
9
Piano Concerto No. 2, C Minor, Op. 18
Composer: Sergei Rachmaninoff

Time: 1900-01
Considered Rachmaninoff's most popular piece, it established his fame as a concerto composer. His first symphony was tainted by personal issues and he plummeted into depression. When Piano Concerto No. 2 was released, the critics recognized his brilliance and it was evident he had recovered. To this day, the piece is considered one of the best and most majestic concerti ever written. The music is full of masterful rhythm changes and poignant melodies. As a token of gratitude, Rachmaninoff dedicated the piece to the physician that helped him out of his slumber and enabled him the ability to restore his self-confidence.
10
Piano Concerto No. 1, E Minor composed by ()
Composer: Frederic Chopin

Time: 1830
The piece was first performed with Chopin as the soloist and during one of his concerts in Poland. It was published first so it was designated Piano Concerto No. 1, even though it was actually written after what has been published as No. 2. The orchestral background was carefully written to fit with the sound of the piano. Some have called it simple, but the arrangement was developed to deliberately contrast and create complexity in the harmony. It is a true piano concerto, not a symphony. It reflects Chopin's innovation and genius for producing masterful music even at a young age. As one of the best piano concertos, this concerto will continue to inspire audiences and composers, now and into the future.
ANY IDEAS ABOUT THIS TOPIC?