Authorization letters are essential on many occasions. These include circumstances in which you need to authorize someone to act on your behalf like legal representation, medical emergencies or related matters.
Authorization letters give a third party the rights and permission to act on your behalf. Everyone cannot take care of their legal issues, health directives and financial matters by themselves all the time. Authorization letters will let someone assist you in these complex matters. However, authorization letters have to be properly written. An improper authorization letter will only help you achieve nothing.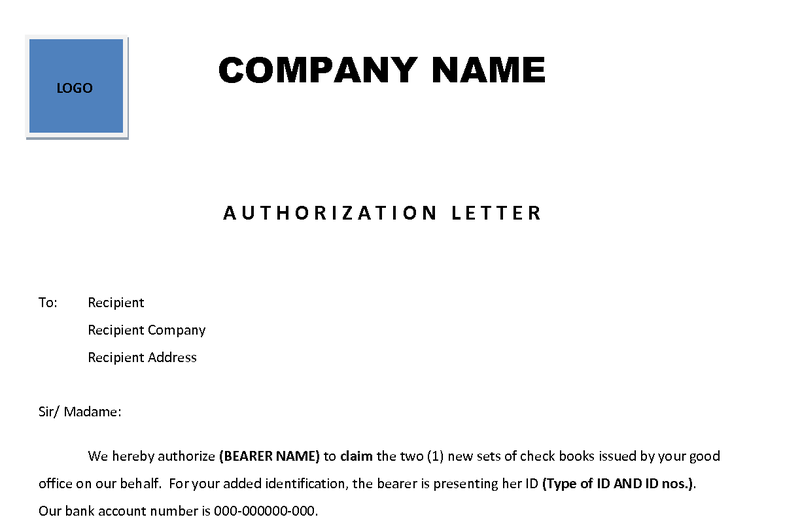 Steps to Write an Authorization Letter
1
Determine the Authorization Letter Type
First, you need to identify what kind of authorization letter your are writing. This will help you make the purpose and scope of an authorization letter clearer. With this step, you can start to write an authorization letter easily. An authorization letter can give a permission to certain profiles, systems, resources, etc. of an organization. Also, an authorization letter is needed when a temporary authorization is given to a postion before the permannet one is settled.
2
Confirm the Recipient
Due to the nature of an authorization letter, you need to seriouly confirm the name and address of the recipient. An authorization is the one addressed with a specific recipient details who can perform the contents of the authorization letter.

3
Obtain Necessary Information of the Authorized Person
An authorization letter is written for the need of authorizing some people to act something on your behalf. Therefore, you need to obtain necessary information of the authorized person to verify the reality and legality of the authorized person, such as social security number, employee number, ID number and other indentification information that required in the process.
4
Compose Your Body Content
In the first paragraph of the body content, verify the authorized person and the authorized rights and resources with general description.

In the following paragraph, you need to give details and scope of what you have granted to the authorized person, along with the auxiliary authorizations that are not obviously linked to the purpose of an authorization letter.
In the last paragraph, clarify time scope of the authorization. If the duration of authorization is uncertain, just write the starting date of the authrization. And your authorization will be valid if there is no further notice.
5
Close an Authorization Letter
Put your authorization letter to an end with the third party's competence, which is usually the issuing party's title in a company, like head of a sector, president, etc. The title will strengthen the nature of the authorization letter, and extent the contents of authorization towards the letter recipient.
Samples of Authorization Letters
1
Authorization Letter for Passport
Anabelle Lee
19200 C, Raven Street
690, Hawks Bay
Mobile, AB - 88888

Jan 23, 2014

Sub: Authorization letter for Poe Travel Agency.

To Whom it May Concern

I, Anabelle Lee, authorize Poe Travel Agency and their appointed personnel/agents to transport the relevant legal documents, that are necessary to acquire a passport for myself.

I hereby grant authorization to Poe Travel Agency to act as my agents and fulfil the necessary obligations, on my behalf in the passport process.
I grant Poe Travel Agency the authority to obtain my passport.

I comprehend that, Poe Travel Agency will not be in any way, responsible for any hindrance caused during the course of shipping and processing.

Thanking you,

Sincerely,
A. Lee
(Signature)
Anabelle Lee

2
Authorization Letter for Medical Records
Anabelle Lee
19200 C, Raven Street
690, Hawks Bay
Mobile, AB – 88888

Sep 20, 2014

Dr. Melissa Hartman
St. Patricks Hospital
333, Fornsworth Road
Mobile, AB - 88888

Sub: Release of Medical Records for Anabelle Lee

Dear Dr. Melissa,

It is humbly requested that you release my medical records and related information pertaining to my ACL treatment, which I underwent under your supervision from Aug 12, 2014 to Sep 13, 2014, to Dr. Joseph Smith.
These records will assist in my subsequent medical care. Kindly mail my medical records to:

Dr. Joseph Smith
Mary Hospital
1555, Lake View Boulevard
Mobile, AB - 88888

Thanking you,

Sincerely,
A. Lee
(Signature)
Anabelle Lee

3
Authority Letter for Bank
Anabelle Lee
19200 C, Raven Street
690, Hawks Bay
Mobile, AB – 88888

Mar 13, 2014

The Manager
ABCD
444, Reagan Boulevard
Mobile, AB - 88888

Sub: Authority letter for Melinda Lee

To whom it may concern,

I, the undersigned, have been a patron of your bank since 2006. I have opened a recurring deposit account and a saving account with your bank during that period. The details of which are enclosed herewith this letter.

I hereby authorize Melinda Lee, my sister, to act in all matters necessary with regards to both my accounts. I guarantee my full consent with regards to this authorization. I am enclosing the proof of my identity for confirmation of my relation to Melinda Lee, along with my account statements for the previous two months.

In need of further contact, with regards to further verification or clarification, please feel free to reach me at my email [email protected], this is the verified email linked to the accounts I hold with you.
Thanking you,

Sincerely,
A. Lee
(Signature)
Anabelle Lee

Tips and Cautions
1
If the scope of authorization includes a multitude of tasks, consider using a bullet list which states the most common of these tasks, along with an extension of authority. A catchall phrase should be included that would allow other rights and privileges to be extended as needed.
2
Authorization letters are formal documents. It is better to type, rather than write by hand. This is not only due to neatness and clarity, but also the fact that it's an important document. A typed letterhead will make the authorization letter look more formal and vital.
3
Always use the correct tone. Know the person you are addressing and be appropriate. Sound professional when granting someone authority on your behalf. Keep a tone that is superior, but not condescending.
4
Authorization letters need not be long and crowded. Brief, concise letters that contain the necessary information are desirable. You don't want to lose the reader's attention in useless discussions.
5
Before starting the body of the authorization letter, mention your essentials. Your name, current designation, confidential and sensitive information should be at the top. Also, mention the details of the party the letter is addressed to in full.
6
Be careful to close the letter appropriately. Use closing notes such as "Sincerely or Regards."
7
Always sign the letterhead with blue ink. Blue ink ensures the letterhead is original and not a copy that could have been altered.
8
Never allow the letter to be vague or all-encompassing. That could lead to negative consequences for you and your company. Ensure the letter is as specific as possible.
ANY IDEAS ABOUT THIS TOPIC?