Actors and actresses are hard working people and sometimes they go out of the way to get their job done properly. And in the process they risk their limb and life for quite a number of times for the sake of the art called cinema. There are innumerous stories of crazy artists in this regard. Actors deciding to perform their own stunts lead to serious accidents more often than not. We do respect and love these actors immensely for taking the risk but is it worth it especially when some lives are at risk? Every year somebody or the other suffers injury for doing their own stunts. Sometimes accidents happen on the sets as well that injures celebrities. Here is a list of six actors who survived fatal accidents during filming of 2013's biggest films.
6 Actors Who Went Through Near Death Experiences While Filming The Biggest Movies of 2013
It is good to know that even after such incidents these actors did not lose their mind and continued to do the films that turned out to be such blockbusters.
1
Jaimie Alexander in "Thor: The Dark World"
The beautiful actress fearlessly risked disfiguring herself eternally while on the sets of "Thor: The Dark World". Jaimie Alexander, 29, slipped off a metal stairway taking the mighty fall on a rain-beaten set. She was lucky enough to not suffer from any permanent damage. However, she endured a lot of injuries- 11 vertebrae of hers were chipped, she slipped a spine disc, tore a rhomboid on her left side and her left shoulder was dislocated. It was horrific but could have been worse for Jaimie. This establishes the fact how walking down a wet metal staircase can be dangerous and that one should be always careful. It took her almost a month to get well and back on her feet. Her fan base was devastated on hearing the news and sent across loads of well-wishing messages through networking sites. She posted details of her recovery on a daily basis for her fans who were extremely concerned.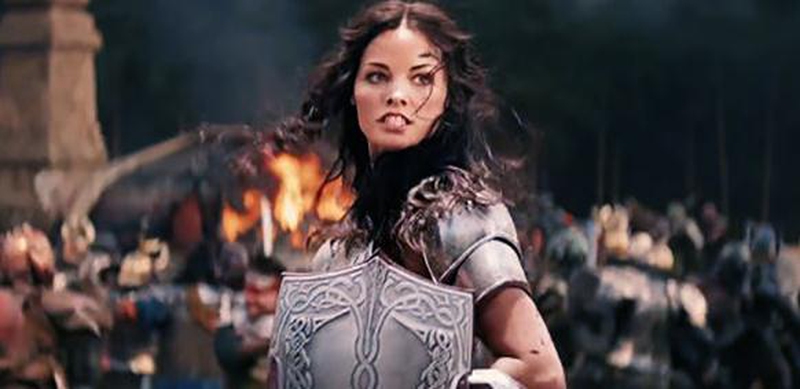 2
John Abraham in "Shootout at Wadala"
John Abraham, a popular Bollywood actor, was almost killed while filming a shootout scene in the movie "Shootout at Wadala". The incident happen because his co-star, Anil Kapoor, who was supposed to shoot a blank bullet from a distance of 15 feet fired from a close range of 1.5 meters. This happened since the team who was responsible to ensure the scene is done properly committed a blunder. Nobody informed either of the actors that the shot is being fired at a closer distance. The shot burst into flames as it was supposed to be and saw John Abraham suffer way more intensity than he was thought to suffer had the shot was fired from a further distance. He was saved only due to the bad aim of Anil Kapoor and the bullet hit the side of John Abraham's neck. Had it hit the middle, it could have proved fatal.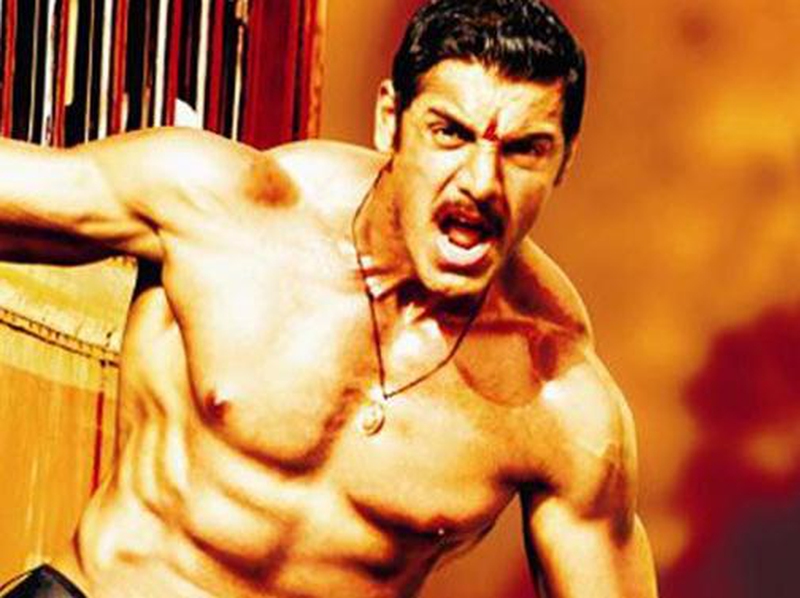 3
Isla Fisher in "Now You See Me"
Actress Isla Fisher, 37, almost drowns while shooting a magic-trick scene in the mystery thriller movie "Now You See Me". She got stuck in the huge vessel filled with water for 3 minutes as a chain got caught. She was struggling for life but nobody could understand that. Everybody thought she was acting incredibly well. She had to use a quick release switch to free herself. She was immediately helped by a stuntman as well to manage in her escape. She revealed it to be her first near death escape. Though a landmark, she is terrified of celebrating it, which is normal of course, and wished that she never faces the same ordeal again. She was brave enough in the first place to opt for doing this scene as many would want the same to be done by a body-double.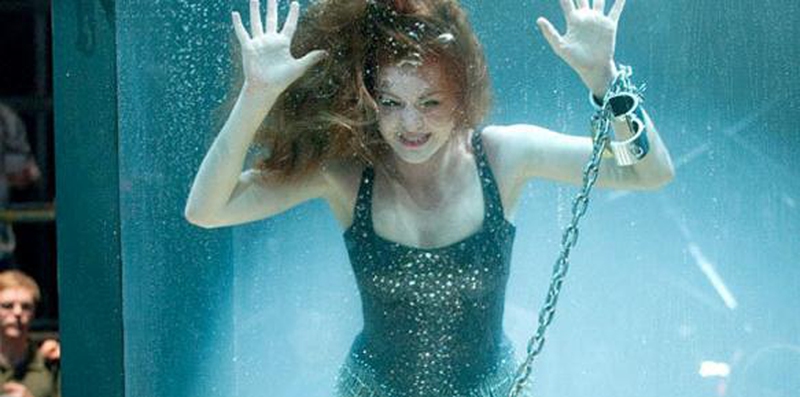 4
Jason Statham in "Expendables 3"
Jason Statham, 46, the British actor, is as tough in real life as he is seen in movies. While filming a scene in "Expendables 3", Jason came close of suffering a deadly accident but fortunately nothing of that sort happened. He was doing a stunt scene, in which he was driving a truck. However, the brake failed and he could not stop the truck from going over the dock and then into the Black Sea. The crew having seen both the truck and Jason went into the sea started panicking. However, this massive incident did not baffle the actor as he got out from the truck and swam to the top like a pro as if nothing has happened. They lost the truck though. This typically sounding movie material has happened for real. Statham once again proved to be a genuinely tough guy as anybody else would have panicked in such situation. He is sure the best choice for kinds of films he stars in.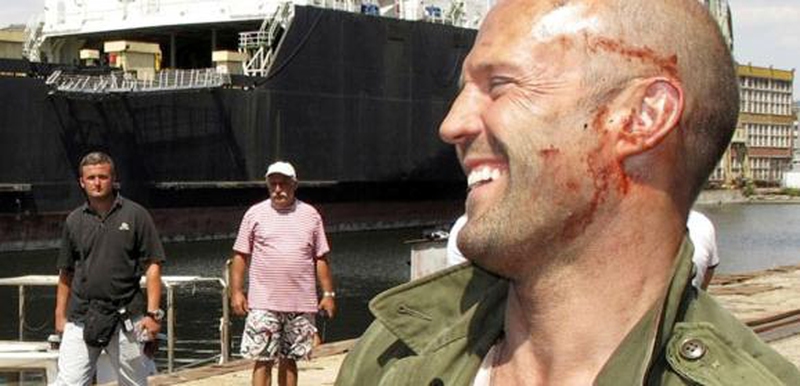 5
Halle Berry in "The Call"
Halle Berry escaped some serious head injury on the set of "The Hive" aka "The Call". She was filming a fight sequence when she ended up falling thereby hitting her head against the concrete floor with huge force. This is not the first time she suffered an accident on any set. She previously had broken her foot, suffered eye injury and broken her arm too. She was taken to the Cedar-Sinai Medical Center where the doctors declared her to be good with no serious issue.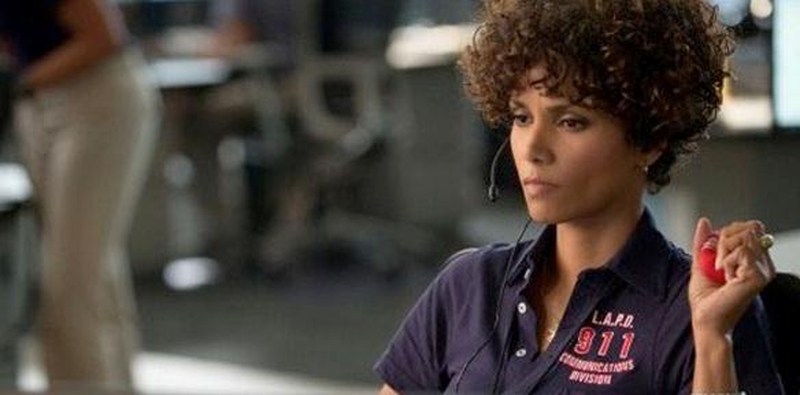 6
Johnny Depp in "The Lone Ranger"
Possibly the most popular Hollywood actor, Johnny Depp, 50, too faced a fatal accident while filming "The Lone Ranger". He was filming a scene in which he was riding on a horse named Scout. The saddle came loose during the scene and Depp was thrown from the reigns. He was barely hanging on when he was being dragged for a distance of about 25 yards. He was very lucky for not getting heavily injured as it does not happen always that people escape from getting trampled under a horse's powerful legs. Not only this, it is difficult to sustain injury while being dragged for a long distance but fortunately Depp survived.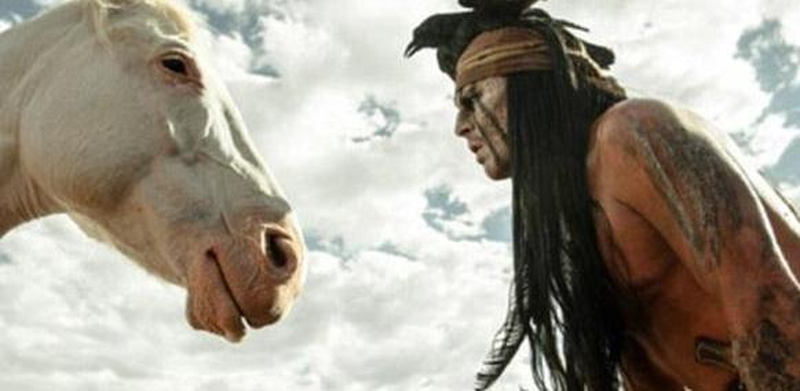 ANY IDEAS ABOUT THIS TOPIC?