Books are practically characters in some of our favorite films: A controversial book helps Reese Witherspoon change her life path in Pleasantville, while a little girl finds her real family in Matilda, and, of course, a Robert Frost poem helped Ponyboy "Stay gold" in The Outsiders. Here are some of our favorite film characters as obsessed with books as we are.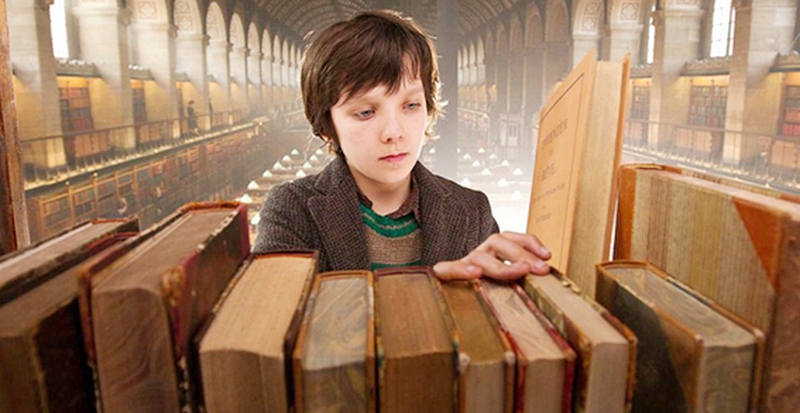 Part 1
1
Matilda
The title character in this adaptation of the Roald Dahl book (played by young Mara Wilson) is a neglected girl with an insatiable appetite for reading, but whose lunkhead dad has banned them. Despite their disapproval, she manages to read several books by the time she is 4, including Moby Dick, Great Expectations, Jane Eyre and Animal Farm. She eventually finds the perfect mom in teacher Miss Honey, who loves books as much as she does.
2
Only Lovers Left Alive
Loosely based on an unfinished Mark Twain story, this 2014 Jim Jarmusch film stars Tilda Swinton and Tom Hiddleston as Eve and Adam, a pair of ancient vampires in the modern world. Eve lives in Tangiers with an extensive library in all languages. When she goes to go see Adam in Detroit, she packs nothing but books, including Don Quixote and Infinite Jest. And her best friend just happens to be Christopher Marlowe (John Hurt), the playwright who (confirming an old conspiracy theory) actually wrote all of Shakespeare's plays.
3
Hugo
In this 2011 film based on the book The Invention of Hugo Cabret , the orphaned Hugo (Asa Butterfield) lives in the train station and befriends a girl who takes him to the amazing bookstore run by Monsieur Labisse (Christopher Lee). The bookstore isn't real, alas – here's a great article about the set and Lee's own bookstore reminiscences – but Hugo fondly remembers reading Robin Hood with his father.
4
Beauty and the Beast
Belle wasn't your usual Disney princess: She was smart and independent, and she loved to read, so much so that the townspeople considered her almost as crazy as her father. She visited the local bookstore daily and checked out her favorite book of fairy tales so often that the bookseller told her to keep it.
5
Moonrise Kingdom
You have to love stylish 12-year-old runaway Suzy (Kara Hayward) in Wes Anderson's 2012 film set in 1965. Among the things she packs to meet her boyfriend are six books she stole from the library. Sadly, these books, including The Girl From Jupiter are made up just for the film. Read more about the retro book jackets Anderson had commissioned for the movie.
6
The Reader
In this moving adaptation of the book by Bernhard Schlink, Kate Winslet won a Best Actress Oscar for her role as Hanna, a former guard at Auschwitz who chose certain prisoners to read to her. Years later, she takes a much younger lover and asks him to read books including The Odyssey to her. After she abruptly disappears, the now college-age boy sees her on trial and realizes she's keeping a secret even more shameful to her than her past.
7
The Book Thief
The film adaptation of the book by Markus Zusak follows Liesel, a 9-year-old in Nazi Germany who is taught to read and write by her foster parents. She steals books from a Nazi bonfire and from the mayor, keeping them secret along with the Jewish boy that her family is hiding. The books that Liesel reads aren't real, but any book lover can relate to the lengths she goes to for them.
8
Pleasantville
This 1998 film finds two modern-day teenagers (Tobey Maguire and Reese Witherspoon) trapped inside a 1950s TV show where everything, and everyone, is in black-and-white. They can't help but bring their own real-world sensibility to the wholesome town as Maguire's character reads oft-banned books The Adventures of Huckleberry Finn and The Catcher in the Rye to the other students. As their horizons expand, several locals change into color, a transformation that happens for Witherspoon's previously non-book-loving character when she reads Lady Chatterley's Lover.
9
84, Charing Cross Road
This 1987 film is a true booklover's delight: Based on New Yorker Helene Hanff's 20-year correspondence with a British bookseller, Frank, it stars Anne Bancroft and Anthony Hopkins as two people united by their love of reading, even if they're an ocean apart. How many bibliophiles are as conscientious as Helene, who takes her books off the shelf and lovingly dusts them one by one?
10
Equilibrium
This 2002 sci-fi film is set in a future where emotions and artistic expressions are forbidden. Christian Bale is an enforcement officer tasked with keeping the citizens in line. He finds his partner, Sean Bean, has been reading confiscated poetry by Shakespeare and Yeats, even though it's a crime punishable by death. The movie obviously owes a huge debt to Fahrenheit 451, based on Ray Bradbury's novel about a future where books are not only banned, but burned.
11
The Silver Linings Playbook
As part of an attempt to find the "silver lining" after his release from a psychiatric hospital, Matt (Bradley Cooper) decides to read all the books his estranged wife is teaching her students, including The Great Gatsby. All goes well until he gets to the end of Ernest Hemingway's A Farewell to Arms and wakes his parents at 4 a.m. to rant about the book's heartbreaking finale before throwing it out the window.
ANY IDEAS ABOUT THIS TOPIC?