Tattoo art is becoming so much popular these days so that everyone likes to get one tattoo either out of their passion or to leave a distinct impression. People those are passionate about it are also taking interest in playing tattoo games. This is the reason tattoo games are becoming popular these days and also they provide a virtual imaginary shop to decorate any design on cartoon's body available in the games.
People those are interested in decorating tattoos as well as modifying designs like these kinds of tattoo games the most. Let us see which 10 tattoo games are becoming most popular and are best in their kind.
10 Best Tattoo Games
1
Tattoo Tycoon
It is the most popular game among tattoo game lovers those are interested to use tattoo design machine. It can be downloaded in android operating system and supports any version available. Huge imagination of complete shop and customers makes it the best among all other tattoo games. It shows a complete set up of tattoo shop, in which you need to manage all the things such as money matter, managing customers and selection of tattoos according to customers.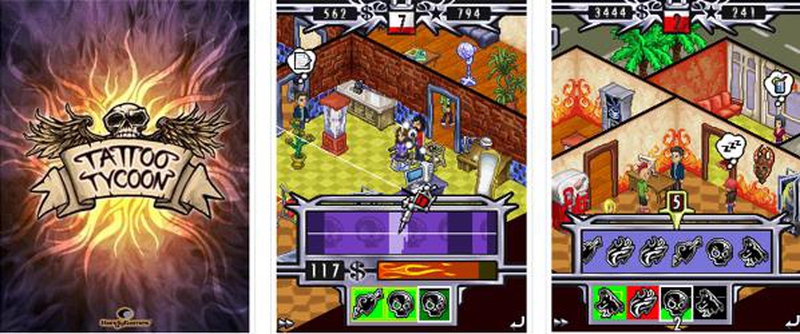 2
Tattoo Artist 3
It is the upgraded version from Tattoo Artist Game 2. It includes choosing customer and fulfilling their requirements of tattoo design. Player's points are calculated on the basis of customer satisfaction noticed through number of times customer felt pain, preciseness of work and quality of design. It has additional feature of colors in it.

3
Tattoo Style Shop
This game includes changing up of style and dress of customer as well as making creative designs according to matching dresses from the tattoo gallery available. The game can be easily played online as they consume a little bites of you internet. A person playing this game can change language as well. Other customers can be unlocked only if tattoo of one customer is finished.

4
Tattoo Artist Game 2
It is the one of the 10 most played tattoo games all the time. The game is very simple to play but it is necessary to be very precise while using mouse because mouse controls the tattoo designing machine. The gentle movement of computer mouse increases firmness of using tattoo machine firmly. Pain meter and precision in work affects satisfaction on the basis of which player win. At the time of starting tattoo artist game players needs to select their sex which makes them tattoo games for girls.

5
Elsa Tattoo designer
This game is most popular among girls and as the name indicates the customer whose name is Elsa comes up in it to ask for a tattoo. It is one of the tattoo games for girls. Player needs to select place of designing a tattoo. Questions are asked about customer's interest and hobbies so that perfect design could be selected. After selection of one design a complete steps of tattoo designing are followed. It do not include drawing line over impression, you just need to select colors and fill them in the selected design.

6
Inked Up Tattoo Shop
It gives a real feeling of performing tattoo designing and filling to a player of this game. The game includes all the parts of real tattoo designing such as tattoo design, impression making, line drawing and color filling. A design can be selected by the player from tattoo ideas those are available for designing. People love this game because of different stages of tattoo art designing activities which gives a real tattoo designing impression to the people.

7
Tattoo Girl
The most interesting game for girls is Tattoo girl which includes changing of everything of a girl standing in front of mirror. Tattoo ideas are not welcomed in this game but a big variety of tattoo designs are provided in tattoo gallery. The mirror reflects backside of the girl so that appropriate tattoo can be selected for design. It can also help girls in selecting clothes, hairstyle and tattoo from tattoo gallery, hairstyle gallery and clothes gallery. This game has limited designs but looks and options help player to feel excitement.

8
Art of Tattoo
Here you may change dress of both designer and customer and the tattoo you select from tattoo gallery can easily be selected afterwards. It gives a different feeling every time player plays the same game. First looks and clothes of customer and designer are selected then further game is played.

9
Glam Nails
It is the topmost played game among all other nail decoration art games it is one of the charming tattoo games for girls. Player can change the nail design, paint, hand bracelets and tattoo designs by selecting them from tattoo gallery. People those are looking for trying new designs on nails with extraordinary art would love to play this game. It provides them tattoo ideas to implement on nails.

10
Baby Barbie Tattoo Designer
It is same as the other tattoo games but the only difference is that here there is a Barbie to decorate with selected tattoo designs from tattoo gallery. Small girls love to decorate Barbie that is why these games attract the most to little girls and makes it one of the tattoo games for girls.

11
Conclusion
Tattoo art is not only about the art but it is becoming passion among youngsters these days and this is the reason people are diverting towards making it as a hobby by learning it. The people those could not fulfill their desire of learning they try to entertain themselves by surfing designs and playing tattoo games. There are several online and offline tattoo games available from which a person can get easily entertained such as tattoo artist game, the top 10 games shows that people show their interest of decorating, filling and customizing tattoos on their own.
These tattoo games also help them to take tattoo ideas from them. These games generally need to handle mouse properly and efficiently to play and win. If you haven't tried any of these games then you can also try one of them and experience a new excitement.
ANY IDEAS ABOUT THIS TOPIC?