Nail painting is another way to show your individuality. It is fun and looks cool. It can express your personality and mood. You can match the nail colors with you outfit. Different colors tell different things about you. Red is romantic, orange is funky and purple is royal. Now, the games developers have taken this activity and combined it with another cool activity. Yes, they have made nail games for girls. You can practice nail painting. It is a creative pastime while you learn something new each time you play these games. You can share the photos from the nail games on social networking sites too. We are sharing 10 best nail games for girls.
10 Best Nail Games for Girls
Nail Salon
Developed by virtualiToy, Inc., Nail Salon is dressup and makeup nail game for girls. You can choose from seven different skin tones. Trim the nails with realistic nail trimmer. You can choose loads of glittering rhinestones, crystal, diamonds, flowers, fruit, hearts, and sticker. Just let your creativity run wild.
Once you have created your masterpiece, you can save it in album. You can also share it on Facebook. This nail games for girls is 36M in size. Currently its version 3.0.3 is available for android phones. It is available on Google Play.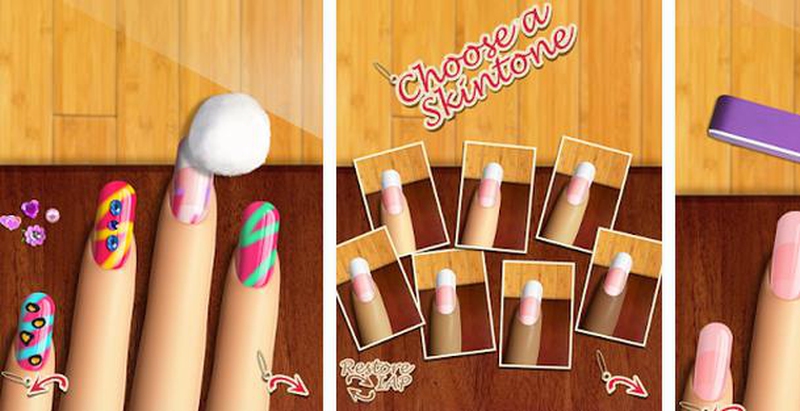 Princess Nail Salon
Here is another of nail games for girls. As the name suggest you can turn yourself in princess with this little quirky game. Offered by 6677g.com, it is 21 M in size. Available for android 2.3 and up, it offers different skin tones. You can custom paint the nails. You can use tons of colors to choose from to paint your nails with gorgeous colors. It offers bright/neon glow.
You can further decorate the nails with crystals, gems, diamonds and stickers. After completing makeup you can save it and share it on Facebook too. It is on second position in our list of nail polish games for girls.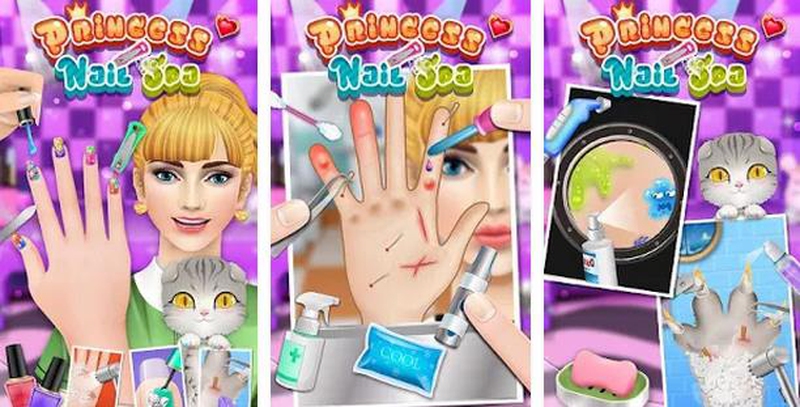 Glow Nails: Manicure Games
This one of nail painting games gives you a complete salon experience. You can do complete manicure with this game. It is 41 M in size. The most amazing feature of this game is that you can get the neon or the glow in the dark effect. You can choose from innumerable stars, fruits, gems, crystals, hearts and others with glow effect. Combine the paint art with neon glow and you would have astounding design.
You can share the designs with your friends on Facebook with this one of sparkling and glittering nail games.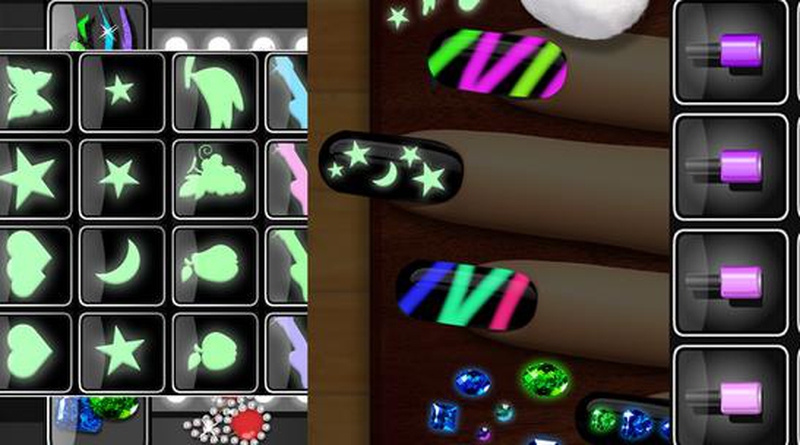 Crayola Nail Party: Nail Salon
Created by Budge Studios, it is another fun nail games for girls. You create incredible nail painting for you and your friends. You can do nail painting on your own hands. Take a Photo shoot of your hands, after applying polish, glitters, stickers and others. Display these photos on Facebook profile with games sharing options.
If you are not satisfied with your paint you can remove it with a cotton ball and start anew. This nail game for girls is tablet compatible. The current version is 1.2. Its size is 61 MB.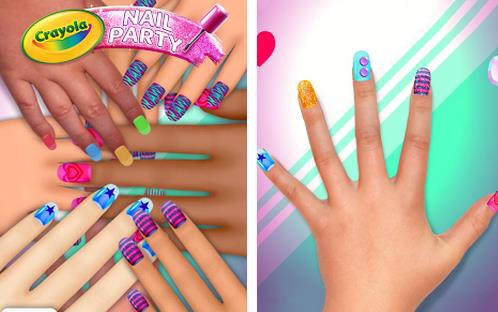 Pets Nail Salon
Here is one of cute nail games for girls. It is very light in size (12MB). It lets you nail paint pets. You can also dress up the pets. There are number of pets. Apply your creativity and make your pet shine. Don't forget to share it with friends on Facebook. The primary audience of this one of nail painting games is little girls. It is a complete salon game.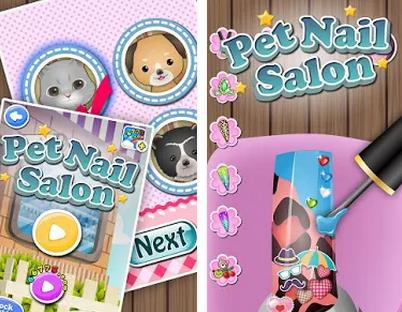 Nail Art: Salon Game
Take your nail art creativity further to a professional level with this exciting nail games for girls. Thousands of colors are at your disposal. You can beautify the nails with amazing colors, glitters, stars, hearts, stickers and diamonds. It also gives salon option too. Begin with trimming, filing and adding oil drop to give nails that gloss and shine.
You can take beautiful HD images and share them with friends. It is a regular feature of good nail painting games. It requires Android 2.3 or above version.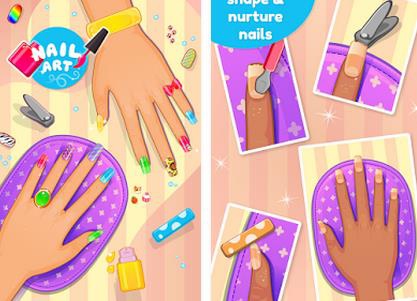 Fancy Nail Shop
Fancy nail shop includes manicure, pedicure, dressing, makeup, nail art in one place. This is a perfect one in nail salon games. You can spend many hours on this enticing game. Begin with pedicure. Move to manicure. When you are done, next is makeup and dressing. In the end, use the extensive collection of nail polishes, glitters, stickers and more.
Enjoy loads of coloring pages on Fancy Nail Shop. Tabtale has created this fascinating game. It is available on Google Play in the nail polish games for girls category.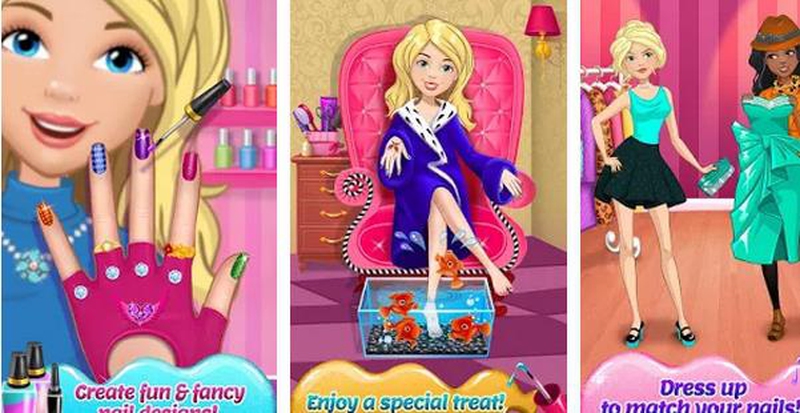 Nail Makeover
This game is freely available on Google Play in the nail salon games section. You can download it in a breeze as it is only 14 MB in size. It has similar features as other nail games for girls have in them. Select from the themed hands or create your own hands. Use creativity with colors and decorate the nails with style. It is another cool game that will keep you hooked for hours.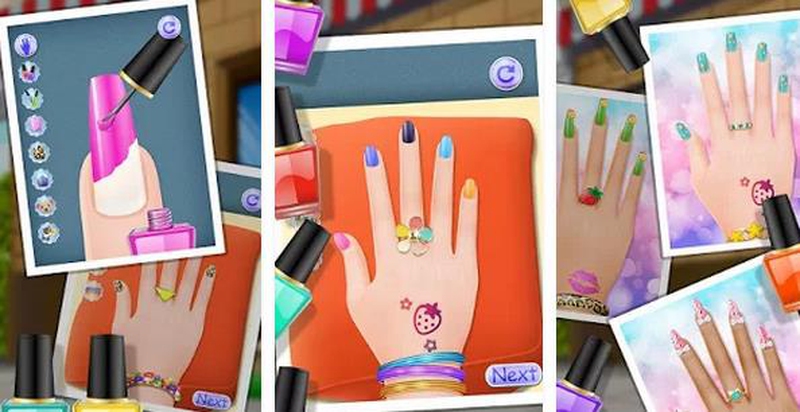 Nail Painting Games
Spark your imagination and prove that you are the best nail artist. Choose the glaze and style that make your nails speak. It offers huge collection of colors, stickers, glitters and other decoration stuff. With file size of 24 MB, Any game made one of the funky and cool nail games for girls of all ages.
Fashion Nails 3D
Last but definitely not the least, the Fashion Nails 3D is a 3D nail games for girls. So all ladies, get ready. With real look hands and stunning polish colors, decals and lots of pattern, this game will make you ready for the real world nail art. Share your artwork with your friends on social networking sites. It has extended list of sharing options including Facebook, Instagram and Twitter.
What could be more exciting than the thing that it is absolutely free? Go to Google Play and search nail salon games to download this game.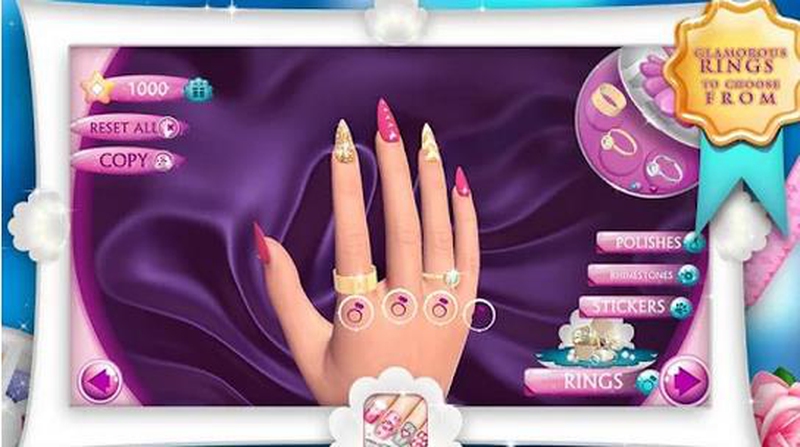 Conclusion
Nail painting is one of the favorite fun activities of girls. As young girls and boys spend more time on computers and the Internet, the developers have come up with exciting and breathtaking new nail games for girls. These nail games provide a complete salon experience. Begin with manicure, pedicure, dressing, makeup and nail painting. Nail painting isn't only a hobby; it is also a creative art.
The design created by you tells about your imagination and creativity. Create cool nail painting design to impress your friends. These nail polish games for girls also teach you this art and you can use it in real life too.
ANY IDEAS ABOUT THIS TOPIC?